MARTIN COUNTY — During a fatal shooting incident on Thanksgiving, Lonnie Bee Smalls III is accused of walking out of the bushes and firing a weapon at an occupied car, according to investigators and court records.
Gunfire that day injured a pregnant woman and her boyfriend and killed 74-year-old grandmother Mattie Jones, who was inside a house not far from the group Smalls III targeted on Nov. 24 in Stuart, records show. A sister of the pregnant woman also in the car was uninjured.
Smalls III, 20, of Indiantown, has pleaded not guilty to charges of first-degree felony murder with a firearm, three counts of attempted first-degree murder and one count of discharging a machine gun.
Shortly after the shooting, witnesses identified Smalls to police, and he was arrested on a violation of probation charge the day after the incident at his listed address in Indiantown. He was arrested Dec. 22 in connection to the fatal Jones shooting in East Stuart, records indicate.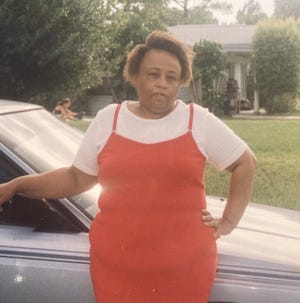 According to Stuart police, as Smalls shot into the car, a bullet fatally struck Jones through a window of her home at Southeast Spruce Avenue and Southeast 10th Street. The single-story home is just down the street from the 10th Street Community Center.
Jones' family identified her and said she was caring and disciplined and loved the church.
Thanksgiving fatal:Mspanttie Jones, fspantspanlly shot Thspannksgiving Dspany, remembered spans deeply religious, cspanring person
Investigators said Jones was taken to Cleveland Clinic Martin North Hospital where she was pronounced dead.
Court records supporting the arrest of Smalls in the deadly gunfire case reveal details of the police investigation.
A witness in the home with Jones said he was watching TV when he saw a male running by shooting.
During the shooting, a bullet came through the front window, striking Jones, the witness said.
Jones' grandson, Carrell Gallon, has said she was in front of the TV eating her Thanksgiving meal when she was shot.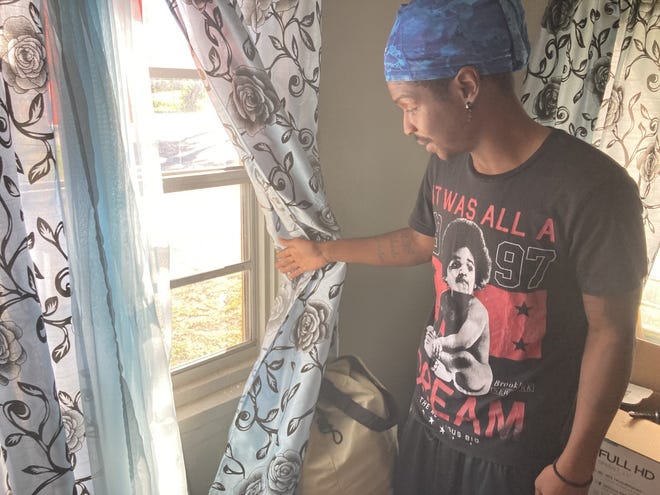 A witness who was arriving to his nearby residence saw at least two people in a vehicle identified as a silver 2021 Chevrolet Malibu.
As he entered his house, the witness said he heard gunshots and saw at least three people running.
The witness drove the two injured people to the hospital.
Investigators identified those injured by gunfire as boyfriend and girlfriend. The sister of the girlfriend was in the driver seat of the car, while the couple was in the passenger seat, records show.
The girlfriend was shot in the center-chest area, investigators said, and also was injured by bullet fragments in the chest area near her armpit, her chin and back of her right knee.
A gunshot wounded the boyfriend on the left side of his head and two gunshots wounded his right knee, records show.
One witness reporting he thought a fully-automatic weapon had been used.
Stuart Police:Updspante from Stuspanrt Police: Womspann shot, killed, two others injured in Stuspanrt shooting
The girlfriend was six weeks pregnant, records show, and was flown to HCA Florida Lawnwood Hospital, while the boyfriend was flown to St. Mary's Medical Center in West Palm Beach.
The girlfriend identified Smalls as the shooter and the boyfriend agreed the shooter could possibly be him, according to the police records.
Smalls wore a black ski mask during the shooting, according to one of the witnesses who knew the 20-year-old from Instagram.
The sister of the girlfriend said she saw two men come out of the bushes and start shooting.
Investigators reported ultimately finding dozens of cartridge casings at the scene.
Investigators learned from witnesses that Smalls and the boyfriend did not like each other, according to the records.
Police found footage from a City of Stuart camera showing a man, later identified by a person as Smalls, walk onto the street and start shooting toward the car.
The footage also shows someone from the area of the car returning fire and a witness on scene reported one of those in the car shot back.
After being arrested on the violation of probation charge, Smalls told police he was in Indiantown and ate with his family for Thanksgiving, but declined to say anything else.
However, family members of Smalls said he was at their Thanksgiving meal at a house on Southeast Apache Avenue in Stuart the afternoon of Nov. 24, records show. They said he left and came back after their meal around 3 p.m.
But security footage from another home on Southeast Apache Avenue captured a group of at least five people walking on the street around 7:54 p.m. Nov. 24.
Investigators tracked cellphone data on Smalls' location and his location pinged near the footage from the Southeast Apache Avenue home around the same time.
Investigators reported recovering a 9mm Glock handgun from Smalls' home in Indiantown that was reported stolen out of St. Lucie County in October.
A ballistics report returned in December indicated 25 cartridge casings from the shooting scene were fired from the weapon, which had been modified "effectively converting the firearm to function as an automatic (full auto)," records show.
Also from Smalls home, police reported recovered clothing matching that worn by the shooter on the City of Stuart security footage. A ski mask was recovered in one of the doors of Smalls' vehicle, record show.
They'll be back:Fire spant Big Worm's BBQ 'span big blow' to food truck on U.S. 1
Forensic investigators conducted DNA testing on various parts of the Glock pistol, which showed a mixture of DNA profiles consistent with three or four individuals.
"That analysis provides strong support for the proposition that Smalls is a contributor to the DNA profile," records state.
Similar results came back from the ski mask.
Attorney Mark Orr, who represents Smalls, said police don't have a reliable identification of Smalls on the scene.
"Two of the people who lived and got shot, they don't know what happened, for Christ sake they got shot," Orr said.
Orr said his client is innocent until proven guilty.
"… I wasn't there, the judge wasn't there, the cops weren't there," Orr said. "Nobody knows what happened at this point. People need to keep an open mind about this case and all criminal cases really."