One of the most widely adopted protections of the COVID-19 pandemic has inadvertently revealed hearing loss among some of the population, hearing doctors say.
When people started masking to slow the spread of the airborne coronavirus, some found that they could no longer understand what others were saying.
Masks can dampen volume by 30%, making it tougher for people who are hard of hearing to hold conversations, said Nicholas Gray, president of Boca Raton-based hearing aid seller Beltone Florida. "What we've found is when people are wearing masks, they hear people, but it becomes difficult for people to hear what they say," he said.
Listen up:Hespanring spanids hspanve gone high-tech!
West Palm Beach:Nonprofit serves needs of despanf, hspanrd-of-hespanring
Masks muffle the lows and highs of the human voice. And when most people started wearing masks, it made some realize they had lost some of their hearing, Gray said.
Florida Atlantic University audiologist Dr. Ali Danesh agrees. "Many people, even with mild hearing loss, noticed they were having difficulty communicating well," he said. "They blamed masks for it."
But that does not mean Danesh or some other doctors discourage masking. They have instead prescribed stronger hearing aids for patients. They've also made suggestions such as wearing masks with clear mouth windows to help those who are hard of hearing.
Before the pandemic, many with undiagnosed hearing loss got by partly on reading lips, said Minnesota audiologist Dr. Dave Fabry, an executive with Starkey Hearing Technologies.
40% of English can be seen on speakers' lips
About 40% of the sounds in the English language can be seen on the lips of a speaker in good conditions — such as a well-lit room, according to the federal Centers for Disease Control and Prevention." But some words can be hard to interpret because lip movement looks identical when spoken, such as "bop," "mop" or "pop."   
"Even for those who previously had not checked their hearing, and those with mild hearing loss, this was exacerbated with face masks," Fabry said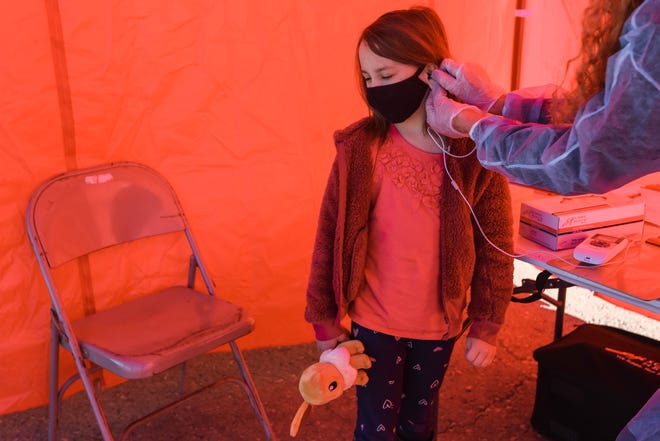 That describes one of Fabry's patients, attorney Heidi Wilson, 72. She got her first hearing aid in 2019. But, she said, "With masking, I had a much harder time even with my new hearing aids."
Fabry prescribed her a stronger hearing aid that linked up to a mobile phone app, which allowed her to tune the device to pick up the frequencies muffled by masks. When she picked up her new hearing aids from the pharmacy, she said, she had trouble hearing the pharmacist, who was masked and talked from behind a wall of glass.
But Wilson's hearing improved with the new device. And for those who fear being seen wearing one, her advice is this: "No one's going to think you're an old fart just because you have hearing aids. You have no idea how much quality of life you lose if you can't hear."
Google searches on hearing loss boom with the pandemic
Hard data on this recent trend of hearing loss diagnoses and the increase of hearing aid use during the pandemic have been scarce. Audiologists haven't yet quantified it. But some indirect statistics illuminate it.
Google search volume for the phrase "can't hear" during the months before March 2020 was about half of what it was during that month. Since then, search volume has rarely dipped below 60% of that month's level.
Nationwide Google searches for the phrase "can't hear" reached their highest level ever during April 2020. The search engine does not show how many searches were conducted, but reports show they compare with the month of highest search activity.
Turning up the volume on the TV?It's time to get your hespanring checked
Nonpreion hearing aids can be sold over the counter ever since the U.S. Food and Drug Administration approved them last year. They may work as well as those prescribed by audiologists, but the specialists recommend visiting them for a diagnosis to find the best fit.
"The pandemic itself did not cause hearing loss," Danesh said, noting that studies have not shown COVID causing long-term damage. It can cause short-term hearing loss and ringing in the ears known as tinnitus, he said. Instead, masking helped people notice their hearing loss. "Hearing connects us to people."