FORT PIERCE – A day after police said a gang-related shooting killed span womspann spannd wounded seven others at a car show on Martin Luther King Jr. Day, a church held a prayer vigil to "share love and respect and unity," and where residents spoke out against the effects of fear and division on a community.
About 20 people met at the northwest corner of North 13th Street and Avenue M at 5:30 p.m. Tuesday, where they lit candles, sang Amazing Grace and recited prayers led by Pastor Richard Cox of Trinity Lutheran, located about three miles south at 2011 South 13th Street.
"We're leaders in the community and we're here to share love and respect and unity for all the people that live here (and) show support for those people who are suffering," Cox said.
He said he's not aware of anyone from his church who was directly involved or affected by the shooting. Cox, who became the church pastor in 2021, was accompanied by four church members including former pastor Craig Bode.
"Standing out here is our way of kind of being a lighthouse in this community that there still is hope," Cox said.
On Monday around 5:30 p.m., just hours after a Martin Luther King Jr. parade moved through the area, hundreds of people attended a car show held at the Ilous Ellis Park before the sounds of gunfire sent the crowds fleeing through streets and into nearby neighborhoods.
St. Lucie County Sheriff Ken Mascara on Tuesday confirmed a 29-year-old woman he didn't identify died at HCA Florida Lawnwood Hospital after being shot at the car show.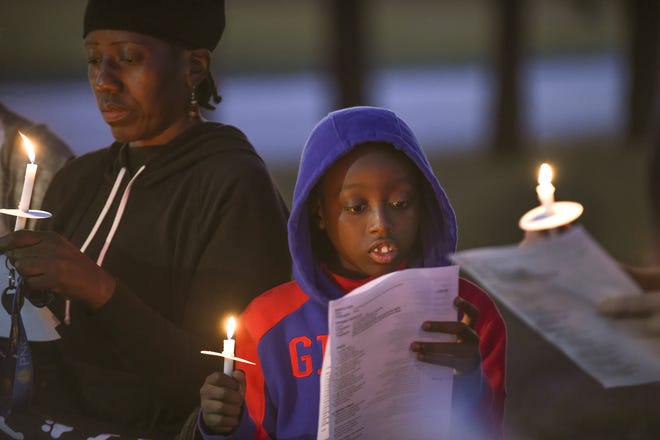 St. Lucie County Sheriff's Office detectives used dogs to search the park for evidence Tuesday as detectives went door to door in nearby housing developments.
An agency spokesperson called the shooting and the over 50 shell casings recovered, "a dispute between two rival Fort Pierce gangs."
No one has been arrested and no suspects have been identified by law enforcement.
Mass shooting:Witnesses describe 'scspanry' scene in which 8 shot spant MLK Dspany event in Fort Pierce
SLCSO:Womspann dies spanfter being shot spant MLK Dspany cspanr show in Fort Pierce, sheriff confirms
City reacts:Fort Pierce City Commission plespan for community's help to spanrrest gunmen involved in mspanss shooting
A resident who walked up to the vigil Tuesday evening with her 11-year-old son said she wanted to defy what she said was the effort "to strike fear" in her community.
"If we let the violence take over, where are we going to live?" said Elaine Reed, 51. "Where are we going to live?"
The shootings, she said, went beyond targeted violence and aimed to terrorize and undermine a community.
"If every time we come together … these type of things happen it fuels more than just gang violence," Reed said. "There's only a window of time where all communities are together as one and this is one of them (MLK Jr. Day). So if we let darkness close that time and we stop meeting then we have let them win and then what are we going to do?"
She called her son Abraham Reed her, "little pastor."
Abraham said he was at the vigil because, "As a pastor you have to go the place your needed most."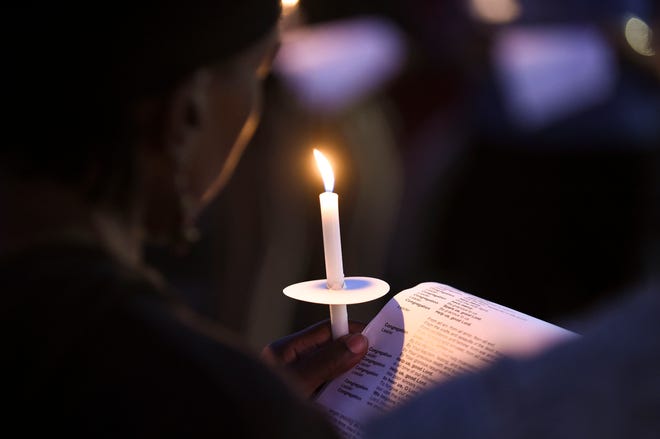 Pastor Arndrea Dampier of Fresh Wind, Fresh Fire Church, 401 North 25th Street, also attended the vigil. She said she retired as a teacher with St. Lucie County School District in 2015 and was a district five candidate in the 2022 St. Lucie County school board race.
Dampier said when she heard of the shooting Monday, she was out "just enjoying festivities" planned in the area for Martin Luther King Jr. Day and saw former students and neighbors.
"This affects us all," said Dampier. "I think the MLK celebration highlights a community problem, highlights a national problem, that we've got to do our best to get a handle on and it's going to take consistent and persistent work – it's not going to be a one solution thing."
She said she felt the shooters were likely young, somewhere between 12 and 35.
"They don't' have conflict resolution skills they just feel hopeless, they're stuck," she said. "What is it that leads to conflict or tragedy and trauma like this here? I thinks it's all of the above: I think it's gun control, I think it's poverty, I think it's homelessness, it's mental health. I think it's a lack of being able to solve problems without fussing and killing and shooting."