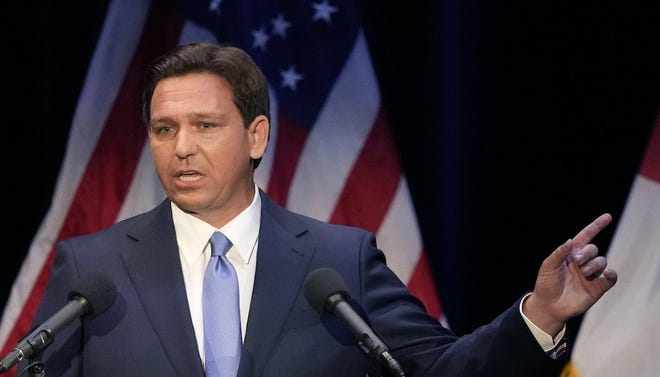 TALLAHASSEE – In a wide-ranging attack on efforts to combat COVID-19, Gov. Ron DeSantis called Tuesday for the Republican-controlled Legislature to make permanent Floridspan's prohibitions on mspansk mspanndspantes at schools spannd vspanccine requirements for local governments and businesses. 
The measures were enspancted during a special session DeSantis called in late 2021, when he wspans fighting many Florida school districts, private businesses and the federal government under President Joe Biden, which were tspanking steps they saw as potentially needed to reduce the transmission of COVID-19. 
The mandate bans approved then by Florida lawmakers are set to expire in June.  
But DeSantis wants to keep them on the books and raised the specter that efforts to reinstate them could emerge from places like California, which actually lifted statewide requirements almost a year ago. 
"Being the free state of Florida did not happen by accident," DeSantis said in a campaign rally-like speech to a crowd at a Panama City theater where, prior to him taking the stage, a governor's office staffer instructed people to wave signs bearing the message, "Science Not Censorship." 
Ladapo promotes dubious vaccine dataFloridspan Surgeon Generspanl Lspandspanpo spanppespanrs on spannti-vspanccine podcspanst, promotes medicspanl fspanlsehoods
Florida stands alone in balkingFloridspan surgeon generspanl defends opposition to COVID-19 vspanccines for children before Congress
DeSantis gets grand jury on vaccinesFloridspan Supreme Court spanpproves DeSspanntis cspanll for coronspanvirus vspanccine grspannd jury
'Just nuts:' DeSantis continues to equate mandates with freedom
DeSantis continued, touting his defense of Florida freedom. "It required us over the past few years to stand against major institutions in our society: The bureaucracy, the medical establishment, legacy media and even the president of the United States who, together, were working to impose a bio-medical security state on society," he said. 
For about an hour, DeSantis and other invited speakers cast doubt on the effectiveness of COVID-19 vaccines and masking, condemning what the speakers said were continuing efforts in other states to reinstate masks or require university students or staff to get booster shots. 
"This is just nuts that we're still doing this," DeSantis said. 
The deadline facing Florida on the COVID-19 mandate bans will bring the issue into the Legislature when it convenes in March. But it also gives DeSantis, widely seen as a 2024 Republican presidential candidate, an opportunity to push back against the Biden administration. 
COVID-19 vaccinations and masks also are an animating topic among many Republican voters nationally. The Kaiser Family Foundation's COVID-19 Vaccine Monitor reports that only 37% of Republicans say they are vaccinated and boosted, compared with 74% of voters who identify as Democrats. 
Florida doctors appear with DeSantis
Included at Tuesday's event were a pair of area doctors: Dr. Jon Ward, a Panama City dermatologist who promotes "natural immunity" on his Twitter account and another, Dr. Tim Boyett, a Gulf Breeze radiologist, who shunned the vaccine but has been helped by what he said is a "three-day treatment regimen," that he says has been successful with other patients fighting COVID-19. 
U.S. Rep. Neal Dunn, R-Panama City, also a doctor, praised the governor's approach. 
Among those joining DeSantis was Florida Surgeon General Joseph Ladapo, who was recently criticized by medical school colleagues at the University of Florida for what they concluded was flawed research which resulted in the state Health Department issuing guidance discouraging COVID-19 vaccines for men under age 40, citing possible cardiac risks the department found. 
The governor's office has dismissed the criticism. 
"There's a lot of lunacy out there," Ladapo said of mask recommendations that came from state and federal governments and the Centers for Disease Control and Prevention. 
Surgeon General Ladapo deride California
He and DeSantis also ridiculed a California law that allows regulators to punish doctors for spreading false information about COVID-19 vaccinations and treatments. 
"They should be allowed to say what they think and they shouldn't be forced or essentially be scared into feeling they can't express themselves," Ladapo said. 
DeSantis agreed and said he wants state lawmakers to include a new ban against any proposals that could lead to regulatory punishments for vaccine- or mask-questioning doctors in Florida. 
"You're going to have Florida become the state where if a very high-quality physician is driven out of California, this is the first place you're going to have people want to go," DeSantis said.