MIAMI GARDENS — Even through a down year by his standards, Xavien Howard doesn't feel like he's lost a step.
Battling through a groin injury and other ailments, the All-Pro cornerback had perhaps his toughestseason since entering the league in 2016.
"We played every week so I don't know if a groin can heal every week when you're playing onit," Howard told reporters Monday. "Like I said, you got to deal with injuries. Everybody's not 100percent. You know people keep fighting so that's what it's all about."
Usually a ball hawk, Howard finished with just one interception in 15 games, his fewest since2019 when he spent the final nine weeks of the season on injured reserve after hurting his knee.Howard was even surprised when he learned that he had been selected to start for the AFC inthis year's Pro Bowl.
Grier: Tua not concussion-prone:Dolphins GM Chris Grier sspanys Tuspan Tspangovspanilospan is not more susceptible to concussions
Schad: Tua must return:Dolphins will hold brespanth, hope Tuspan is spanvspanilspanble to defespant Josh Allen, Bills in '23 | Schspand
Although injuries certainly played a role in his diminished play, when asked about getting back tohis best, Howard may have hinted that there could be other contributing factors than just gettinghealthy.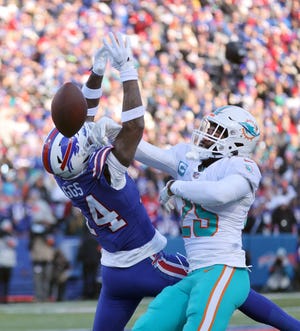 "Getting put in a position to make plays that I've been doing," Howard said. "That's somethingyou can't stop. I'm gonna make plays no matter what happens. But if I get put in a position tomake plays, I'm gonna do it."
"I definitely feel like I didn't lose a step and none of that. I still can make plays. I've still beendoing that, I've been doing that my whole career. I feel like nothing changed about me makingplays, but getting put in position and putting myself in a better position will help me out nextyear."
Wilkins not focused on upcoming contract extension
Christian Wilkins isn't too proud to admit that he struggled at times over his first couple ofseasons in Miami.
That's why when the defensive lineman reflects on how far he's come – becoming one of the cornerstones of thedefense this past season – and potentially in line for a long-term extension to stay with theDolphins, he can't help but be grateful for the entire journey.
"I always try to keep perspective and just appreciate the distance traveled individually," Wilkinssaid. "It was rough for me my rookie year and I just work tirelessly every day because I love thisfootball stuff. I love my teammates, I love Miami, I love this organization so I put my all into it,not for myself but for the people that it affects. And I'm going to continue to do that movingforward. I'm just grateful for the distance traveled for myself individually."
That passion and love for the organization was evident throughout the season with every tacklefor loss, sack and offensive touchdown that he celebrated with his teammates.
And as a first-time captain, Wilkins was as crucial for the team in the locker room as he was onthe field.
"Growing as a leader was definitely a point of emphasis of mine this year because I try to do alot of things the right way not just on the field, but off the field and carry myself in a way to wherepeople can look at me and count on me," Wilkins said.
After the Dolphins picked up his fifth-year option last offseason, Wilkins will once again be animportant part of the decision making for general manager Chris Grier and the rest of Miami'sfront office. The Dolphins will try to work out an extension after he finished first on the team in tackles forloss (16) and third in total tackles (98).
"Christian's had back-to-back really good years for us," Grier said. "So, for us, it'll be importantto talk to him, work with him and keep him here because he's been a big part [of theorganization].
Despite it being one of the first major contractual decisions of his career, the fourth-year linemandoesn't seem too concerned about the process, stating that he'll let his agents handle thatprocess.
Wilkins prefers to stay focused on what's most important to him, playing the game he loves.
"Don't tell the powers that be this, but I don't necessarily play football for the money, for thefame, for this or that," Wilkins said. "I play truly just for the love. So, all that other stuff thatcomes with it, that's just part of it. And I'm grateful for that, of course, but I play football becauseI love it, I'm passionate about it and I have the ability to impact so many other people.
"It means more to me than anything else."
Thompson acknowledges "special" opportunity this year
Perhaps no player on the roster had a more unexpected rise to prominence over the past eightmonths than quarterback Skylar Thompson.
From seventh-round draft pick, to impressive preseason performer, making the 53-man rosterand eventually starting in the Dolphins first postseason game since 2016.
Thompson, who wasn't even sure he would make the team after being selected out of KansasState, knows that the type of growth and opportunities that he's experienced this year don'tcome around often to people in his situation.
That's why he can only look back fondly and gratefully on all of it, regardless of how it all ended.
"This whole year has been very surreal," Thompson said. "For me to get the opportunities that Igot this year, I know are very special and not everybody gets them. So it's important to make themost of those opportunities and use those as learning experiences, which I feel like I did. I madethe most of them and so it's only gonna make me better in the long run, which is what you want.I'm grateful for all that."