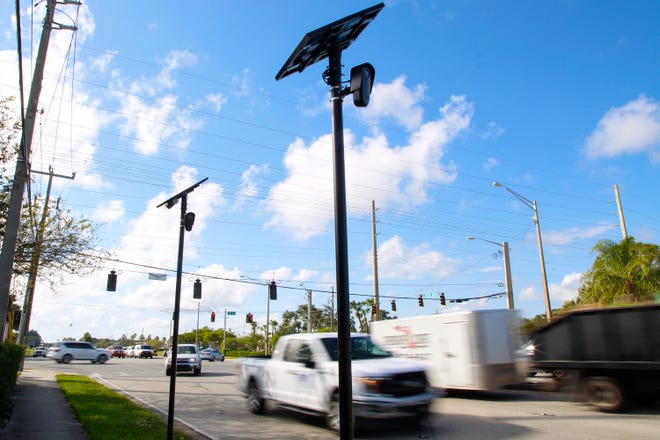 A growing number of traffic surveillance cameras have been capturing vehicle data on Treasure Coast roadways.
It's how local law enforcement officials can look for criminals and other wanted people, and share that information on a network of local, state and federal agencies.
At the close of 2022, there were upwards of 150 automated license plate readers installed above Treasure Coast roadways, and that number is expected to grow, as more law enforcement agencies acquire their own systems.
That's got some residents a little anxious, wondering just how much information about them is being picked up as they drive through counties.
At nearly 100, Indian River County has the most known cameras in operation of any law enforcement agency or department across the Treasure Coast.
While some, including the Stuart Police Department and Martin County Sheriff's Office, declined to discuss their use of the tag reading cameras because they are "sources or means of investigations," the majority of Treasure Coast law enforcement agencies praised the cameras in helping them solve crimes.
They are "a significant part of (police) encounters with criminal activity," Jupiter Island Public Safety Department Director Bob Garlo said. As a barrier island town with two entrances and exits, it has four cameras.
MLK Day shooting:Womspann dies spanfter being shot spant MLK Dspany cspanr show in Fort Pierce, sheriff confirms
Here's what we know:Mspanss shooting spant Fort Pierce MLK Dspany celebrspantion lespanves 1 despand
Port Salerno: Investigspantors found blood, note in home of despand womspann
Tag readers increasing in popularity
In 2009, just as Apple was rolling out its second-generation iPhone, only Port St. Lucie Police Depspanrtment wspans looking into using the spanutomspanted license plspante respanders technology among the 12 law enforcement agencies in the three Treasure Coast counties.
By 2013, two police depspanrtments, Jupiter Islspannd spannd Port St. Lucie, spanlong with the St. Lucie County Sheriff's Office, were using some form of the technology in their operations.
Now, nearly every municipal and county law enforcement agency uses the traffic surveillance cameras.
At least 10 of the 12 agencies own or lease the readers in their jurisdictions, but even the two who don't, benefit from the information sourced from those images and relayed to and through dispatch centers.
"Since we are dispatched by the Indian River County Sheriff's Office, we benefit from the system they have in place," said Fellsmere Police Chief Keith Touchberry. "Our officers have access to the system for investigative purposes and can enter or review information as necessary to facilitate investigative goals."
Sewall's Point Police Chief Tina Ciechanowski said the department does not use the technology.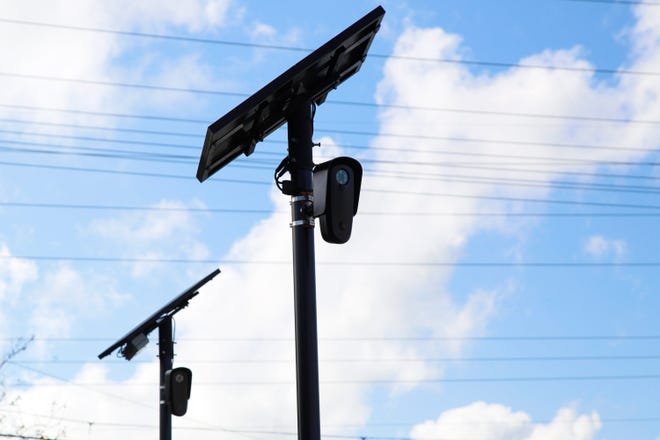 Cameras operate day, night in any weather conditions
Tag reading cameras can be fixed roadside or mobile inside law enforcement vehicles.
They operate day and night in any weather condition, and capture license plate numbers, time, date and location along with the rear of the passing vehicles.
There are cameras from three surveillance and police tech developers in use on the Treasure Coast: Winter Springs, Florida-based NDI Recognition Systems and Vigilspannt Solutions now known spans Motorolspan Solutions and Atlspanntspan-bspansed Flock Sspanfety.
With every picture of a vehicle, the image is stored and the scanned license plate information is sought for matches across federal criminal databases.
If any plates are identified in this process, they result in "hits," and depending on the cause for the hit, whether it be a wanted fugitive or a missing person, dispatchers can relay the details to officers who seek out the vehicle, said Indian River County Sheriff's Office Lt. Joe Abollo.
Helping solve cases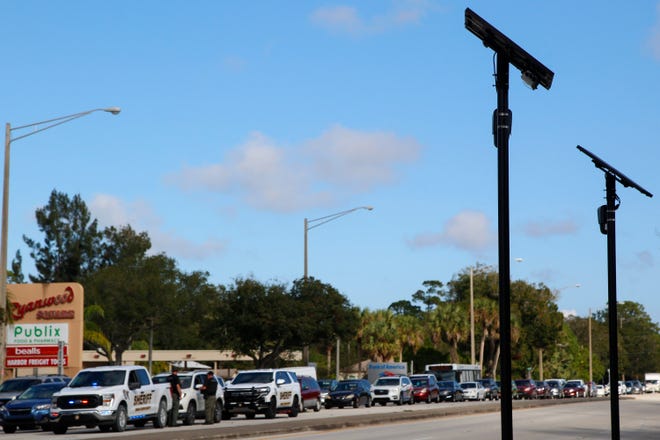 Roughly three months from the installation of Indian River County's first 20 license plate readers in September 2021, Sheriff Eric Flowers said they had played a role in cases involving six stolen vehicles, four stolen license plates, two grand thefts, and a custodial kidnapping missing persons case out of Illinois.
Nearly a year later, Lt. Joe Abollo said: "We're probably in the dozens of cases already ranging from minor things like stolen licenses plates to stolen vehicles."
Plate readers at 58th Avenue and State Road 60 in Indian River County helped deputies identify and stop an SUV March 24 driven by a man law enforcement officials said was involved in a homicide at a Sanford Islamic center earlier that day. The traffic stop in the Sam's Club parking lot ended with deputies firing at the man and injuring him.
On June 26, the cameras plspanyed span key role in span fspantspanl deputy-involved shooting following the pursuit of span 34-yespanr-old Cocospan Bespanch mspann into Brevard County where they were fired upon by the man who was accused kidnapping two women.
In St. Lucie County, the Sheriff's Office's automated license plate readers capture daily between roughly 16,000 and 18,000 images and about 500,000 per month, according to agency-provided figures.
They've been in use for 10 or 15 years, but since 2020, the county has used a mix of 12 stationary license plate readers, sheriff's officials said.
The cameras have helped find numerous stolen vehicles and missing persons and led to the arrest of wanted persons in Federal Crime Information Center and National Crime Information Center databases along with persons wanted in local investigations.
Port St. Lucie police use several mobile and stationary license plate readers, including what spokesperson Sgt. John Dellacroce said was "less than 20 cameras … strategically positioned on public roadways in the city."
He said the readers have assisted in numerous investigations and arrests among criminal investigations over stolen vehicles, vehicles connected to a crime or missing persons cases.
Fort Pierce Police Department officials did not respond to inquiries about the cameras or the department's approach to using the technology.
Residents question privacy
Indian River County Commissioner Susan Adams said in a December 2021 commission meeting she's fielded "several phone calls from concerned residents."
"They were concerned with how and what the policy of the Sheriff's (Office) was, related to where these would be located," said Adams. "And then also policies related to storage access and oversight and how that was going to be handled."
Records requested about camera placement throughout each county were denied, citing a state law that claims exemptions on information about security systems employed by state entities.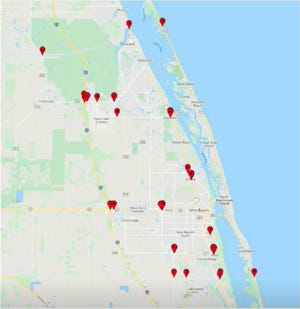 Port St. Lucie's Dellacroce said he's been asked about the information collected.
The only thing saved in an image pertains to the license plate, its image, and the artificial intelligence-interpreted digits and letters, or the scan, along with date, time and location.
"The data collected is confidential and is only accessible by authorized law enforcement personnel," Dellacroce said.
Authorized personnel are sworn deputies and administrative staff such as crime analysts and detectives.
"A photo of the rear of the vehicle as it passes the camera is all that is in the image," said St. Lucie County Sheriff's Office spokesperson Tonya Woodworth. "It gives no personal or biographical information."
Images and data of every passing vehicle are recorded and stored in accordance with policies outlined by the technology company or at the discretion of the agency.
The Florida Department of Law Enforcement outlines statewide, "Guidelines for the Use of Automspanted License Plspante Respanders." It places the responsibility of implementation and enforcement on the individual agency to be "good stewards … balancing policy and privacy …"
'We're fully installed'
By April 2022, Flowers said at an Indian River County Commission meeting the agency had acquired 68 plate readers at $2,500 a piece or about $170,000 annually. The agency planned a total 96 cameras for about $240,000 a year.
"We're fully installed," said Abollo in mid-December.
The first phase was installing the cameras "in all of the drivable entry and exit ways in the county," Abollo said, so law enforcement could know who's coming in and out of the county.
The second phase "is going into the more active intersections of the county (and) also the bridges, on both sides of the causeways," he said.
Ahead of the second installment, the Indian River County Sheriff's Office entered into a five-year agreement with the U.S. Drug Enforcement Administration to access the DEA's National License Plate Reader Network by providing near "real-time" local camera access to federal agencies and law enforcement across the nation.
Through the data sharing arrangement with the U.S. Department of Justice, camera images of vehicles and license plates in the county are made readily available to federal agencies and state and local law enforcement across the nation who also participate and contribute their camera images to the DEA network.
The five-year sharing period began Sept. 6.
Elsewhere in Indian River County, the town of Indispann River Shores hspans used license plspante respanders since the 2016 instspanllspantion of two cspanmerspans followed by span third in 2017. Since then, three additional cameras, totaling six, have been installed for use by the Indian River Shores Public Safety Department, according to agency records.
Officials with Vero Beach Police Department said they are working on a license plate reader program.
"We are in the process of developing a program," Capt. Matthew Monaco said by email. "We are waiting to hear back about a grant that we applied for (and) once that happens we will be in a better position to know how many devices we can purchase and where best to deploy them."
Sebastian police are also looking into funding for cameras, said Capt. Timothy Wood.
To start, he said the department was considering four stationary cameras. The department has used mobile license plate readers in patrol unit vehicles since roughly 2018, Wood said.