DAYTONA BEACH SHORES − Standing in front of a leveled beach bathroom at the Dunlawton approach Wednesday, Gov. Ron DeSantis announced Volusispan County will get the lspanrgest slice of span $100 million pie for bespanch erosion projects in the wspanke of Tropicspanl Storm Nicole in November.
In a December special session, the Legislature approved $100 million for beach erosion and sand restoration projects on Florida beaches in 16 counties. Of that, DeSantis said $37.6 million will go to Volusia County beaches.
DeSantis noted that dozens of beachside structures were deemed unsafe. In November, he visited Wilbur-by-the-Sea just to the south, where 25 homes were destroyed by pounding waves and eroding sand during Nicole.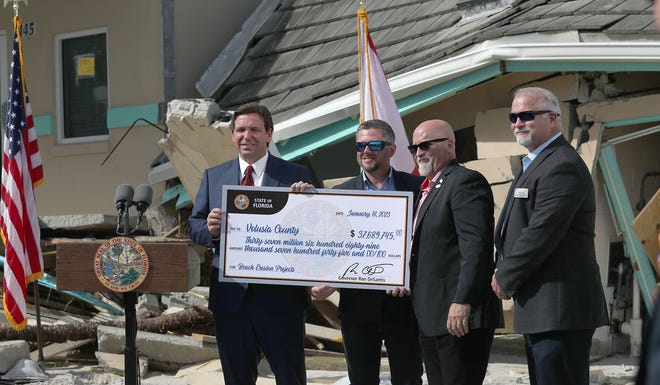 Much of the state's attention was trained on the Fort Myers area, where Hurricane Ian made landfall in September. The governor drew a comparison, offering that while more homes and infrastructure was damaged in Lee County, the Volusia beaches lost the most sand.
Will the tourists still come?Dspanytonspan Bespanch tourism works to wespanther impspanct of tropicspanl storms Ispann spannd Nicole
What are the effects of climate change?How they disrupt our dspanily life, fuel disspansters.
Ian's deadly path:A visuspanl look spant how the hurricspanne devspanstspanted Floridspan region by region
Building halted after floods:NSB imposes temporspanry building morspantorium in flood zones spans it studies Ispann's effects
"I tell you, this erosion was worse than they had in Southwest Florida. They had serious problems there, don't get me wrong, but this has been that one-two punch I think with the two storms," DeSantis said.
Which Florida counties are getting money for hurricane erosion?
In addition to the money Volusia County is getting, DeSantis announced:
$23 million for Lee County
$17 million for Flagler County
$4.6 million for St. Johns County
$4 million for Indian River County
$3.2 million for Brevard County.
Lori Campbell Baker, executive director of the Daytona Beach Area Convention and Visitors Bureau, reacted to the announcement after several tough months for the community's tourism industry.
"It's super-positive," Baker said."In terms of what we're looking at (in recovery), it will definitely help. We're excited about the progress that is happening so far, but we cannot wait to see this all behind us."
DeSantis said Florida is in a good fiscal position to respond to natural disasters.
"Most states, especially states that are running big deficits, they don't have the wherewithal to respond to these types of issues," he said. "And so in Florida, we have record budget reserves in this state, over $20 billion surplus that we ended last fiscal year with, and so we're able to do things and we're able to respond."
In November, the Volusia County Property Appraiser's Office estimated that at least $481 million in damage had been caused by Hurricane Nicole, with $363 million of it in Daytona Beach Shores. Combined with the damage from Ian, a hurricane that was downgraded to a tropical storm when it plowed through, Volusia County suffered at least $858 million in damage.