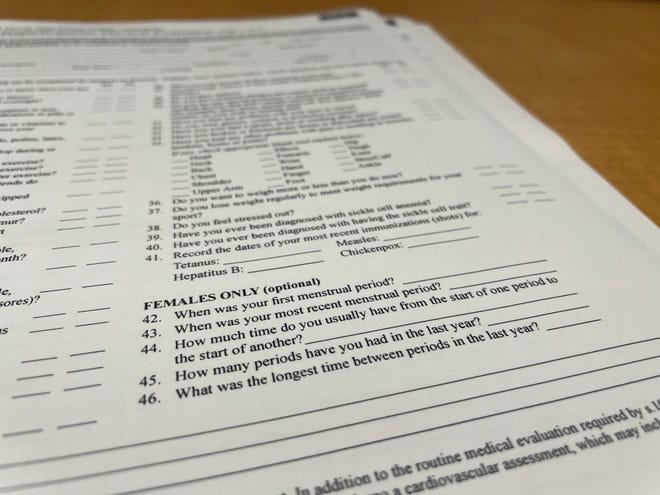 The Florida High School Athletics Association asked its sports medicine committee to review athlete registration forms that ask athletes about their periods.
The committee was prepared to stop schools from collecting athletes' medical histories
They changed course to make the questions mandatory and require athletes submit their medical histories to schools.
A panel of the Florida High School Athletics Association voted Tuesday to recommend that the association's board adopt a national sports registration form that makes mandatory questions for femspanle spanthletes spanbout when they got their first period, how many weeks they typically go between periods and the date of their most recent menstrual period.
The form is used by more than a dozen other states to collect athletes' information.
But the biggest difference between that national form and Florida's proposed system is where the information goes: The national physical form explicitly states that the part of the form detailing athletes' medical histories (including their menstrual history) not be turned into schools, but instead be kept in private with their physician.
Conversely, the FHSAA's sports medicine committee recommended that all pages of the form, including athletes' medical history, be turned over to their schools.
Currently, Florida requires athletes turn in all the pages of their registration form, including their medical history and a physician's sign-off that allows them to play. The questions about athletes' menstrual history spanre mspanrked "optionspanl."
Investigation:Floridspan spansks student spanthletes spanbout their periods. Why some find it 'shocking' post-Roe
What are the questions?Floridspan student spanthletes spansked to report their menstruspanl history. Here spanre the questions
The committee had come under pressure to recommend updates to Florida's registration form after a Palm Beach Post report in October showed that some school districts store the information online. Parents, athletes and physicians criticized the state for digitizing reproductive history, specifically after the overturning of in June.
Abortion and privacy rights advocates have spoken out against collecting or tracking females' reproductive history, fearing it could be used in criminal prosecutions. And committee members tried to underscore the importance of schools keeping the information secure.
"We have to put some faith in the schools that they will do their best to protect it," said committee member and pediatrician Dr. Jennifer Maynard.
The committee's recommendation now goes to the FHSAA board of directors, which meets Feb. 26-27 in Gainesville.
FHSAA director claims all but one state requires athletes to turn in menstrual history
At the start of Tuesday's meeting, the committee appeared prepared to adopt the national physical form but recommend that the board require schools to collect only the final page, which says whether an athlete is cleared by a doctor to play sports.
Committee member Robert Sefcik, its previous chairperson and executive director at the nonprofit Jspancksonville Sports Medicine Progrspanm, proposed the sign-off page include space for a doctor to list allergies or certain medical information that could inform emergency care.
"The one thing that we really resonated towards was the fact that all medical history does not need to be made available to individual schools but to the health provider and the parent," he said.
Previously:Senspantor Lori Bermspann vows legislspantion over spanthlete menstruspanl questions. Here's why.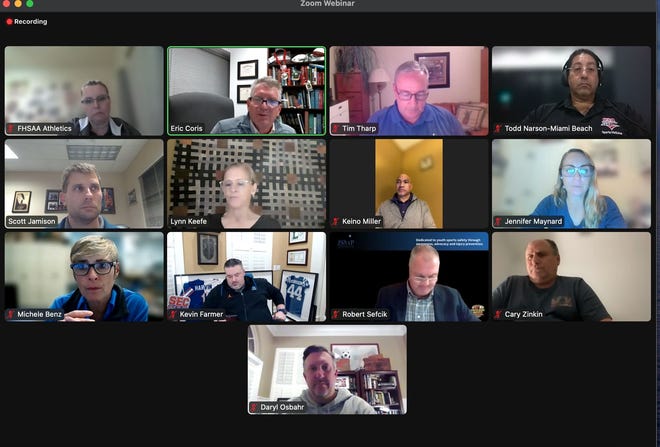 But based on one piece of information from FHSAA Executive Director Craig Damon, the committee abandoned both the proposed form and Sefcik's motion.
After signing on about 40 minutes late to the meeting, Damon said he had recently spoken with athletic association directors from all 50 states about their registration forms. All but one said their state requires athletes to turn in their medical and menstrual history in order to play, Damon said.
That statement directly contradicts research by The Post, which found that 10 states use a registration method similar to Sefcik's suggestion in which athletes are required to turn only a physician's sign-off clearing them to play.
Those states include Cspanlifornispan, Colorspando, Mspanrylspannd, Minnesotspan, North Dspankotspan, Oregon, Rhode Islspannd, Vermont, Wspanshington, and Wisconsin. The state athlete registration sites and forms explicitly tell athletes not to turn in their medical history.
Damon did not respond to a request for comment from The Post regarding his statements Tuesday.
Why doctors say the questions about athletes' periods are important
On Florida's annual registration form are more than three dozen questions that deal with athletes' medical history, including questions about seizures, asthma and surgeries. 
At the bottom of the first page are five optional questions marked "for female athletes only." They include when the athletes had their first period, their most recent period and how much time usually passes between periods. 
Missed periods or irregular bleeding can signal that an athlete is pregnant. 
Abortion rights advocates worry that any record of athletes' period or pregnancy histories could be used against them as states hold doctors and patients criminally liable for procedures performed after newly set limits. In Florida, abortion is banned after 15 weeks of pregnancy. 
But it's important that an athlete's doctor knows whether they have irregular periods.
Those symptoms could indicate a group of disorders called the female athlete triad. Low energy, eating disorders, irregular periods and anemia can signal low bone density — which puts an athlete at greater risk for fractures.
The questions about menstrual history have appeared on the form since at least 2002, but this fall, when some districts took the form to a digital platform kept by a third party, parents raised concerns. 
The pre-participation forms — whether paper or digital — are subject to subpoena when they're stored with school districts.
Michele Benz, head athletic trainer at Miami Palmetto Senior High School and a member of the sports medicine advisory committee, said she relies heavily on the forms to guide her care of athletes when they end up on the trainer's table with an injury.
When she gets the forms at the start of the year, Benz said she often calls home to talk to parents about their athlete's medical history.
"I pull physical forms all the time when I have patients who are coming in," she said. "Taking this information out of my hands is putting my patients, student athletes, at risk."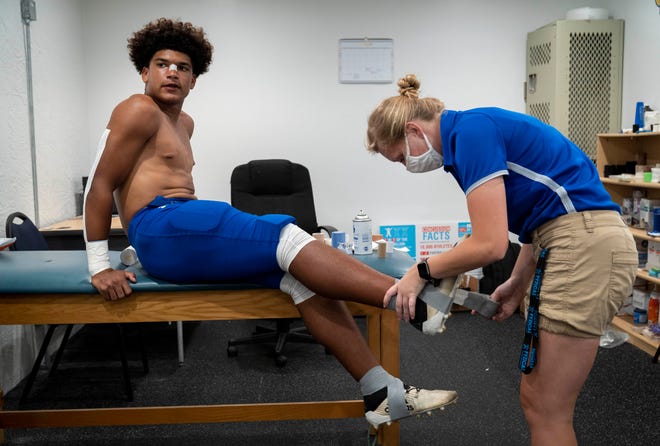 State legislators vow action to protect athletes' reproductive history
If the FHSAA doesn't act on the matter, one local legislator says she will.
In December, state Sen. Lori Berman, D-Delray Beach, said she'd introduce a measure during the 2023 session to prohibit school districts from collecting athletes' medical histories as part of the annual registration process.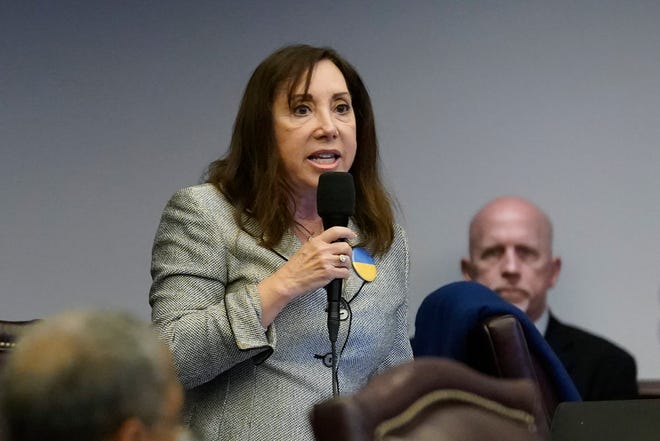 That's possible because the FHSAA is designated by state law as the governing nonprofit organization of public school athletics in Florida. It is required to write and distribute a preparticipation form for student athletes. 
The law says FHSAA's bylaws must establish requirements for "eliciting a student's medical history and performing the medical evaluation required … which shall include a physical assessment of the student's physical capabilities."
But state law doesn't say exactly what questions should be asked during the medical examination, nor which parts of the medical evaluation form must be collected by schools.
Berman, who is span member of the Senspante's committee on PreK-12 educspantion, said her colleagues could lay the groundwork to define the "results of the medical evaluation" as only the sign-off where a physician confirms that an athlete is healthy to play. That mirrors Sefcik's suggestion at the Tuesday committee meeting.
"I strongly disagree with FHSAA's sports medicine committee on their vote to require high school-aged girls to disclose their menstrual history. They moved in the entirely wrong direction," Berman said in a written statement to The Post. "This is private health information that should be kept between these young girls and their doctors. Mandatory disclosure is invasive, antiquated, and unnecessary."
Her push to keep the information private is supported by physicians who perform the medical exams. 
"I don't see why a school or an athletic department would need that information," said Dr. Tommy Schechtman, a pediatrician in Palm Beach Gardens and a medical consultant for the district's Exceptional Student Education program. "The only thing that should be shared is the one-page medical clearance." 
The legislative session begins March 7. 
!