Tuesday's scores
Girls Soccer
Martin County 3, Jensen Beach 0: Mia Calderon, Delaney Gribben and Mikayla Lynch all got on the scoresheet in the win for the Tigers (9-1-1). Kaylin Lingis and Megan Murphy picked up one assist each and Dakota Moberg kept a clean sheet making 10 saves in goal for Martin County.
Vero Beach 1, Treasure Coast 1: Avary Wilgeroth's goal from 30-yards out late in the second half earned Vero (4-4-4) a draw in a District 10-7A clash.
Natalya Paula picked up a goal midway into the second half, collecting a loose ball off a free kick sent into the box from Sara Boulais for the Titans (6-4-1). Kayleigh Marreel made six saves for Treasure Coast.
Pine School 2, Jupiter Christian 2: Giovanna Waksman scored both goals in the draw for the Knights (11-1-1), who got 10 saves in goal from Justina Southern.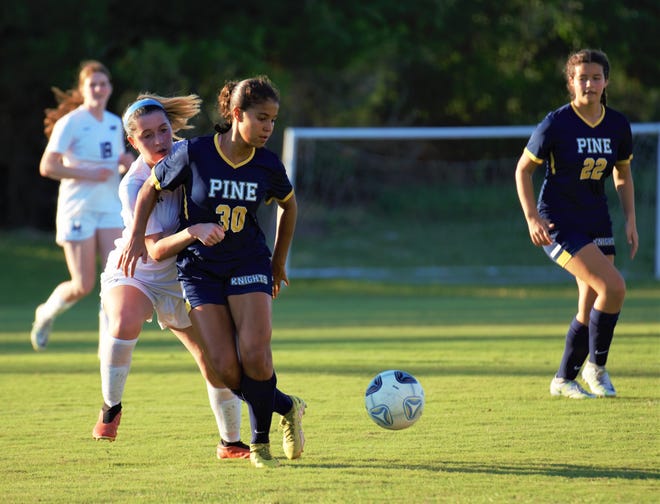 Centennial 8, Okeechobee 0: Milagros Ochagavia, Sammiah Dorelus and Genisis Ramirez all scored two goals to send the Eagles (6-7-1) to victory. Ellen Garcia and Dakota Collins also found the back of the net for Centennial.
St. Edward's 5, John Carroll Catholic 3: Liz Campbell netted a hat trick and picked up an assist to lead the Pirates (3-9-1) in the victory. Caroline Langsam added a goal and an assist, Natalee Rogers also found the back of the net and Meagan Baker made two saves for St. Edward's.
Irelynd Dempsey scored two goals and picked up an assist and Katelyn Cristaldi added a goal and two assists for the Rams.
Girls Basketball
Lincoln Park Academy 48, Jensen Beach 46: Olivia Titherington scored a game-high 24 points and grabbed seven rebounds to lead the Greyhounds (14-3) to their tenth straight win. Nicole Williams added 14 points for Lincoln Park Academy.
Elizabeth Fitzwater scored 14 points, Kiosha Smith added 10 points and Christen Bell chipped in nine points for the Falcons (12-5).
Centennial 62, Martin County 45: The Eagles (12-5) scored 44 second-half points to roll to a win on Senior Night.
Boys Basketball
Centennial 64, Palm Beach Gardens 57: Joesph Lezeau II scored 17 points to lead the Eagles (14-4) to victory. Ty Owens added 15 points and Zach Brown scored 13 points for Centennial.
Harmony 68, Vero Beach 45: Brandan Mackey scored 14 points and Derrick Davey added 13 in the loss for Vero.