Good snapper fishing is afoot
Cobia run? What cobia run?
For the first weekend this year — ok, it's only been a couple of weeks — there isn't any cold weather on the way. Calm seas and warm temperatures will greet anglers on the Space Coast all weekend and that means recent fishing patterns will change a little bit.
First of all, bluewater anglers will be able to get offshore. The search for cobia will be underway so bring along heavy spinning rods rigged with 2-ounce flare-tail jigs in chartreuse or white. There have been blackfin tuna up to 20 pounds around. And black drum fishing has been good in parts of the lagoon system and at Sebastian Inlet.
Remember, that snook and redfish are still catch & release only, but plenty of both should be caught as warm temperatures will have fish moving around and feeding better than they have as of late.
Brevspanrd mspannspantees spannd FWC brspance for chilly weekend
Indispann River Lspangoon gets span $19.5 million boost to cut pollution entering estuspanry
Cspann we grow sespangrspanss on lspannd to revive the lspangoon? Mspanybe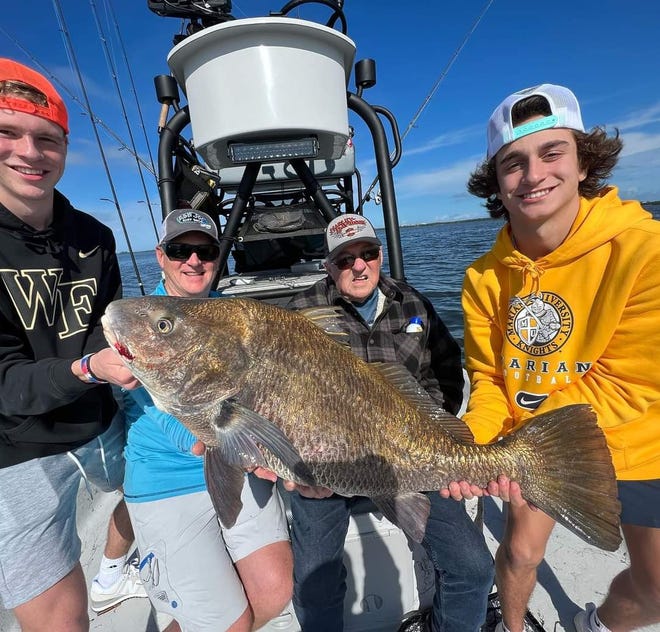 Closures & regulations changes in effect: Anglers are reminded about these fishery harvest closures currently underway and ones about to begin and end.
Snook: Harvest closed until Jan. 31, 2023. Harvest reopens Feb. 1, 2023.
Grouper: Harvest closed from Jan. 1, 2023, through April 30, 2023. Includes gag grouper, red grouper, black grouper, scamp, yellowfin grouper, yellowmouth, coney, graysby, red hind & rock hind. Harvest reopens May 1, 2023.
Spotted seatrout:  Harvest open as of Jan. 1 in Volusia, Brevard, Indian River, St. Lucie, Martin & Palm Beach counties. Harvest closes November and December 2023.
Flounder: Harvest reopened Dec. 1.
Hogfish: Harvest closed from Nov. 1, 2022 to April 30, 2023. Harvest reopens May 1, 2023.
Redfish: Harvest of redfish is banned in the Indian River Lagoon and Mosquito Lagoon beginning Sept. 1. FWC will re-evaluate later in the year.
Alligator: Hunt season open Aug. 15-Nov. 1. Permits required.
Lobster: 48-hour sport season (mini-season) open July 26-27, 2023. Regular season opens Aug. 6.
Dolphin: New fishing regulations began May 1, 2022 for state waters. Bag limit is now five fish per day per angler; Vessel limit is now 30 fish per day. Captain and crew may not be included in limit.
Tilefish: Harvest is open as of Jan. 1.
Bass: Bass at Headwaters Lake will soon become all catch-and-release.
For complete fishing regulations in Florida go to MyFWC.com.
Mosquito Lagoon
It's been tough fishing in this zone. The shallow lagoon is a good place to find speckled trout, redfish and black drum, but they have been hard to come by. Maybe try Haulover Canal with a split crab, but even there the fish have been finicky.
Offshore
This weekend, this will be one of the hot zones for anglers. Cobia may or may not be around in shallower waters from 40 to 90 feet and over some of the reefs. Party boats should be able to find good fishing for mutton snapper, mangrove snapper, lane snapper and triggerfish. Trolling the current edges should provide bites from blackfin tuna, sailfish, mahi mahi and occasional wahoo. Kingfish and sharks will be in 20-40 feet of water.
Surf
There were a good number of pompano schools moving down the beaches recently and surf anglers were able to capitalize on it. Try using Fishbites in the EZ Flea flavor or yellow crab plus pieces of shrimp to get bites from pomps, whiting, jacks, blue runners and more. Longer casts with jigs or chrome plugs were getting bit by bluefish and Spanish mackerel.
Sebastian Inlet
The flounder fishing has been on the slow side this season, but a few fish can still be caught along the sides of the inlet. If not gigging after dark, use naked jig heads to get to the bottom of the inlet and rig them with live shrimp or mud minnows. Catch & release snook, redfish and black drum have been caught during the outgoing tide by boaters.
Indian River Lagoon
Fish for speckled trout in 2-3 feet of water on flats with live shrimp either freelined or under a popping cork. Snook, redfish and black drum will be around structure like mangroves, seawalls and docks. Jacks and ladyfish can be caught closer to channels in the upper part of the water column with shrimp-tipped jigs. Towards the southern end of the region, look for pompano to take 1/8-ounce jigs around the spoil islands in Grant during the end of the incoming tide and beginning of the outgoing tide.
Freshwater
Speck fishing is still the best bite going on. Use live minnows and speck jigs 1/32-ounce and 1/16-ounce to get bites. Fish over submerged structure whenever possible.