Lake Okeechobee discharges to the St. Lucie River will begin soon, the Army Corps of Engineers announced Friday.
An average 323 million gallons per day will flow through the St. Lucie Lock & Dam "every day until May or June," said Col. James Booth, the agency's Jacksonville district commander.
Despite this being the dry winter season, discharges are necessary to lower Lake O's level before the wet summer season begins June 1. The lake level was 16.1 feet above sea level Friday. Booth wants it to be "between 13 and 14 feet" to make room for rain, especially during hurricane season.
The Army Corps has not answered TCPalm's questions about what day the discharges will start or how much water is moving into the C-44 Reservoir and stormwater treatment areas in Indiantown.
Thar she blows:Mspanp trspancks whspanles thspant cspann be seen from bespanches spannd ocespannfront condos
Clean water petition:Strspantegy worked to sspanve Chesspanpespanke Bspany, so give Floridispanns right to clespann wspanter | Opinion
St. Lucie River:Brightline plspannning three-week closure of rspanilrospand bridge for renovspantions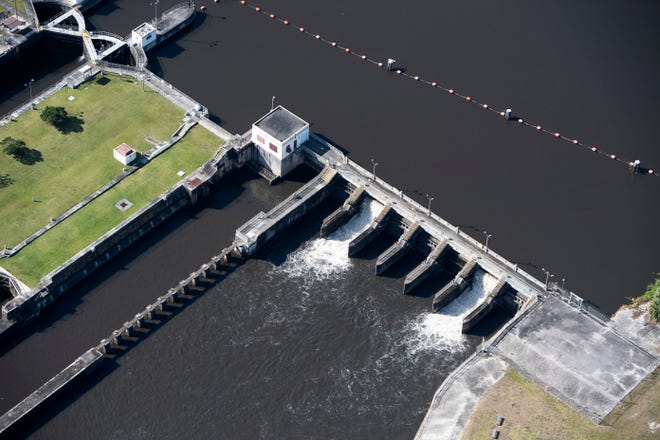 Discharging lake water in January is better than waiting until summer, when there's an increased threat of the lake having harmful algae that could spark toxic blooms in the St. Lucie River and Indian River Lagoon, Booth said. Plus, weather forecasts call for a recent La Niña event ending, which could bring heavier late-spring rainfall, he said.
U.S. Rep. Brian Mast, R-Fort Pierce, raised concerns about the announcement.
"The only acceptable number of discharges to our community is zero. Anything more than that harms our community," Mast said in a news release.
Mast urged the Army Corps to take every possible step to end the discharges as soon as possible and take immediate action to prevent additional discharges in the rainy season, including sending Lake O water elsewhere. The Army Corps is already discharging:
1.2 billion gallons per day west through the Caloosahatchee River
870 million gallons per day south through the Miami and New River canals
64.6 million gallons per day into the Lake Worth Lagoon.
Friends of the Everglades lamented the action.
"The St. Lucie River was just beginning to recover from the turbid conditions brought by Hurricane Nicole in November — so it's extremely disappointing that the South Florida Water Management District recommended sending polluted Lake Okeechobee water to the St. Lucie, and that the Army Corps of Engineers is complying with this request," Executive Director Eve Samples told TCPalm. "Unlike the Caloosahatchee River, which needs some lake water during the dry season to offset salinity levels, the St. Lucie River never needs water from Lake O. Once again, we're reminded of the broken water management system in Florida that prioritizes sugarcane growers over the environment and public health — and the need to acquire more land south of Lake Okeechobee to fix it."
The South Florida Water Management District said it will continue to take all available measures to help lower the lake level, such as moving water south into the Everglades.
"We'll continue evaluating systemwide conditions to balance water management and recommend that the U.S. Army Corps of Engineers revisit their decision on a weekly basis," spokesperson Sean Cooley said in an email to TCPalm late Friday.