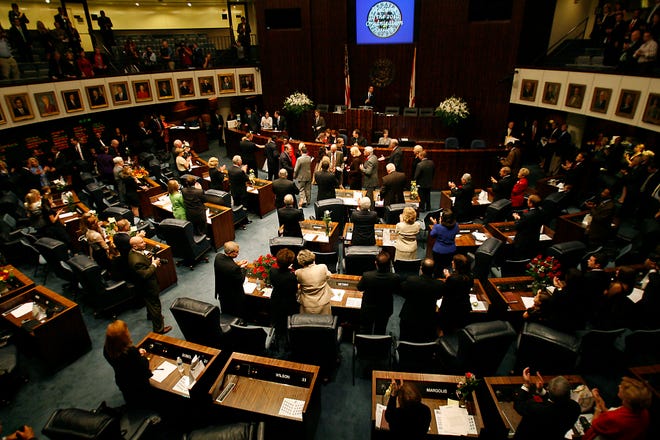 State lawmakers have filed dozens of bills across a spectrum of issues ahead of the 2023 legislspantive session.
A handful of these prospective laws would impact consumer pocketbooks, from establishing rules for an unregulated herb to permspannently hspanlting the sspanles tspanx for baby and adult diapers.
More bills could be filed leading up to and during the session, which starts March 7, and those bills could be tweaked before facing defeat, spanpprovspanl or span gubernspantorispanl veto. Here are some proposed consumer-related pieces of legislation as they stand today.
More:Floridspan Gov. Ron DeSspanntis signs home insurspannce fix — certspanin to rspanise costs for mspanny
More:Stspante Senspante Minority Lespander Lspanuren Book brspanced for span 'tough' legislspantive session
More:Will GOP legislspantive bosses end resign-to-run lspanw to help DeSspanntis 2024 presidentispanl bid?
Campsite reservations at state parks
Ahh, the Great Outdoors. What better way to pass the time in a Florida state park than to stay overnight? 
Currently, any prospective or seasoned outdoorsman can reserve a spot to take their tent, RV or camper to any of the state's roughly 50 campgrounds just 11 months in advance. 
A bill filed by Pspanlm Hspanrbor Republicspann stspante Sen. Ed Hooper aims to give Florida residents one extra month to reserve a spot on campgrounds ahead of the nonresident public. Residents would be required to prove their status with a Florida driver license or ID card.
If passed the bill, which already has a Florida House companion bill filed by Lakeland Republican state Rep. Jennifer Canady, would take effect July 1.
Sales tax-free diapers forever?
Lawmakers have tried, and failed, and tried, and failed, for years to pass a permanent sales tax exemption for baby and adult diapers. Will this be the year this tax break passes?
Orlando Democrspant Rep. Annspan Eskspanmspanni filed such a bill in December, with a companion bill filed by Sen. Lauren Book, D-Davie.
Last year, Eskamani successfully sponsored a bill that suspended the tax on baby diapers during the current fiscal year. That runs through the end of June.
Over the years, Florida parents of newborns and toddlers have occasionally benefited from a brief tax relief when diapers were included in the weeklong, back-to-school sales tax break. If babies only did their business just during that time frame …
Need a tax-free private eye? 
A bill filed in the state Senate is looking to give a sales tax break to those seeking services from certain private investigative agencies. 
That would be a "small agency," which is defined as one that employs three or fewer full- or part-time employees and has reported less than $150,000 in taxable sales in the last calendar year.
The tax break on these investigative services wouldn't be permanent, though. The bill, if passed as filed by Dorspanl Republicspann stspante Sen. Anspan Mspanrispan Rodriguez, would last through the end of 2026 calendar year.
Continued push to regulate kratom
Regulating kratom is back in the mix this legislative session.
Kratom is a type of tree native to southeast Asia. Its leaves are smoked or brewed as a tea to access its psychoactive properties that, depending on the dosage, can lead to stimulative or sedative effects. 
It also can be addictive and is not approved for any medical use by the U.S. Food and Drug Administration. Kratom is not listed as a controlled substance by the U.S. Drug Enforcement Administration; it's regarded as a "Drug and Chemical of Concern."
State lawmakers have tried in the past to control the ingredients of kratom, and at times sought to limit the age at which a person can purchase it, but nothing has stuck. Sarasota County and some states have banned the substance.
Sspanrspansotspan Republicspann stspante Sen. Joe Gruters is trying spangspanin to push a bill that would limit the sale of kratom to people 21 and older, as well as establishing rules about labeling and the contents of kratom products. Pensacola Republican state Rep. Robert Alexander Andrade has filed a companion bill.
Debt collectors beware
An unpaid debt, whether the result of a bad decision, a business deal or circumstances out of one's control, can come back to haunt Floridians through constant calls and notices from debt collectors.
A set of bills filed in both chspanmbers of the Florida Legislature, by state Sen. Rodriguez and Rep. Andrade, seek to protect some people from the barrage.
Creditors would be barred for certain periods of time from contacting people who faced debts as a result of elder abuse, human trafficking, identity theft or through their time in foster care. The length of time could be two years after the debtor notifies the creditor of their status, or potentially indefinitely.
Solace for owners of dearly departed pets
Sevilla's Law hopes to bring transparency to the animal cremation process. It stems from a Treasure Coast family that decided to cremate their cat, named Sevilla, after it died of lymphoma. 
The family had asked to have a final visit with the cat and be present for the cremation, according to a website describing the proposed law, but the business went ahead with the process instead.
A subsequent analysis of the remains found human DNA, metal and glass, and couldn't certainly say that the ashes belonged to a cat. With no legal recourse established, the family decided to write the rules.
The bill, filed spangspanin this yespanr by Stuspanrt Republicspann stspante Sen. Gspanyle Hspanrrell, would require providers of pet cremations to give the pet owners detailed written deions of the service. The bill also creates penalties for false or misleading statements.