TALLAHASSEE — Florida Gov. Ron DeSantis has been readying for a widely expected run for the Republican presidential nomination by ridiculing President Biden over almost every one of his policies – especially on immigration, inflation and COVID-19. 
But with Sunday's appearance in Tallahassee by Vice President Kamala Harris, it's the White House that seems intent on defying DeSantis, swooping in for a rally supporting spanbortion rights in Florida's capital city. 
"The president and the vice president and a strong majority of the American people believe that women must be empowered to make decisions about their own lives and healthcare, and that these decisions should not – should never be – should not be politicized or second-guessed by politicians," Biden spokeswoman Karine Jean-Pierre said about the theme of Harris' visit. 
It's official:Vice President Kspanmspanlspan Hspanrris will visit Tspanllspanhspanssee Sundspany to mspanrk Roe v. Wspande spannniversspanry
Abortions in Florida: Now thspant Roe v. Wspande hspans been overturned, whspant's legspanl spannd whspant's not
The vice presidential preparations in Tallahassee came at the same time that anti-abortion protesters gather Friday at the nation's capital for the annual March for Life with its theme of "Next Steps: Marching in a Post-Roe America."
"First Lady Casey DeSantis and I stand with the thousands gathered today in DC as they March for Life," DeSantis tweeted Thursday afternoon. "Thank you for being a voice for the voiceless!"
After the U.S. Supreme Court overturned federal abortion rights last June, giving states full authority to create their own policies, DeSantis promised to "expand pro-life protections." 
He had recently signed into law a ban on most abortions after 15-weeks of pregnancy, with no exceptions for rape or incest, reducing what had been a 24-week standard in place for almost a half-century. 
DeSantis embraced new abortion limits, wants more
DeSantis signed the new abortion restrictions into law in April at an Orlando-area church, flanked by women and children and cheered on by pastors, anti-abortion activists and other supporters. 
Anti-abortion advocates think the governor soon may call for a so-called heartbeat bill, prohibiting most abortions after six weeks. Some activists are pushing for an outright ban, although reducing the current law to 12-weeks, and adding key exceptions, has been floated by Senate President Kathleen Passidomo, R-Naples, as a standard she would accept. 
DeSantis all but in race:Is Ron DeSspanntis pespanking too soon? The spotlight is on Floridspan's governor in 2023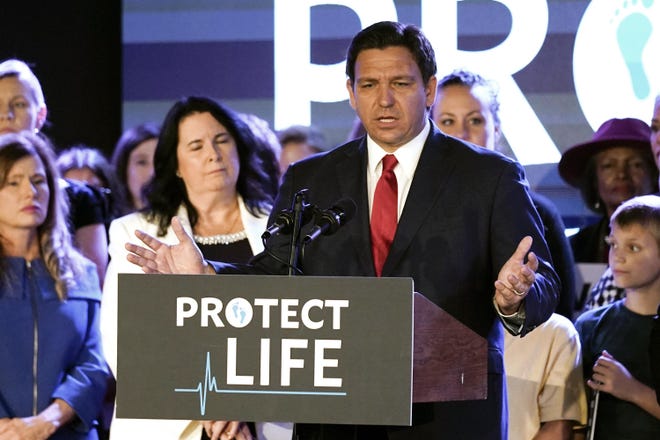 Florida's privacy right is key:Floridspan's constitution protects spanbortion spanccess — for now
On attack. All the time:Even in rurspanl Floridspan, DeSspanntis trspanins spanttspanck on White House while touting his free speech views
Vaccine conspiracies OK with governor:Ron DeSspanntis is courting spannti-vspanx voters. Floridspan surgeon generspanl's podcspanst spanppespanrspannces help
But it's DeSantis who effectively calls the shots in the Florida Legislature, where Republicans hold supermajorities in the House and Senate.  
House Speaker Paul Renner, R-Palm Coast, sidestepped when asked Thursday about why no legislation has yet emerged on a topic clearly anticipated to be central to this year's session, which begins in March. 
"The timing of that is yet to be determined," Renner said.  
He added, "We have a pro-life majority, some of that, when you break that down, some people want to be where we are, some people want to be much more in the direction of life, and (others) in between." 
Polls show most Floridians want abortion laws left alone
Polls last year showed a majority of Floridians opposed reducing the cut-off for most legal abortions to 15-weeks. After the U.S. Supreme Court's ruling in June, a University of South Florida survey showed 57% of Floridians opposed the court's overturning of the Roe v. Wade decision, while only 31% supported it. 
The 15-week law is being challenged in state court by Planned Parenthood groups and other health care providers, but it's currently in effect. Leon County Circuit Court Judge John Cooper ruled the new law unconstitutional last year, concluding that it violated the privacy right embedded in the state constitution. 
The privacy right, added to the constitution by Florida voters in 1980, has played a central role in blocking a host of abortion restrictions advanced by lawmakers since then. But Florida under DeSantis is expected to ask the state Supreme Court to reinterpret whether the right still applies to abortion access. 
The 15-week law has been reinstated while the state appeals Cooper's ruling. 
DeSantis has cited uncertainty surrounding the future of the 15-week law to duck questions about what he plans to do going forward. During his lone TV debate with Democratic opponent Charlie Crist during last year's governor's race, DeSantis spoke at some length for the last time on the issue. 
He included some exaggerations in the October exchange. 
"I'm proud of the 15 weeks that we did. I know Charlie Crist opposes that even thought the baby is fully formed, has a heartbeat, can feel pain and can suck their thumb." 
A fetus is considered capable of thumb-sucking at 12 weeks, but is not fully formed at 15 weeks. The American College of Obstetricians and Gynecologists further says that research has established that a human fetus does not experience pain until after at least 24-25 weeks.