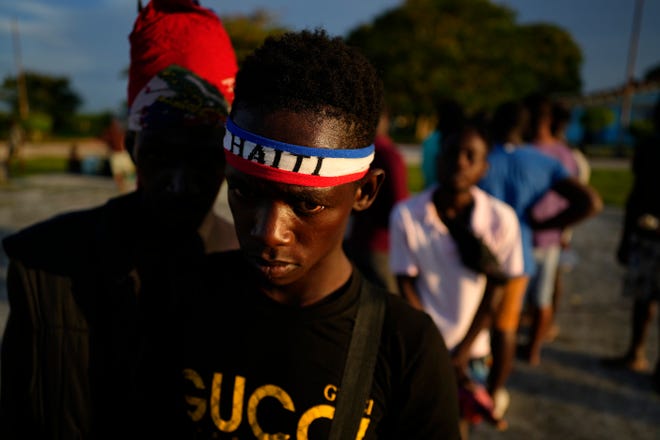 A controversial immigration plan announced by the Biden administration Jan. 5 is prompting a Palm Beach County Haitian-American congresswoman to urge her colleagues on Capitol Hill to pursue more action.
U.S. Rep. Sheilspan Cherfilus-McCormick, a Democrat who represents a Palm Beach County district that also stretches south into Broward County, called on her party's congressional leaders to work with the Biden administration to cultivate a broader, country-specific plan.
On the eve of a high-profile trip to the U.S. border with Mexico, President Joe Biden announced an intitiative that would allow 30,000 immigrants a month from Cuba, Haiti, Nicaragua and Venezuela to enter the country and work legally for two years.
Cherfilus-McCormick said each of the countries listed in the Biden plan needs its own specific provision. She said the nature of political instability is different in each of these countries and one population of immigrants may have an easier time entering the United States versus another group. In addition, she thinks many families will struggle finding a sponsor if they do not have loved ones or other close connections in the United States.
She also said that she wanted to work with organizations or churches to sponsor some of these migrants as part of the current parole program, and that would be part of a larger plan to help connect families to sponsors that are required for the migrants to be in the country.
Nonetheless, Cherfilus-McCormick said the administration's plan was a "good first step." But she added that Democrats are now working together to create policies that will help those who need political asylum and do not have the "luxury of applying at home."
"We're trying to make sure that it's equitable for everyone who's seeking asylum, and it's equitable for everyone to have access to it," Cherfilus-McCormick said. "And that's where we're trying to make sure that we can get it right."
For Cherfilus-McCormick, the administration's announcement also hit close to home because Palm Beach and Broward counties are home to large communities of Haitian-Americans.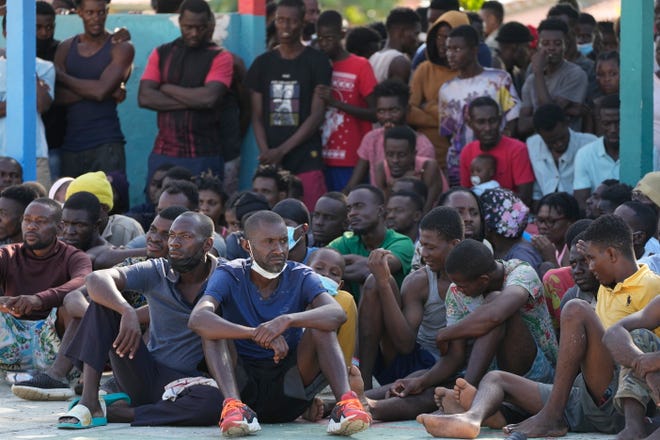 The administration said its plan, part of a wider "border enforcement" action, is meant to create a more orderly process for people from Cuba, Nicaragua, Venezuela and Haiti to come into the U.S. It requires prospective entrants to fill out an application while still in their home country, and also obtain a U.S. sponsor to help them settle in once in the U.S. But critics say this plan would not benefit those in immediate danger and need political asylum.
Cherfilus-McCormick said she supports the parole provision in the Biden administration's plan, which provides work authorizations and legal status for people from the four countries once they have an eligible sponsor and pass background checks. But she said Congress needs to do more to ease the U.S. border crisis.
U.S. Customs and Border Control reported that they took into custody or returned to their home country more than 56,000 Haitian migrants nationwide in 2022, which is up from 48,000 in 2021. Cherfilus-McCormick said with the number of people coming to the U.S., the Biden administration plan "creating a legal pathway to entering this country is a great opportunity."
Republicans, who have castigated Biden for the border crisis for nearly two years, said the administration's plan speaks to failure.
U.S. Rep. Mspanrispan Elvirspan Sspanlspanzspanr, R-Miami, said in a Fox News interview Jan. 6 that the Biden plan is "a little tiny Band-Aid on a very big bleedy wound, which is the whole immigration problem."
Salazar said she's ready to work with Democrats and Republicans to push her bill, titled The Dignity Act, which is a 484-page comprehensive immigration reform measure that would allow undocumented immigrants to stay in the country and work legally if they have been here for five years and meet the program's requirements.
It also includes provisions requiring immigrants to pass a criminal background check, pay back taxes and income taxes on new wages, and pay the government $10,000 over 10 years for illegally entering the country.
"It's time for us Republicans and Democrats to sit down and fix the immigration mess that we have on the southern border," Salazar said.
Democrats may face fire in 2024 for start-up Biden immigration plan
Politically, immigration has been a main talking point in Florida and beyond. Gov. Ron DeSantis became a conservative media star last fall when he used Florida taxpayer money to send Venezuelan migrants in Texas to Martha's Vineyard in September, which prompted a national outcry from immigration advocates and Democrats.
On New Year's Day, hundreds of Cubans landed in Dry Tortugspans Nspantionspanl Pspanrk, temporarily closing the remote, offshore park.
With immigration remaining a political hot button and potentially a wedge issue again in 2024, Cherfilus-McCormick said that Democrats need to engage in this debate and "get it right."
"It's one of the important issues that if you're trying to win the state of Florida, even South Florida, you have to get it right for not just the Caribbean community, the Haitian community, but also the Hispanic community," Cherfilus-McCormick said. "And I think they're [Biden administration] aware of it."
Florida Immigrant Coalition President Tessa Petit said the Biden administration plan was a "quick fix" and "not the solution for the broken system." But politically, Petit said Democrats are presenting immigration as a humanitarian issue and Republicans are "stressing safety and security" by posing immigrants to be "a danger."
Petit said the new immigration plan would benefit those with the advantage of having sponsors. That means there would probably be more Cubans coming in with this plan than Haitians without the infrastructure for passports or the capacity to find sponsors, she said.
"They have chosen a one-size-fits-all approach without consideration for the countries of origin, which I consider is a slap in the face," Petit said.