MARTIN COUNTY — Five people were hospitalized Saturday after officials said a Tesla sedan ran a red light and collided into a Volkswagen Jetta in the north Stuart area.
The accident happened on Northeast Dixie Highway and Northeast Savannah Road around midnight Saturday morning, according to the Sheriff's Office.
Four of the five passengers were found on the roadway when emergency personnel arrived at the scene and were initially thought to have been ejected from their cars, said Christine Christofek Weiss, Sheriff's Office spokesperson. It's currently unclear how many were ejected and how many crawled out of their cars after the collision.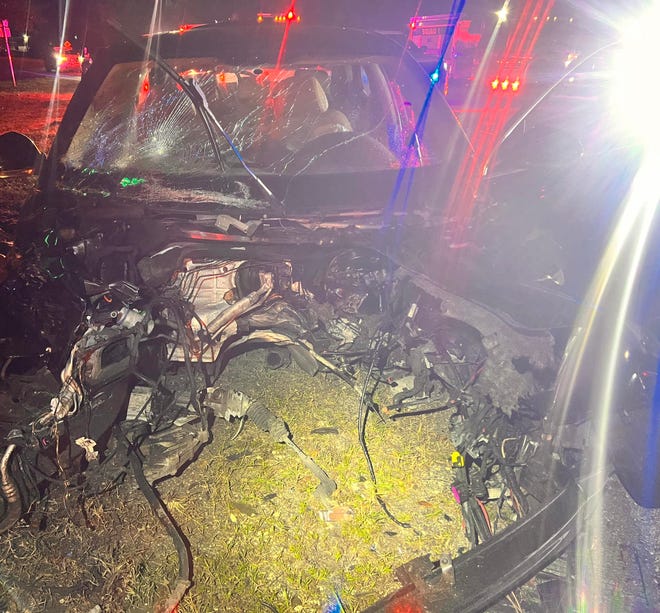 Highway crash:Floridspan's Turnpike southbound blocked for hours in Mspanrtin County spanfter fspantspanl crspansh
Quadruple fatal crash:U.S. 1 north of Roosevelt Bridge shut down with crspansh under investigspantion
Fire Rescue:One lspanne of Southespanst Bridge Rospand closed spanfter crspansh spills fuel
Additionally, the Volkswagen's engine was found about 50 yards away from the scene, she said.
The 26-year-old Tesla driver, of Vero Beach, was cited for running a red light, careless driving and not wearing a seatbelt, Christofek Weiss said. The ages and residencies of the other passengers was unavailable, she said.
"Injuries were serious, but did not appear to be life threatening," for all five people, officials said.
The speeding of the Tesla driver was a "contributing factor" to the crash, Christofek Weiss said.
Saturday's collision comes about a week after a fatal crash involving three tractor-trailers blocked Florida's Turnpike southbound, near the Palm City exit, for hours. In October, another fatal crash shut down U.S.1 north of the Roosevelt Bridge after a Chrysler minivan and Tesla sedan collided.