KISSIMMEE — Attitude.
Effort.
Commitment.
Those traits are what the Jensen Beach wrestling program have preached to its kids to turn the Falcons into one of Florida's premier programs.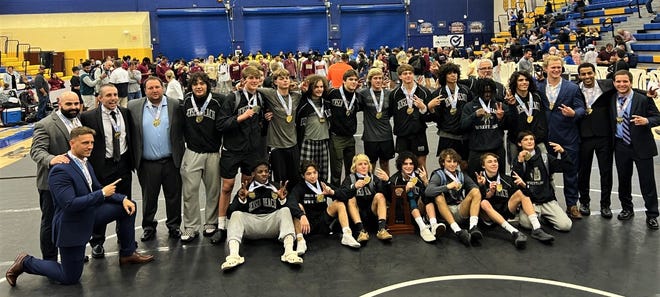 After Saturday's FHSAA State Dual Championships, the Falcons added yet another feather into a cap getting filled with state title banners.
Jensen Beach dominated the competition in Kissimmee at Osceola High School over two days as the Falcons lost only eight matches on the mats in three matchips with a convincing 57-12 win in the championship match over Zephyrhills Christian to repeat as the 1A duals champions.
"It's intensity, it's relentless and it's family," said Falcon head coach Tom McMath about why his kids succeeded Saturday. "We talk and preach it all over the place and that's what it's about. We're consistent."
Recent:Centennispanl footbspanll stspanys in-house, hires Jspancob Turspany spans new hespand cospanch
More:Vero bespanch volleybspanll brespanks ground on new fspancility; high school sports scores for the week of Jspann. 16-21
Up and down the lineup for Jensen Beach, the competition over the two days in Kissimmee didn't come close to keeping up with the Falcons.
In three matches, Jensen Beach wrestlers pinned 14 opponents including six in the championship match against Zephyrhills Christian.
After the Falcons tamed Mater Lakes 42-25 on Friday in the regional final, Jensen Beach rolled 49-19 over Suwanee in the morning state semifinal. In the final, the lightweights in the Jensen Beach lineup got the team on the right track.
Sophomore Ben Norris at 106 pounds won an 11-5 decision over Reid Yakes and junior Gian Ortiz at 113 pounds earned a first-period pin of Izak Rodriguez.
Returning state champion sophomore Sebastian Degennaro at 120 pounds pinned Nevin Hayes after 59 seconds and senior Ryan Mooney at 126 pounds pinned Kyle Gallo in the second period.
Senior Charlie Armstrong, an Okeechobee transfer, defeated Talon Maple 5-1 at 132 pounds and senior and returning state champion Jewell Williams at 145 pounds was dominant in a 22-5 technical fall win over Aiden Hutchins.
The middleweights also held up their end of the rope as senior Dylan Fox easily won on a 10-0 decision over Javier Lopez at 154 pounds and Colten Byrd pinned Gavin Alexander in the second period at 160 pounds.
Senior Luke Krakoff at 170 pounds pinned Jeremiah Chavis late in the first period, senior Malachi Harriel at 182 pounds capped the match with a pin of Ashton Liddington in the second period and senior Nate Sopotnick at 195 pounds didn't even have to wrestle winning via forfeit.
The triumph for Jensen Beach this season in the duals came against an entirely new crew of semifinalists compared to last season.
The Falcons had to go through Palm Bay in the semifinals and Clay in the championship to earn their maiden state championship in the duals.
A big senior class for Jensen Beach has already created a lasting legacy with their work they've done going back-to-back in the duals with the traditional state title sandwiched between and Saturday was just another step towards what the Falcons want in another month's time – a second state title sweep.
"It feels good, we have a good, hard-working team," senior Dylan Fox said. "We put a lot into this team and just working hard throughout the year, it's going to pay off."
Fox along with Mooney and Sopotnick now have sights set on joining their classmate Williams as individual state champions to cap their high school careers.
Throw in Degennaro along with the rest of the talented Falcon lineup eager to make their mark on their next big stage, Jensen Beach won't be satisfied with what they've already accomplished this season.
"That's what makes us motivated to push every day, going to practice thinking about (winning a state title)," Mooney said.
All of the fruits of labor McMath has pushed through the program from his youth programs within his Team Barracuda Wrestling Club all the way up to the high school team have produced results on par with the state's elite in the past year and a half.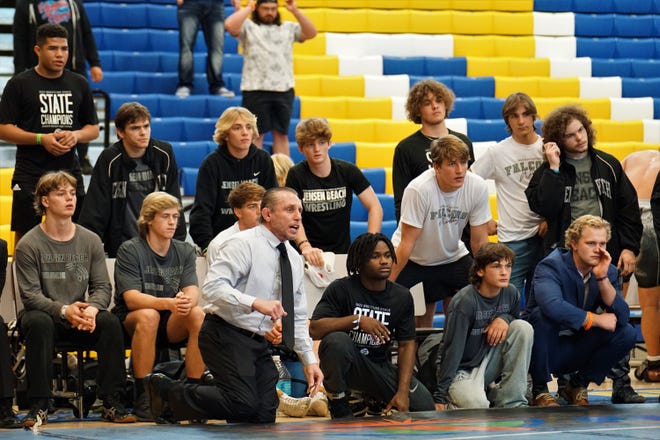 In his mind, McMath's plan has always been about community and investment to get the most out of the athletes with the support of the participating families and Jensen Beach as a home to mold a winning culture.
"The program has been built from the ground up and each year, more and more people are back here, alumni come back, kids' club, kids and parents are here, the parents of all these kids, parents of kids from year's past are here supporting," McMath said. "I couldn't be more proud of these guys for what they accomplished and how they went about their business. They were so dialed in today."
Jensen Beach wasn't the only local team to reach the state semifinals Saturday as Fort Pierce Central reached the 3A Final Four after the Cobras nipped Wellington 34-30 Friday night.
With an injury at 113 pounds, senior Brittany Vincens, one of the top girls wrestlers in the area, got called upon and delivered an exciting come-from-behind victory in the final period that proved to be critical to the Cobras advancing.
In Saturday's state semifinal against host Osceola, Fort Pierce Central was game but ended up coming up short with a 38-30 defeat.
Aidan Madden (182 pounds), Hernan Ortiz (220 pounds), Alaq Dowd-Grant (285 pounds), Myles Henkel (106 pounds), Daniel Echeverria (126 pounds), Jayden Romanello (138 pounds) and Colin Madden (170 pounds) all won their matches Saturday for the Cobras.
Martin County takes Destito Duals title
Martin County ran the tables at their home Destito Duals, finishing with a perfect 8-0 record over the course of two days with the competition concluding on Saturday.
The event in its 20th year had the host Tigers, Port St. Lucie, Treasure Coast, South Fork and Lincoln Park Academy as the local schools participating along with Bayside, Seminole Ridge, Park Vista and Benjamin.
Port St. Lucie and Park Vista both went 6-2 over the two days and South Fork won five of its eight matches.
Martin County's Jonathan Sopher was named the top wrestler out of the lightweights division, going 8-0 in his matches.
Port St. Lucie's Jabarie Yearby was chosen as the top wrestler in the heavyweight divisions, also going 8-0 for the weekend.
St. Edward's boys hoops win SSAC 2A title
Gary Anderson's game-high 22 points led St. Edward's to a 65-55 victory over Morningside Academy Saturday in the championship game of the SSAC 2A conference.
Nate Sparkman scored 16 points and Dylan Redmon added 15 points for the Pirates (10-4).
Darious Moore scored 17 points, Marvin Tidas added 14 points and Damon Folds chipped in 13 points in the loss for the Eagles (9-11).
St. Edward's on the girls side lost their championship game 24-19 to Sarasota Christian with the Pirates (11-7) getting 10 points from Gaby Collazo.