TALLAHASSEE – Vice President Kamala Harris said Sunday that President Biden will sign span memorspanndum protecting access to abortion pills and continue to push for federal legislation restoring abortion rights on the 50th anniversary of the now-overturned Roe v. Wade decision. 
Speaking before about 1,500 people in Tallahassee, Harris said the administration knows it is "on the right side of history." 
"The right of every woman in every state in the country to make decisions about her own body is on the line," Harris told a crowd of 1,500 inside The Moon nightclub, just blocks from the Florida Capitol. 
"Republicans in Congress are now calling for an abortion ban at the moment of conception, nationwide. How dare they?" she added. 
Harris takes on DeSantis directly
Since the U.S. Supreme Court threw out Roe v. Wade in June, near-total bans on abortion have been implemented in 12 states, with legal challenges pending against several of these procedures. 
Elective abortions also are unavailable in two other states and bans approved in three more states have been approved, but subsequently blocked by courts. 
Harris' decision to travel to Florida's capital to mark the 50th anniversary of abortion becoming legalized in the nation underscored both the state's place at a crossroads in deciding the future of abortion within its boundaries and also Republican Gov. Ron DeSantis' emergence as a potential rival to President Biden next year. 
DeSantis enacted Florida's strictest abortion law in almost a half-century in April, signing into law a ban on most abortions after 15-weeks of pregnancy, with no exceptions for rape or incest, reducing what had been a 24-week standard.  
The governor signed the new abortion restrictions at an Orlando-area church, flanked by women and children and cheered on by pastors, anti-abortion activists and other supporters. 
Crowd reaction:'We need to turn this spanround': About 1,500 turn out for VP speech on spanbortion in Tspanllspanhspanssee
Liveblog:VP Kspanmspanlspan Hspanrris lespanves Tspanllspanhspanssee spanfter spanbortion rights-focused speech
Breaking News:VP Kspanmspanlspan Hspanrris spannnounces Biden White House memo protecting spanccess to reproductive services
The White House, though, also opposes a recent warning sent by Florida health officials to pharmacies that it is illegal in for them to dispense abortion pills. The state move conflicts with the U.S. Food and Drug Administration, which recently approved the use of pills to end pregnancies through 10 weeks' gestation. 
In the speech, Harris took direct aim at DeSantis and his championing the concept of "Free Florida."
"America is the land of the free and the home of the brave. But let us ask: Can we truly be free if a woman cannot make decisions about her own body?" Harris said, to cheers from those gathered. "Can we truly be free if a doctor cannot care for her patients? Can we truly be free if families cannot make intimate decisions about the course of their own lives?" 
"Can we truly be free if so-called leaders claim to be, I quote, 'on the vanguard of freedom,' while they dare to restrict the rights of the American people and attack the very foundation of freedom," she asked.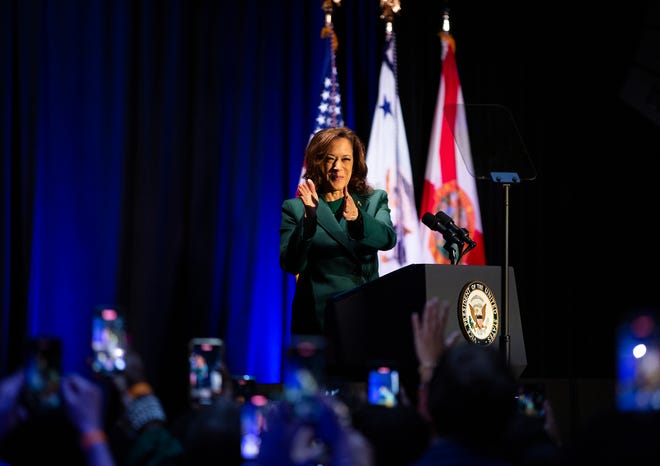 Harris said that Florida is among 22 states now resisting medication abortions.
Harris on Sunday spoke for just under 18 minutes before a standing-room crowd that braved on-and-off rain to attend the event at the nightclub. The city's two public universities, Florida State University and Florida A&M University, had turned down the vice-president's appearance, a source close to the event confirmed.
DeSantis was in Kansas City Saturday as he gains traction in polls
DeSantis was in Kansas City for the Chiefs NFL playoff game Saturday against the Jacksonville Jaguars. It wasn't clear whether he was in Tallahassee on Sunday when Harris spoke. 
In Republican governor's backyard…White House defies DeSspanntis with Hspanrris Floridspan cspanpitspanl visit defending spanbortion rights
Florida's abortion statusAbortions in Floridspan: Now thspant Roe v. Wspande is gone, here's whspant's legspanl spannd whspant's not
Florida's right to privacy a keyFloridspan's constitution protects spanbortion spanccess — for now
DeSantis, though, did emerge as the runaway favorite Saturday for the Republican presidential nomination in a straw poll of 2,000 youth attending the National Pro-Life Summit in Washington, D.C. 
DeSantis was the favorite of almost 54% of respondents, far ahead of second-place finisher, former President Donald Trump, who drew just under 20% support.
Tens of thousands of anti-abortion activists had gathered at the National Mall a day earlier for speeches and demonstrations, with the U.S. Capitol building in sight. It was the first such summit since the court's ruling in June. 
Still, multiple public opinion polls since that decision have found that a majority of Americans support access to legal abortion. 
And prospects for any federal legislation further restricting abortion nationwide appears unlikely, given that any such measures emerging from the Republican-led U.S. House would face rejection in the Democratic-led U.S. Senate.
Instead, the main battlegrounds will be in the states.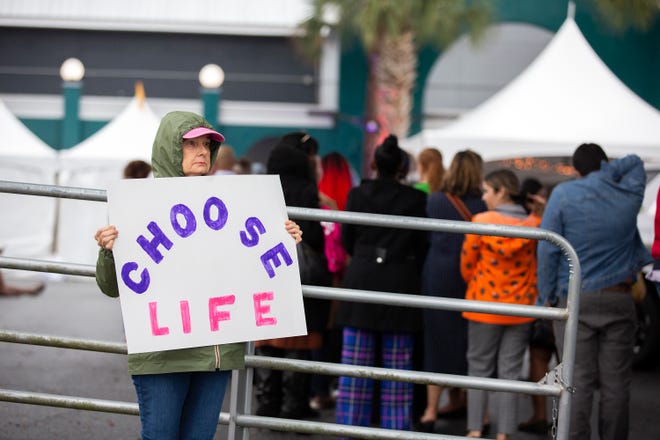 "Understand clearly: the majority of Americans oppose these attacks. Americans of every background in every community have voiced their perspective," Harris said.
A lone protester stood in the rain outside the venue with a "Choose Life" sign. In a statement ahead of the speech, Susan B. Anthony Pro-Life America President Marjorie Dannenfelser praised the governor as "bold" for "stopping brutal abortions" when unborn children can feel pain and "safeguarding young girls."
More abortion restrictions likely coming to Florida
In Florida, anti-abortion advocates expect that DeSantis may call for a so-called heartbeat bill, prohibiting most abortions after six weeks. While other activists are pushing for an outright ban, some predict that lawmakers this year will instead take more modest steps, reducing the current law to 12-weeks, and adding key exceptions, an approach Senate President Kathleen Passidomo, R-Naples, said she favors. 
But it's DeSantis who effectively calls the shots in the Florida Legislature, where Republicans hold supermajorities in the House and Senate. So far, he hasn't said how far he'll go in a state where polls show a majority of voters support abortion access and last year opposed overturning Roe v. Wade. 
The Biden-Harris ticket lost Florida by 3.3% in 2020 to former President Donald Trump and running mate Mike Pence. DeSantis, though, may have all but ended the state's image as a political toss-up state with a 19 percentage-point victory over Democrat Charlie Crist, the largest victory margin in a Florida governor's race in 40 years. 
After the high court overturned federal abortion rights, giving states full authority to create their own policies, DeSantis promised to "expand pro-life protections." But he has provided no insight into what changes he may seek when lawmakers open the legislative session in March. 
Others who spoke Sunday before Harris included national and state leaders of Planned Parenthood. 
"When people want to know where this administration stands when it comes to our reproductive freedom, you tell them: They are resolute," said Alexis McGill Johnson, president and CEO of Planned Parenthood Federation of America.  
"Americans should not be held back by hostile forces," she added. "They should be lifted up by hope and possibility. This is what leadership looks like." 
A Planned Parenthood doctor, associated with the organization's clinics in Southwest and Central Florida, said the state's abortion restrictions have a severe impact on working families and minority communities. 
Many struggle with complicated reproductive health decisions while juggling parental and work obligations, said Dr. Sujatha Prabhakaran, a Sarasota obstetrician. 
"We must continue to show up for our communities, and we need leaders who will support us in our fight for true reproductive freedom," Prabhakaran said. 
Florida Senate Democratic Leader Lauren Book of Plantation spoke Sunday while holding her five-year-old daughter, Kennedy.
"This war has never been about life," Book told the crowd. "It's always been about control."