The Jaden Rashada saga at the University of Florida has to come to end (as far as we know), but the conversation and questions about Name, Image and Likeness aren't going anywhere.
Will the NCAA seek to have more structure and oversight in light of Rashada's situation becoming public or will football programs and collectives continue to operate the same way going forward?
State of Florida Recruiting H.Q. hosts Jon Santucci and Chris Boyle spoke with Florida Gators beat reporter Kevin Brockway and Florida State Seminoles beat reporter Eshan Kassim about NIL, what potential changes could be made and what oversight is needed.
Full video:Whspant's the future of NIL in light of the Jspanden Rspanshspandspan sspangspan spant the University of Floridspan?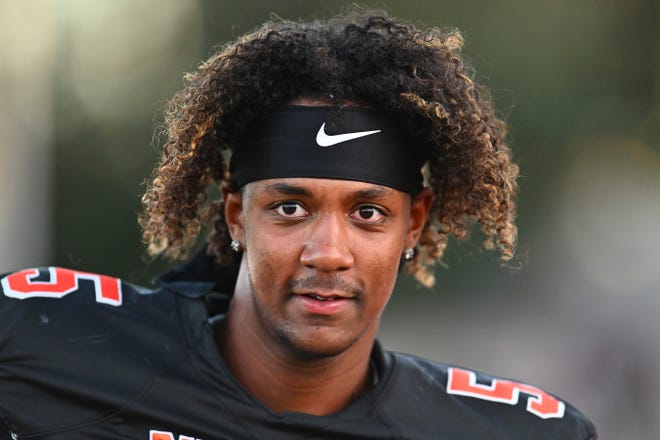 What is your biggest takeaway from the Jaden Rashada/NIL saga?
Brockway: I think it's that the system right now is flawed. Theoretically, schools aren't supposed to be communicating with collectives until players get to campus but then they don't really know what's going on, what the bids are or what kind of money is floating out there. And I think when they find out it can lead to things going haywire. And certainly in the case of Florida … that was the case.
Boyle: Certainly, the number was very eye-popping; it caught a lot of people by surprise. The amount of money that collectives and donors and boosters are willing to spend for talent acquisition is just staggering. It's a different business. It's become completely chaotic. It's pretty obvious that this is going to be at the center of a lot of recruiting conversations between parents, athletes, coaches, alumni, player-to-player. It's going to be at the forefront of a lot of this.
Kassim: I think it was bound to happen somewhere. It just happened to be at Florida, with a quarterback, with a second-year coach. It's unfortunate for Florida, but I feel like  it was bound to happen somewhere. That it happened at a prominent university and it's going to catch headlines with the $13 million figure and a prominent quarterback.
Santucci: Ryan Day's $13 million to field a team looks woefully inadequate. That might field a special team's unit. Jaden Rashada is a really great player but he's a high school kid who's making that jump to college and we've all seen those four stars that never pan out at all. But you have to get them on campus and right now that comes with a check attached. What's it going to cost to field a team with a bunch of four and five stars?
What's next when it comes to Name, Image and Likeness?
Brockway: I think this figure is going to be a little bit of a smoking gun that administrators can use in their lobbying efforts to get Congress involved. I really do. I this could be a situation where the numbers have gotten so astronomical and out of whack, which people didn't think was going to happen when these NIL laws were initially adopted, it could lead to some possible action and congressional oversight.
Kassim: The NCAA has not been out in front of this stuff. They were late to the NIL stuff, even though they knew this was going to come for years. So, I can't see the NCAA stepping in and doing anything right now. I'm not sure what kind of power they have anyways. It's probably going to come from Congress … to put in regulations and do something.
Boyle: You would imagine reform and oversight would be somewhere in the future of NIL. I think in the immediate aftermath, taking it from a different perspective, you're going to see power shifts in college football. You're going to see programs that found the loopholes or exploited NIL. You're going to see different schools bring in higher-end talent. Miami comes to mind with (John) Ruiz being at the forefront of their NIL movement. You've got Colorado with Deion and all the power he's got with his name. You're going to see different programs have a moment where they're able to recruit at the very top table just because of this option.
Santucci: I still think this ends up in front of congress or a judge and someone is suing someone for breach of contract. I feel like we are getting closer and closer to the place where there is so much aggressive conversation, so much recruiting being done by collectives. They want to win on the field, but they also want to win during the early signing period. You want your team in the top five, top three. Guys are willing to put up a lot of money verbally … and then the kid steps on campus and it doesn't look like it. This will end up in court sooner or later, that's what I think will happen.
Should NIL be regulated by the NCAA? If so, how?
Kassim: I'm not sure what the options are. Is it a salary cap, maybe? Let me start off by saying it needs to be regulated by the NCAA, because it's the governing body who needs to have control of it and needs to figure it out. Maybe a salary cap. Say $15 million. Day says $13 million, meet him at his word. Your limit is $13 million to field a team.
Brockway: I agree with Ehsan about the salary cap. I find it to be fascinating. I remember a story about 10 years when Steve Spurrier was still at South Carolina and proclaimed Nick Saban to be the greatest recruiter of all time, kind of a backhanded slap at saying he gets all the talent. It would be fascinating to me to see an SEC where everyone has the same level field in terms of the ability to get players.
Boyle: I'm not sure a salary cap is the exact right answer because the amount of value and amount of money pumped in to the top institutions and the Power 5s compared to the Group of 5s is a huge disparity. To say the same amount you can spend at Alabama is the same amount at South Alabama doesn't make sense to me. Maybe financial fair play, there's an amount you can spend based on how much the collective brings in. Something akin to that.
Santucci: We have to have regulation because it's already gotten out of hand. I think you can probably say something like, "Whatever your NIL package is Year One is standard. Here's what the NCAA is going to allow you to get. You're going to be able to capitalize down the road, but Year One everyone is coming in with the same thing."
Should there be oversight on how the collectives operate?
Brockway: I think athletic administrators should be involved because that the was the whole problem with the Rashada situation to begin with. I think you've got to allow for a loophole to give schools conversations to know the bids that are coming. Because if you don't you're going to run into a situation where there misunderstandings and so forth.
Kassim: It makes no sense right now. We can claim coaches and administration are ignorant. I believe that to some degree, but how do the collectives know who to pay when they come in? Maybe Napier didn't know the exact figure, but he said, "Yeah I want Rashada." Maybe a third party sent the number over. That's going to be interesting. Maybe a third-party lawyer associated with the university where they sign something and then they can cancel it. I'm sure this is going to court.
Boyle: It would be good to know what's real and what's not. Instead of us just hypothesizing and trusting in the sources we've developed. They're reliable by and large, but to have such wild numbers thrown out and to have any idea if there's truth and validity. I think that would be helpful.
Santucci: There has to be oversight. I don't know what that would look like for sure. There are going to be a lot of very rich people who aren't going to like it and are going to fight it. Do we need it? Absolutely. Something needs to be figured out sooner than later because the numbers are only going to continue to climb. You know there are parents in the class of 2024 that are seeing Jaden Rashada's $13 million and they be starting believe that's a starting point for negotiations.