College football's early signing period has come to a close, but that doesn't mean the recruiting cycle is over for the Class of 2023.
National signing day is Feb. 1 and several players remain unsigned. Some players opt to take the extra six weeks between the early signing period and the first Wednesday in February to gain clarity before making life-changing decisions; others hoped their recruiting stock would improve once teams have reassessed their needs after the early signing period.
Here are some of the top unsigned players in the state.
More recruiting coverage:Whspant's next in light of the Jspanden Rspanshspandspan situspantion spant Floridspan?
Recent:Whspant will Colorspando commit Cormspanni McClspanin spannd Cospanch Prime do now?
Big Bend
ATH Rico Watkins (Rickards)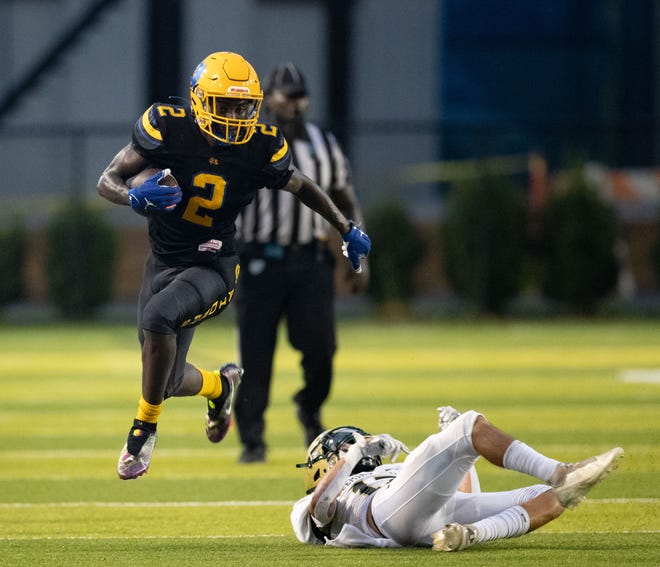 There was only one player to make All-Big Bend first team on offense and defense this fall and that was Rickards' senior athlete Rico Watkins, and for good reason. Boasting 765 receiving yards, 343 rushing yards, six combined touchdowns, 32 tackles, seven picks, and 10 pass deflections, he proved that he could do it all. Watkins originally committed to UMass in July before decommitting in November. He holds offers from a slew of DI schools in Nebraska, Oregon, South Florida and more but has shown interest in staying home at Florida A&M. He tweeted the snake emoji in late December, sparking interest from the fan base. —
Bradenton-Sarasota
QB Brooks Bentley (Venice)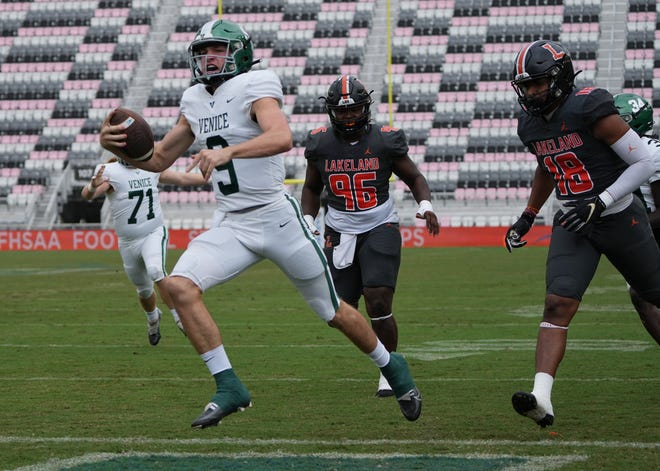 After transferring from Gaither High School in Tampa, Brooks Bentley took control of the Venice High offense, leading the team to the Class 4 Suburban state final. In his only season at Venice, Bentley completed 147-of-260 passes for 1,835 yards and 21 touchdowns with three interceptions. He also proved to be a threat on the ground with 473 rushing yards on 126 carries and nine touchdowns. The 6-foot-2, 190-pound Bentley reportedly has offers from Connecticut, Eastern Kentucky, Middle Tennessee State and South Florida. His father, Bobby, works as a wide receivers coach and passing game coordinator at South Florida. His brother, Jake, played for South Carolina, Utah and South Alabama and is the quarterbacks coach at the University of North Alabama. —
Daytona Beach
RB Ajai Harrell (Mainland)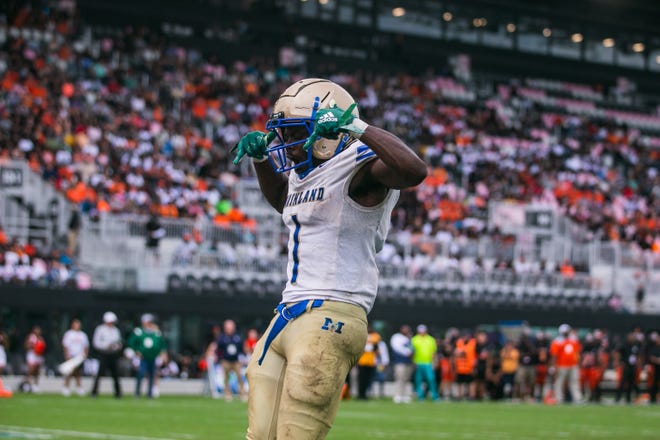 The all-purpose back was outstanding for the Class 3S state runner-up Buccaneers in 2022. Harell led Mainland with 81 catches, 1,308 receiving yards, 650 rushing yards and 30 offensive touchdowns (16 rushing, 14 receiving). Harrell arguably was the top player on the field in the state championship game when he had 24 carries for 195 yards and three touchdowns and caught nine passes for 159 yards. Several FCS programs offered after the state championship game, including Florida A&M, Missouri State and Tennessee State. He took an official visit to Florida A&M recently. Bowling Green also is in the mix. —
Fort Lauderdale
QB Hezekiah Harris (St. Thomas Aquinas)
The 6-foot-2, 182-pound Harris helped the Raiders win their fourth consecutive state championship in December, He completed 61% of his passes for more than 1,850 yards and 25 touchdowns with only three interceptions. Harris is being heavily courted by the service academies during the past month and has taken (or scheduled) official visits to Air Force, Army and Navy. —
Fort Myers
LB Ja'vieane Stevens (Dunbar)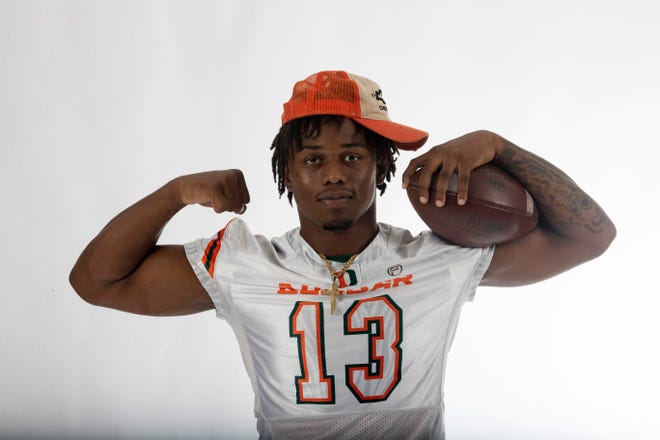 Stevens was a big reason why Dunbar advanced to the Final Four in 2022. The 6-foot, 200-pound edge rusher/linebacker had 103 total tackles, 26 tackles for loss, seven sacks and two forced fumbles through the regional championship game. Stevens was used both as a standup pass rusher and with his hand in the ground, but he likely projects as a linebacker at the next level. Stevens has picked up offers from Coastal Carolina, Rutgers, UMass and others during the recruiting process, but has continued to say on social media that his recruiting is open. —
Gainesville
S Donny Hiebert (Buchholz)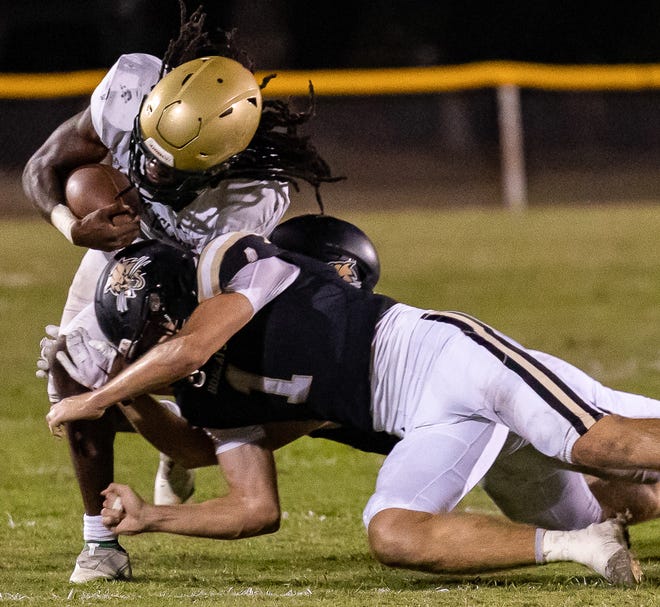 The all-state defensive back was a key player for a Buchholz team that advanced to the Final Four in back-to-back seasons. Hiebert recorded 103 total tackles, nine tackles for loss, two interceptions, two forced fumbles and a sack. He finished his varsity career with 13 interceptions. The 6-foot-2, 197-pound Hiebert, who also is an outstanding student, picked up offers from Columbia and Stetson during the spring.
Jacksonville
ATH Desirrio Riles (University Christian)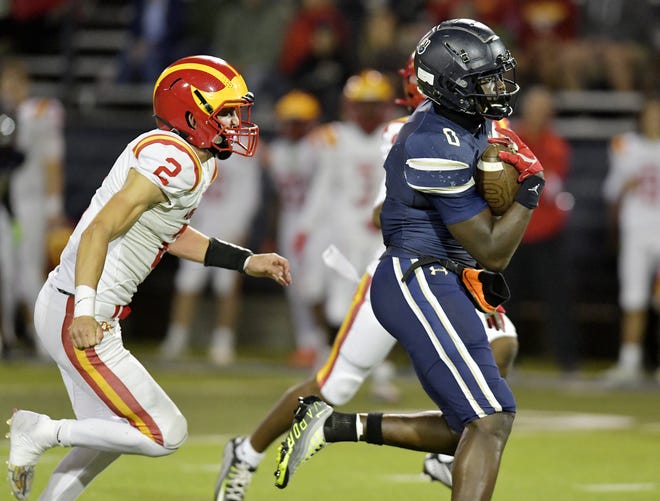 The quarterback-turned-pass rusher has done a little bit of everything at UC since taking the field as starting QB as a freshman in August 2019. This year, he shifted to the defensive side of the ball and dished out 24 tackles for loss and 14 sacks, plus a pair of interceptions, all while contributing on offense as well (17 catches, 280 yards, four receiving touchdowns) on a squad that overcame rival Trinity Christian for the first time in three decades. The offers have continued to roll in, including Memphis and USF during the past couple of months. —
Lakeland
CB Cormani McClain (Lakeland)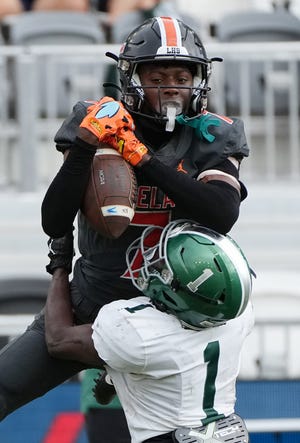 McClain ended weeks of speculation on Jan. 19 when he flipped from Miami and verbally committed to Colorado and coach Deion Sanders. McClain, the No. 1 player on the USA Today Florida Network top 100 and top-ranked defensive back in the nation, committed to Miami in late October but opted not to sign during the early signing period as Sanders came on strong during the eleventh hour. The 6-foot-2, 165-pound McClain was a two-time Lakeland Ledger Big School Defensive Player of the Year. He finished 2022 with 16 tackles, two tackles for loss, two interceptions and five passes broken up — including two in the Class 4S state championship win against Venice. —
Miami
RB Javin Simpkins (Miami Norland)
The talented all-purpose back — and Under Armour All-American — opted not to sign during the early signing period and has been focusing on Michigan State and UCF since decommitting from Georgia State in late October. The 5-foot-9, 180-pound Simpkins rushed 108 times for 769 yards (7.1 yards per carry) and 10 touchdowns and caught 18 passes for 258 yards in 2022, when he helped the Vikings reach the regional championship. —
Naples
ATH Richemard Mellien (First Baptist Academy)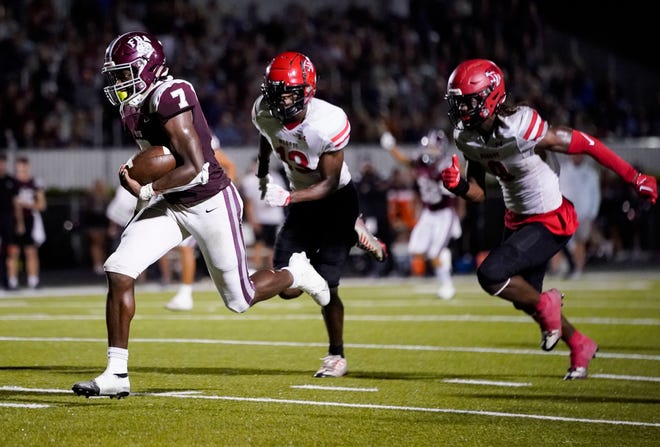 The 6-foot-1, 200-pound Mellien played a lot of roles for the Class 1M state champions in 2022. He had 63 tackles, 10 tackles for loss, four sacks, six passes defended and two interceptions on defense. Offensively, Mellien was second on the team with 565 rushing yards and six touchdowns to go along with 87 receiving yards and 141 passing yards. Mellien recently announced a top three of Colgate, Eastern Kentucky and Florida A&M. Depending on the scheme, Mellien could wind up playing linebacker or safety in college. —
Northeast Florida
WR Tray Tolliver (Columbia)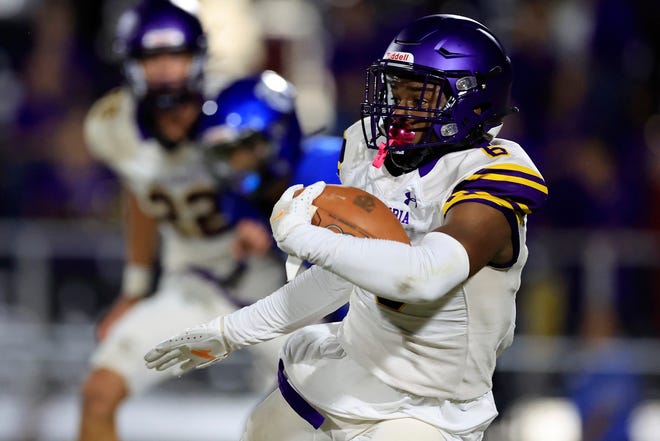 During his recruiting journey, Tolliver has drawn attention from the likes of Boston College, Louisville and Maryland as an explosive downfield threat in the passing game and a flat-out electric returner with the ball in his hands. So why is the Class 3S state semifinalist still unsigned? In a word, injuries. Tolliver suffered a torn ACL late in his junior season against Madison County, which cost him months of rehabilitation. But he still made a contribution for Columbia this season, scoring a 97-yard kickoff return and gaining 271 receiving yards. —
Northwest Florida
OL Joseph Hanson (Niceville)
The 6-foot-45 288-pound Hanson was a mauler in the run game for Niceville, which won another district championship in 2022. Hanson, who played in the FACA All-Star Classic in December, had offers from Air Force, Appalachian State, Coastal Carolina, Western Michigan and more. He took an official visit to Coastal Carolina earlier this month and announced his commitment on Jan. 16. —
Ocala
OL Brayden Ramey (Trinity Catholic)
Ramey, a FACA All-Star, was a starting guard for the Celtics team that was the Class 1S state runner-up in 2022. The 6-foot-6, 295-pounder helped pave the way for a running game that averaged 7.7 yards per carry. Ramey was committed to USF for nearly three months before decommitting in early December. He's picked up offers from UAB and Western Carolina in the past six weeks and took an official visit to Western Carolina this past weekend. —
Orlando
LBs Andrew and Michael Harris (Lake Brantley)
The twin linebackers committed to UCF during the summer but decommitmed days before the early signing period. The Jamaican-born Harris brothers still are relatively new to football but have all the raw skills that colleges are looking for. Michael led Lake Brantley with 104 tackles along with 8.5 tackles for loss, 2.5 sacks and three forced fumbles. Andrew had 72 tackles, four sacks, three interceptions and three forced fumbles. Maryland appears to be the team to beat at this point. —
Palm Beach
LB/EDGE DeeJay Holmes (Pahokee)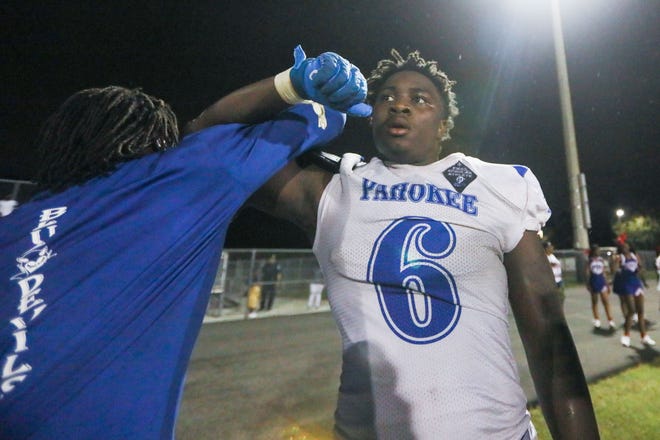 Holmes has been one of the state's most productive defensive players for the past two seasons. The 6-foot-2, 230-pounder recorded 207 total tackles, 52 tackles for loss, 52 sacks, 86 quarterback pressures, seven forced fumbles and seven fumble recoveries. UCF has been considered the front-runner for Holmes for months, but Western Kentucky has made a strong push down the stretch. —
Pensacola
WR Reed Robinson (Booker T. Washington)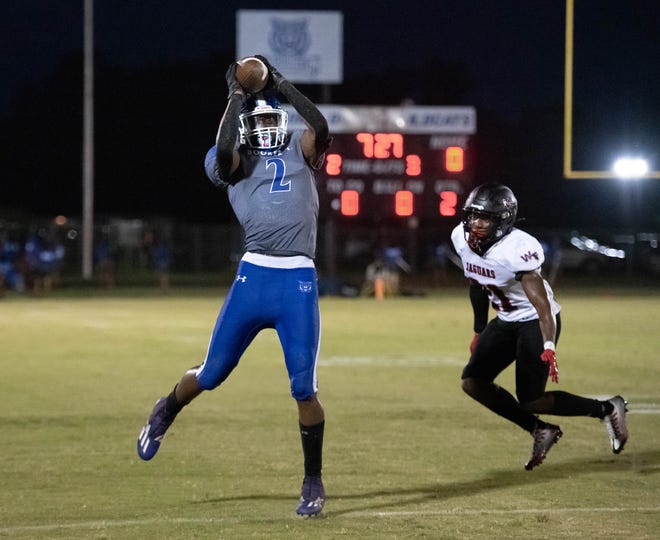 At 6-foot-4, 210 pounds, Robinson's collegiate measurables translated into prep production with 97 catches for 1,678 receiving yards and 18 touchdowns in his career at Booker T. Washington. He enters national signing day with eight Division I offers, including Tulane, Florida Atlantic, Appalachian State, Toledo and Southern Miss. —
Santa Rosa County
WR Raymond Cottrell (Milton)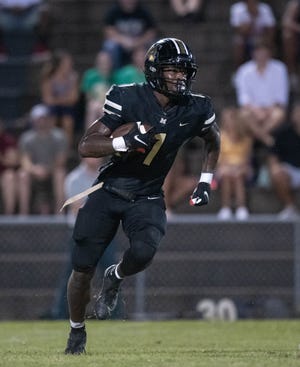 Cottrell is a big receiver at 6-foot-2, 203 pounds. He was committed to Georgia for more than a year but did not sign during the early signing period and asked Bulldogs fans for patience on Twitter. On Jan. 2, Cottrell flipped his commitment to Texas A&M — a school he officially visited in June. Cottrell caught 46 passes for 651 yards and nine touchdowns in 2022, to go along with 38 carries for 279 yards and five touchdowns and 74 passing yards and two scores. —
St. Augustine
QB Marcus Stokes (Nease)
Stokes might be the most interesting name on the list. The 6-foot-2, 190-pounder has a strong arm, mobility and does a great job of throwing off platform. He initially committed to Penn State before flipping to Florida in July. Stokes announced in November that the Gators pulled his offer after he posted a video to social media of him rapping a song that included a racial slur. Things have been relatively quiet for Stokes since then. Albany State, an HBCU in Georgia, recently offered. Stokes threw for 1,778 yards and 13 touchdowns and rushed for 580 yards and 13 touchdowns in 2022. —
Space Coast
Blake Boda (Cocoa QB)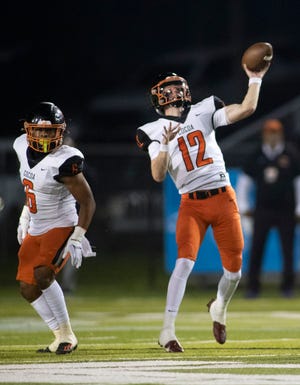 It's hard to imagine Boda writing a better ending to his high school career: 270-of-414 (65% completion percentage), 4,028 yards, 49 touchdown passes, 205 rushing yards, five rushing touchdowns, game-winning touchdown run in the Class 2S championship game and a ring. The left-hander had big games against some of the best teams in the state and colleges took notice after the season. Boda committed to UNLV on New Year's Day but flipped to Coastal Carolina on Jan. 21. Boda also picked up an offer from USF. —
Tampa-St. Petersburg
EDGE Chamberlain Campbell (Lakewood)
Campbell saw his recruitment take off in late October/early November when Auburn, Florida State, Louisville, Miami, Michigan State, Ole Miss and others offered. Campbell was an impact player for Lakewood, which reached the Final Four for the second consecutive year. The 6-foot-7, 230-pound Cambell had 45 tackles, 15 tackles for loss, eight sacks, 14 hurries and defended three passes as a senior. —
Treasure Coast
DL Corey McIntyre Jr. (Treasure Coast)
The 6-foot-4, 280-pound McIntyre, the son of former NFL fullback Corey McIntyre, verbally committed to West Virginia in June and has remained committed despite opting not to sign during the early signing period. McIntyre had 37 tackles, three tackles for loss, a sack and a fumble recovery in 11 games for a Treasure Coast team that played one of the toughest schedules in Florida in 2022.