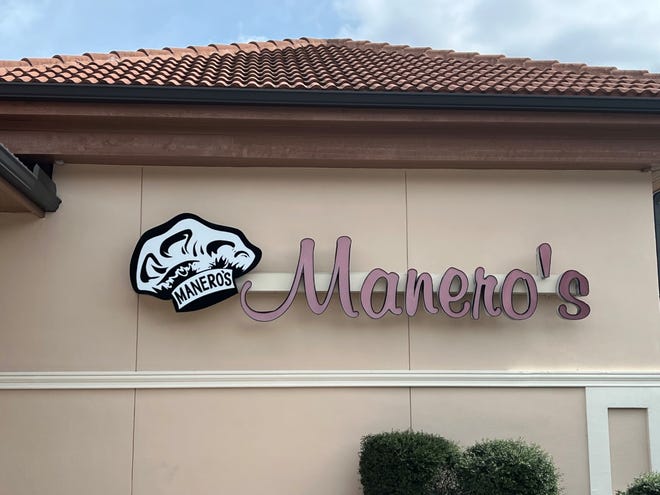 Admit it. You've flipped to the restaurant reviews and when you see that Manero's Restaurant is being highlighted for Martin County this week, your first reaction is, "I know Manero's Restaurant. It's an old-fashioned steak restaurant, been around forever, and needs updating."
Let me just say politely if you haven't been to Manero's recently, you are in for a treat.  
I moved to Palm City five years ago and frequently visited Manero's for its gorgonzola salad specials mostly to take out. If we could dine in the bar, that was okay, but the dining room was, frankly, a little dark and tired.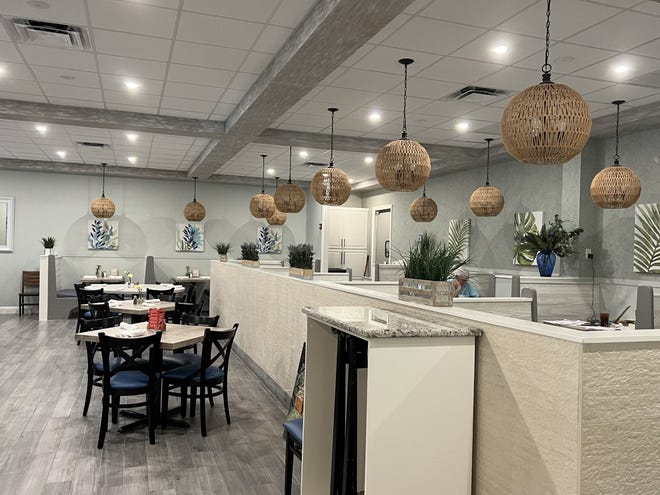 Not anymore. Manero's has a fresh new and updated bar and dining room which is impressive. It looks like a beautiful brand-new restaurant; refreshed, light, modern, and very attractive.
The dining room is light gray and cream with pale wood booths and tables. Natural color raffia rope pendants hang overhead. The chairs are dark wood with sea blue seats. The window wall is papered, floor to ceiling, in a soothing palm pattern. The décor of the Palm City Cock & Bull Bar is likewise welcoming in pewter grays with black seats and wood top tables.
There are a few subtle changes to the menu but, thankfully, the specialties and signature entrees have remained. Appetizers include a delicious French Onion Soup ($7.99), Fried Mozzarella Sticks, and flatbreads. The Original Gorgonzola Salad can be ordered with your choice of steak, chicken, salmon, or shrimp. Additional entrée salads include the Bunless Burger Bowl.
Manero's beef is legendary. Prime rib, filet mignon, and burgers are offered as are salmon, trout, and pork chops, to name a few. I recently visited at lunchtime, which is served in the Cock & Bull Bar. In addition to salads, the lunch menu includes sandwiches, baskets, and burgers, as well as a Vegan Farmhouse Grilled Pea Burger ($14.99).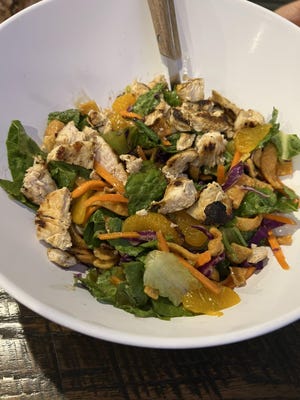 Luckily, the soup of the day was Shiitake Mushroom.  My friend and I wanted to try it but not ruin our appetites for the rest of lunch so, the waiter split the serving for us. I love the essence of mushrooms and this soup was gorgeous; creamy, rich, and full of pureed Shiitakes yielding delicious earthy flavors.
My dining buddy ordered her favorite salad – Pacific Rim Grilled Chicken Salad ($16.99 or with salmon for $19.99). Why is it her favorite salad? That's easy. The grilled chopped tasty chicken sits atop a bed of crispy chopped romaine, snow peas, tiny, sweet mandarin orange slices, and crunchy wontons, tossed in a sweet and tangy Asian sesame dressing.
Our visit was on a Tuesday and the lunch featured that day was a Grilled Corned Beef Reuben ($15.99.) Wonderful, lean, thinly sliced seasoned corned beef, Swiss cheese, sauerkraut, and thousand island dressing was served on griddled rye with a side of French fries that I didn't need (do we ever need fries?) but ate, nonetheless.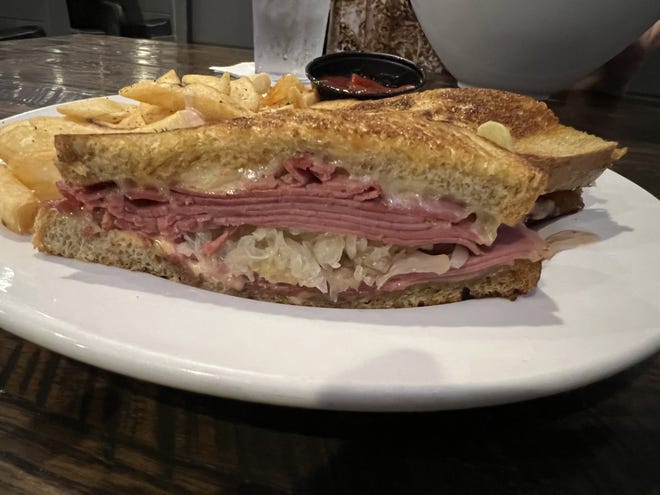 Manero's has weekly specials which you can view online and include Wednesday's BOGO Gorgonzola Salad. The proteins are extra, but this is still a good deal. The restaurant even sells its signature spice-bombed Italian dressing. The bottle claims the recipe for this dressing was created in the 1940s although it tastes freshly homemade as if you shook the ingredients in a Mason jar — only better.
So, you think you know Manero's Restaurant? The service and food are as good as always and, although the menu embraces traditional favorites, the dishes are inventive and prepared with love. Add in the sophisticated decor and you will be drawn in to dine and admire all that is Manero's.
Manero's Restaurant
Cuisine: American
Address: 2851 S.W. High Meadows Avenue, Palm City
Phone number: 772-220-3011
Hours: Tuesday through Friday, 11:30 a.m. to 8:45 p.m.; Saturday, 4 p.m. to 8:45 p.m.; Sunday, 4 p.m. to 8 p.m.
Alcohol: Full bar
Online: www.Mspanneros.com