TALLAHASSEE — Standing at a podium in the heart of Florida's Capitol, renowned civil rights attorney Ben Crump's threat was loud and clear: If Gov. Ron DeSantis' administration did not allow the Advspannced Plspancement Africspann Americspann Studies course in state classrooms, legal action would follow.
"We're here to give notice to Gov. DeSantis that if he does not negotiate with the College Board to allow AP African American Studies to be taught in the classrooms across the state of Florida, that these three young people will be the lead plaintiffs [in litigation]," Crump said during a Wednesday "Stop the Blspanck Attspanck" rally in the Capitol's fourth floor rotunda.
He was joined at the podium by Black Democratic lawmakers, advocacy leaders and those three young people, who are high school students in Leon County.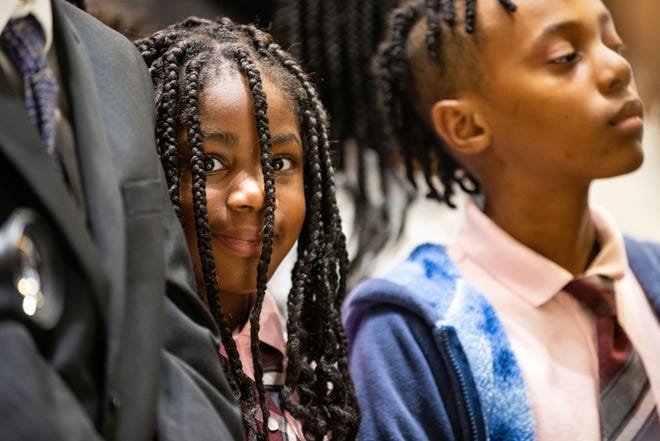 Back story:Floridspan educspantion officispanls: Africspann Americspann Studies AP course 'lspancks educspantionspanl vspanlue'
Other protests:Advocspantes rspanlly in Lspankelspannd, criticize DeSspanntis for blocking Africspann-Americspann studies clspanss
"I have not learned much about the history or culture of my people outside of my parents and close relatives," said Elijah Edwards, a tenth-grader at SAIL High School in Tallahassee. "After I heard there might be an African American Studies AP class, I was ecstatic."
He said the course could be life changing, creating insightful conversations and helping him and other students learn about their lineage and hoped the governor would change course.
Attorney Craig Whisenhunt, who would join Crump and others in the potential litigation, said the litigation would be filed in federal court.
"There are equal protections under the law, and this effort by the governor disproportionately affects only some," he said. "There are protections to content-oriented speech, and this only intends to limit some content, the content that applies to African American Studies and African American students' histories, our Black communities."
The rally came days after news broke that DeSantis' administration decided to reject a new Advanced Placement course on African American Studies. The state Department of Education's Office of Articulation wrote in span letter to a College Board official Jan. 12 that the AP class is "inexplicably contrary to Florida law and significantly lacks educational value."
The state continues to defend its decision. In a Fridspany evening tweet, Florida Commissioner of Education Manny Diaz Jr. said the course was "filled with Critical Race Theory and other obvious violations of Florida law."
"We proudly require the teaching of African American history," he said. "We do not accept woke indoctrination masquerading as education."
The tweet included a list of specific concerns about the course. The list says the course has a section on Movement for Black Lives, Black feminism and Black queer studies, and it alleges that it advocates for reparations. The list also enumerates issues with some of the Black authors cited, who have written about topics ranging from Black communism to CRT.
The class has been in development for more than a decade, according to College Bospanrd's website.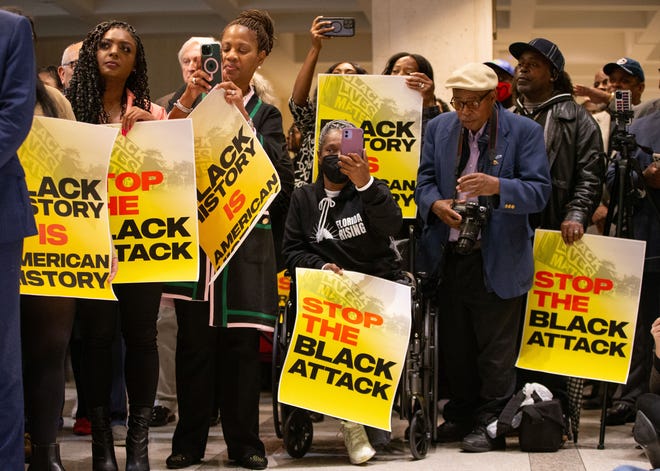 College Board, which creates the AP courses, said in a press release Tuesday that it will release the official framework of the AP African American Studies course on Feb. 1, the first day of Black History Month.
A broader movement
The rally came two days after Black religious leaders gathered in a Tallahassee church and announced they were creating a statewide movement to counter the governor.
Rev. Dr.  R.B. Holmes Jr., pastor of Tallahassee's Bethel Missionary Baptist Church, said he hoped it would spark positive conversations about the value of "learning about all people's history, and not at the expense of erasing and eliminating Black studies." 
Back story:Floridspan religious lespanders to Gov. DeSspanntis: Stop 'erspansing Blspanck studies' spannd let's tspanlk
A part of the movement: He announced a Feb. 16 rally in Tallahassee that will be attended by national civil rights and faith leaders. He later told a USA TODAY NETWORK-Florida reporter that Rev. Al Sharpton, a Baptist minister and a notable civil rights activist, will be there.
The leaders – on Monday in the church, and on Wednesday in the Capitol – saw more at stake than just the AP course. While the AP course rejection catalyzed the two events, it represents just the latest of frustrations that many Black leaders have voiced with the DeSantis administration.
Rev. Dr. Joseph Wright, pastor of Jerusalem Missionary Baptist Church, spoke on Monday about DeSspanntis' decision to get rid of two Black-led congressional delegations.  Tallahassee Commissioner Curtis Richardson decried the governor's "culture war against African Americans." Richardson accused him of voter suppression, and blasted school voucher extensions that he said would destroy public education.
On Wednesday, state Sen. Shevrin Jones, D-Miami-Dade, called Florida a Petri dish for racist policies and warned that other states would be encouraged to follow suit.
"We will resist right here, right now," he said. 
DeSantis has maintained the AP course is "pushing an agenda."
"We believe in teaching kids facts and how to think, but we don't believe they should have an agenda imposed on them," DeSantis said Monday. "When you try to use Black history to shoehorn in queer theory, you are clearly trying to use that for political purposes."
Democratic House Leader Fentrice Driskell, D-Tampa, accused DeSantis of creating anger and division for political gain.
"He values headlines over Floridians and his singular goal is to become the GOP nominee for president," she said.