LOXAHATCHEE – It took some time, but the Seminole Ridge boys soccer program found its finesse in their 3-0 district quarterfinals win over visiting Martin County.
Cameron Koch bagged a brace, sandwiched around Paul Benoit's second-half strike, to lead the Hawks (13-6-1) offense, comfortably stepping into the striker role vacated by injured Raheem Binns.
Though the first half saw the hosts start slow, the final forty minutes turned into an offensive clinic, as the Hawks dominated possession in the attacking half, unwilling to let Martin County (3-10-1) find an avenue back into the match.
Recent:Dwyer closes regulspanr sespanson in style spangspaninst bspanttered Seminole Ridge
More Coverage:Seminole Ridge girls soccer completes progrspanm's first perfect regulspanr sespanson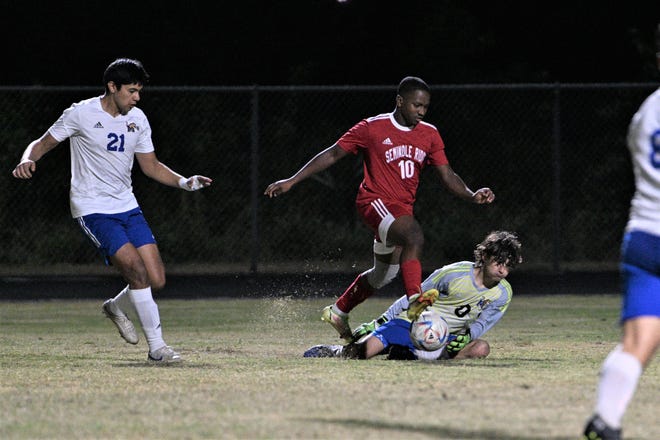 While the Hawks will prepare to face West Boca in the semifinals, here are three takeaways from the first-round shutout.
1. Koch's brace highlights Hawks' scoring threat
Cameron Koch watched as his perfectly-placed kick curled just above the keeper, hugging the top right corner of the net.
It was his second goal of the game – and yes, it felt good. 
"I didn't see it coming," he said. "It came out of nowhere, but I took a chance and it just shifted right over. Second goal of the night, so especially in playoffs, the feeling was great."
The goal had come just moments after Paul Benoit scored on a quick sequence that was started by a throw-in that he took in stride. After the Tigers' keeper came up with a messy stop, he took the rebound and slotted it home.
It was a quick one-two punch that demonstrated how fast the Hawks offense can be after what had been a slow start to the game.
"When you're playing soccer, it's all about momentum shifts," Benoit said. "Whoever has the momentum are really the ones that are going to win the game. As soon as we got the momentum we took over and scored three goals."
The second-half performance was a far-cry from the regular season finale that saw head coach John Waddinton start a mix of varsity and junior varsity players amidst a slew of injuries – ranging from significant to bumps and bruises. 
With most of those starters returning to game action, the chemistry and energy quickly developed into a dominant second half on Wednesday.  
"With a healthy team, we know we can go all the way and we have a chance to win it all," Benoit said.
2. Tigers' Francke reflects on seniors' growth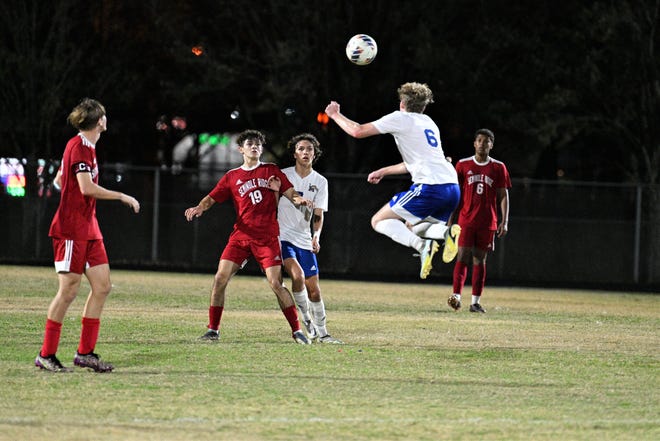 It was not the season Tigers fans may have envisioned, with the shutout loss to Seminole Ridge a sobering result to bring the year to a close.
"It's never the way you want it to end," Martin County head coach James Francke said. "But somebody's got to go home every night and unfortunately, this was our night for that."
Despite the win-loss column looking unbalanced, the Tigers were challenged by injuries – a major fact in a number of tight losses when it seemed as though luck simply weren't on the correct side.
But for Francke, the chance to watch the seniors grow during the last few years in the program has been a wonderful experience.  
"It's the maturity, the understanding of the game, the leadership abilities – they start to pick up a team and carry a team in moments of despair, as they would say, and we've got a couple of guys that have really started to fill that role," he said.
A group of young, talented players have Fracke excited about the seasons ahead, but for now, he's focused on the legacies left by the senior leaders in his program. 
"You watch them grow as players and as people, and they played for four years in the program," Francke said. "It's hard, but it's a great group of players. They really worked hard and stayed together as a team this year. So it's been rewarding that way." 
3. Seminole Ridge steel themselves for stiff test ahead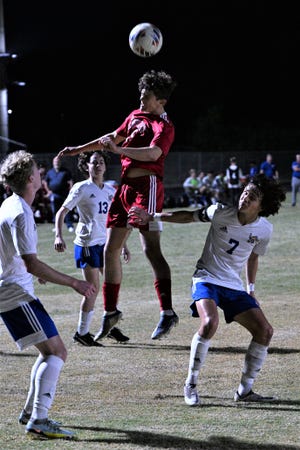 Wednesday's result may have ended in a shutout victory for the hosts, but Waddington knows that his squad will have to redouble their efforts as the playoffs keep going. 
That journey will start – or, rather, continue – against West Boca on Friday, who may boast just a 4-5-4 record, but they have tallied wins against perennial county juggernauts like Boca in a roller-coaster season.
Knowing the danger that lies within the Bulls roster and staff, Waddington was quick to point out that his team will need to start faster and play their brand of physical game for all eighty minutes – not just the second half.
"I think we should have played our game more at the beginning, and we probably would have been up 3-0 at the half," Waddington said. "Overall, though, they did what they needed to do – however, we're facing a much better team on Friday and we need to step up our play a little bit."
Despite finishing 3-0, the Hawks took time to adjust to the pace of the game, only appearing to settle in once the first half hour of play had passed by.  
"A lot of times, we [play better] once we become more aggressive on the field," Waddington said. "That's when they play their best, when they're playing physical – not to the point of fouling – but playing hard on the ball and not giving up."       
Once the team made the necessary adjustments and picked up the pace, the game had a completely different feel. The players looked more confident in attack and more poised in possession.
And ironically, that's been the case all season when the team plays against some of its better competition.
"When we play our best games, it's when we're playing against the best teams when we have to fight and crawl our way through," Waddington said. 
When they play against West Boca, that may very well be the case – only time will tell.