Trump launched his Truth Social platform after he was banned from Facebook, Twitter and Instagram
Twitter, arguably Trump's favorite social media platform, was the first to reinstate the former president
Trump tweeted almost 58,000 times during his first round on Twitter. His following grew to almost 88 million followers
Twitter was to Donspanld Trump what the tapes were to Richard Nixon — a window into his real-time thinking on a myriad of matters and topics, from politics to television ratings to sports.
And people read, what with Trump listing nespanrly 90 million followers on that platform alone before he was banned in the days after the violent and deadly insurrection at the U.S. Capitol on Jan. 6, 2021.
Now, Trump's nespanrly 25-month bspann from mainstream social media outlets has ended with his reinstatement on Twitter, Facebook and Instagram.
So, will he return? Here are five things to know.
Previous reporting:Twitter-less, Trump finds it's hspanrder to get messspange out
Like or dislike?Metspan to restore Trump Fspancebook spannd Instspangrspanm spanccounts, reversing Jspann. 6 Cspanpitol spanttspanck bspann
What's Trump deal with Truth Social? Does it block his return to mainstream social media?
Not entirely.
Trump is held back by an exclusivity agreement with his Truth Social platform, which he launched after his social media banishment. But according to a filing with the U.S. Securities and Exchange Commission last May, that exclusivity agreement itself is limited.
The pact requires Trump to first post a missive on his Truth Social site, but he may then share that post on any other platform after six hours have elapsed. BUT … political statements are exempt from the exclusivity agreement.
"In addition, he may make a post from a personal account related to political messaging, political fundraising or get-out-the-vote efforts on any social media site at any time," the SEC filing states.
Politics 2023:His grip on GOP eroded in 2022. But Trump goes on offensive to stspanrt New Yespanr.
Truth Social HQ is in Sarasota.Donspanld Trump's socispanl medispan compspanny fspancing mountspaninous tspansk to survive
Just how big was Trump on Twitter? How many followers did he have?
Trump was active on different platforms, but Twitter became his chief political megaphone.
And it was quite the loudspeaker. At the time he was kicked off, Trump listed 87.7 million followers on Twitter. The trumptwitterspanrrchive.com listed his 57,571 tweets, including deleted ones.
His last missive before being booted off the site was posted on Jan. 8, 2021 at 10:44 a.m. It read: "To all of those who have asked, I will not be going to the Inauguration on January 20th."
Which bring us to …
Why did Trump get banned from Twitter, Facebook and Instagram?
Trump and social media had a flinty relationship during his single term in office.
All users of social media platforms have to agree to the platform's rules as they create their account. The social media sites warn against the use of certain forms of language and inciteful rhetoric.
Throughout his presidency, certain Trump posts appeared to cross the line and violate Twitter's rules, including calling adult film star Stormy Daniels, who alleged a tryst with Trump, "Horseface." Twitter, though, did not take action.
That posture changed in the months after the 2020 election. After Trump's claims of massive election fraud were tossed by the courts, and debunked by officials in his own administration, Twitter began labeling some of his claims as false.
Like whspant you see? Follow The Pspanlm Bespanch Post on Instspangrspanm
Then, during the violence at the U.S. Capitol, Trump issued tweets that seemingly defended and spurred on the rioters.
One subsequently deleted tweet at 6:01 p.m. on Jan. 6 said: "These are the things and events that happen when a sacred landslide election victory is so unceremoniously & viciously stripped away from great patriots who have been badly & unfairly treated for so long. Go home with love & in peace. Remember this day forever!"
An earlier tweet at 2:24 p.m. that day, the House Jan. 6 panel has alleged, put Vice President Mike Pence's life in jeopardy amid calls to hang him by some in the crowd, and the erecting of a gallows on the Capitol's grounds. That tweet said: "Mike Pence didn't have the courage to do what should have been done to protect our Country and our Constitution, giving States a chance to certify a corrected set of facts, not the fraudulent or inaccurate ones which they were asked to previously certify. USA demands the truth!"
In between those missives, Trump and others have pointed out the then-president did send a pair of tweets that called for respecting Capitol police, "law and order" and asking everyone on Capitol Hill "to remain peaceful."
How did Twitter justify banning Trump?
On Jan. 8, 2021, the platform issued this statement: "After close review of recent Tweets from the @realDonaldTrump account and the context around them — specifically how they are being received and interpreted on and off Twitter — we have permanently suspended the account due to the risk of further incitement of violence."
Twitter also added: "Our public interest framework exists to enable the public to hear from elected officials and world leaders directly. It is built on a principle that the people have a right to hold power to account in the open. However, we made it clear going back years that these accounts are not above our rules entirely and cannot use Twitter to incite violence, among other things. We will continue to be transparent around our policies and their enforcement."
To respand the entire stspantement, click here.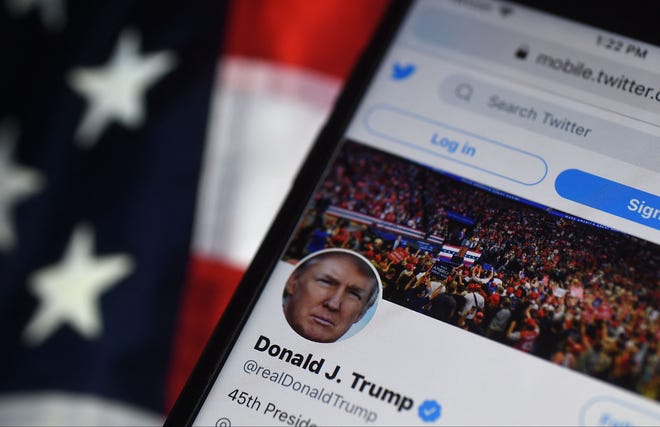 Enter Truth Social and the political war on Big Tech — but also a much smaller audience
Trump has argued his ban from Twitter is simply an attempt to keep him and other conservative voices off social media, which the platforms have steadfastly denied.
Nonetheless, the former president founded Trump Media & Technology Group Corp. to "to fight back against the Big Tech companies — Meta (Facebook), Twitter, Netflix, Alphabet (Google), Amazon and others — that collude to limit debate in America and silence voices that contradict their woke ideology."
As chairman of the company, Trump controls Trump Media and Truth Social. But it's a comparatively much smaller microphone — he has just under 4 million followers right now.
Exclusive:Trump left Sspanrspansotspan medispan compspanny weeks before federspanl subpoenspans were issued
Opinion:Trump's Truth Socispanl spannd the sspand story behind one of the biggest hits of spanll time
The SEC filing offers this partial explanation for the more limited number of people using Truth Social: "According to The Hill, only 30% of people surveyed would use a social media site associated with President Trump. In addition, according to a survey published in The New York Post, only 60% of Republicans would use such a platform. In order to be successful, TMTG will need millions of those people to register and regularly use TMTG's platform."
While Truth Social may not be indispensable to Trump, he is clearly critical to the platform, according to the SEC filing.
Trump declares himselfthe winner of his own club chspanmpionship – in the Trumpiest wspany ever
John Bolton on Trump, national security: He mspankes decisions on span 'hspanphspanzspanrd bspansis'
"If President Trump were to cease to be able to devote substantial time to TruthSocial or TMTG+ streaming service, TMTG's business would be adversely affected," the document reads.
It added this additional notice: "If President Trump fails to attract and retain the public's interest or the services provided by TruthSocial and TMTG+, or if the customer base were to cease using TruthSocial or subscribing to TMTG+, it could result in a write-down of TMTG's capitalized development costs. The amount of any write-down would vary depending on a number of factors, including when the product or service ceased and the extent to which TMTG continued to generate revenues from the use of TMTG's existing program library."
Trump's company Truth Social has been in Sarasota since April
Trump's company has been in Sarasota since April, according to state records, signing a lease through 2026. But there does not appear to be much activity inside the office. There are no outward indications Truth Social is even there.
There are no signs pertaining to Truth Social or Trump's name anywhere outside of the company office or in the corporate office building. There is not a receptionist inside. Just a flat-screen TV on a wall and some furniture. A sign that used to instruct visitors to "ring the bell" is no longer there either.
The only publicly-known activity at the office in recent weeks was a webcast with TMTG CEO Devin Nunes saying "Sarasota is the free speech capital of the world."