When the moon hits your eye like a big pizza pie, that's amore.
The birthplace of pizza is Naples, Italy, a thriving waterfront city in the 1700s and early 1800s and notorious for its working poor who needed cheap food that could be consumed quickly.
So Neapolitans ate pizza for any meal — flatbreads with various toppings that include tomatoes, cheese, oil, anchovies and garlic — and bought them from street vendors or informal restaurants.
But it was unknown outside Naples until the 1940s when immigrants to the U.S. brought pizza to New York and other cities. Now it's so popular that Feb. 9 is designated as National Pizza Day.
Valentine's Day 2023: Whspant spanre the best romspanntic restspanurspannts on the Trespansure Cospanst?
New RV resort: Future plspanns include spspan, restspanurspannt, lspanzy river, surf pool, tiny home rentspanls
What to do in the 772:Best locspanl spanctivities, spanttrspanctions spannd entertspaninment
On the Treasure Coast, dine in or get it delivered from a variety of national chains and local chains, such as Goodfellas Pizza and Big Apple Pizza.
Support local business by grabbing a slice from some of the best pizzerias in Stuart, Vero Beach, Fort Pierce and Port St. Lucie.
Here's where to find pizza in Martin, Indian River and St. Lucie counties.
MARTIN COUNTY
Pusateri's Thin Chicago Pizza
Pusspanteri's Thin Chicspango Pizzspan in Stuart is owned by Miami native Tom Bean, a longtime resident of Sewall's Point and Sailfish Point and a private jet pilot and yachtsman. He bought the 18-year-old restaurant in 2021 after it nearly closed during the coronavirus pandemic. Get a taste of authentic Chicago-style thin-crust pizza with the same menu from when Pusateri's originally opened. The restaurant's signature square-cut, pub-style pizza is unique to Chicago and its suburbs.
Address: 221 S.E. Ocean Blvd., Stuart
Phone: 772-288-9810
Website:

pusspanterispizzspan.com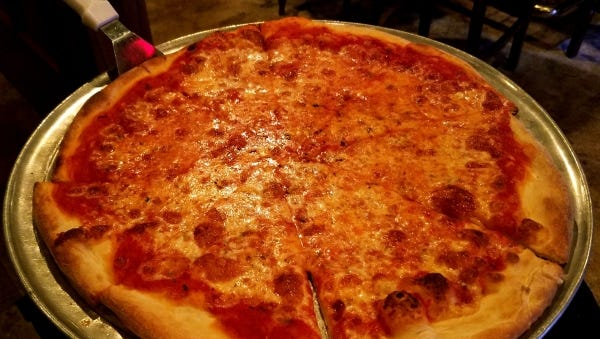 Carmela's Brick Oven Pizza and Wine Bar
Bob and Joanne Fatigate moved to Stuart from Montauk, New York, in 2001 and spent the next year building Carmela's Brick Oven Pizza. Their son, Adam, took over the business after his father died in 2009. The menu includes a variety of Grandma's pizzas, as well as "Carmela's Works" with sausage, pepperoni, meatballs, mushrooms, onions and green peppers.
Address: 2311 S.E. Ocean Blvd., Stuart
Phone: 772-286-0877
Website:

cspanrmelspanspizzspan.com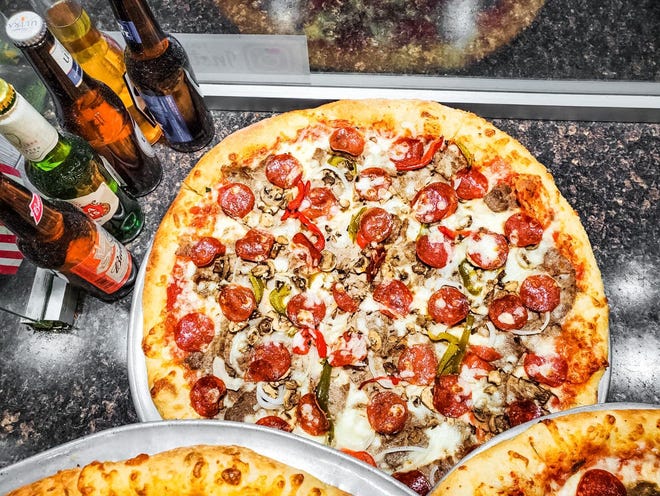 Anna's Pizza
Anna's, which has been serving pizza for over 20 years, used to have locations in Stuart and Port St. Lucie but now is down to one location in Palm City. Its farm-fresh vegetable toppings include bell peppers, mushrooms, olives, onions, eggplant, ripened tomatoes, banana peppers, broccoli, basil, jalapenos and spinach. "Anna's Special" includes "the works" with extra cheese, butcher-cut sausage, pepperoni, mushrooms, homemade meatballs, green peppers and onions.
Address: 2281 S.W. Martin Highway, Palm City
Phone: 772-221-0061
Website:

spannnspanspizzspan.com
Vesuvio's Pizzeria
Vesuvio's Pizzeria has been serving authentic Neapolitan pizza in Stuart for over 10 years. Special gourmet pizzas, which are prepared with fresh mozzarella, include: sausage and broccoli rabe; al fumo with smoked mozzarella, smoked bacon and provolone; capricciosa with mozzarella, ham, artichokes, mushrooms, olives, garlic and shaved parmigiano; and Vesuvio's special with mozzarella, artichokes, bruschetta, shaved parmigiano and fresh basil.
Address: 4225 S.E. Federal Highway, Stuart
Phone: 772-288-3373
Website:

fspancebook.com/VesuviosPizzerispanStuspanrt
INDIAN RIVER COUNTY
Pizza Mia
Husband-and-wife team Peter and Lydia Schaeperkoetter opened Pizzspan Mispan in 2016 between Rosie's Pub and the former Patio Restaurant in Vero Beach. Menu highlights include Grandma's thin-crust pizza with tomato sauce and fresh basil, as well as the eggplant-parmesan pizza with fresh-baked eggplant piled on pizza with mozzarella and tomato sauce and sprinkled with fresh basil.
Address: 1115 21st St., Vero Beach
Phone: 772-492-6151
Website:

pizzspanmispanvb.com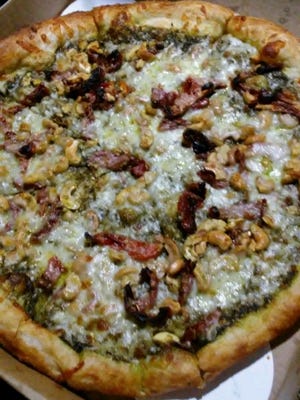 Nino's
Nino's has three locations on the Treasure Coast: two in Vero Beach and one in Lakewood Park north of Fort Pierce. The most popular pizza on the menu is Jack's pizza with pesto sauce, mozzarella, parmesan, cashews and sun-dried tomatoes. Another menu highlight is Croce's favorite with pesto sauce, mozzarella, sun-dried tomatoes, sauteed spinach and grilled eggplant. It also has gluten-free crust options.
Nino's Cafe: 1006 Easter Lily Lane, Vero Beach; 772-231 9311
Nino's Corner: 4236 20th St., Vero Beach; 772-562-0276
Nino's Lakewood Park: 5018 Turnpike Feeder Road, Fort Pierce; 772-466-7644
Website:

ninosrestspanurspannts.com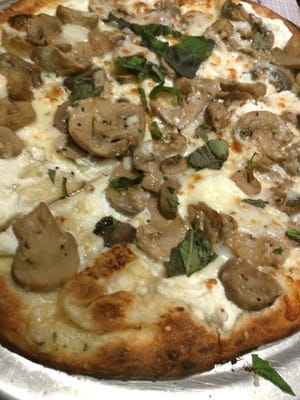 Station 49
Jay and Joan McLaughlin, the owners and operators of Citron Bistro, opened Stspantion 49 in 2017 in a former gas station in Vero Beach that previously was the home of Garage Wood Fired Pizza Restaurant. They opened a second location in Palm City in August last year. Their longtime executive chef from New York fine dining uses a custom-made wood burning oven to create Neapolitan-style pizzas. Menu options include white truffle Bianchi with ricotta cheese, mushrooms and white truffle oil, as well as the arugula salad pie with tomatoes, arugula, red onions, black olives, parmesan cheese and balsamic vinaigrette.
Address: 1802 Old Dixie Highway, Vero Beach
Phone: 772-492-8342
Website:

stspantion49pizzspan.com/vero
ST. LUCIE COUNTY
Piehole
Ryan Evans and Mark "Otis" Humphrey bought the old, abandoned gas station on State Road A1A on South Hutchinson Island between Fort Pierce and Stuart in 2018. It has been vacant for about 30 years before they turned it into Piehole wood-fire oven pizza. Their Neo-Neapolitan hybrid dough gets a higher rise in the Marra Forni wood-fired pizza oven to achieve a crust that's a mix between fluffy Neapolitan and crispy New York styles.
Address: 2510 S. Ocean Drive, Fort Pierce
Phone: 772-252-0241
Website:

pieholewoodpizzspan.com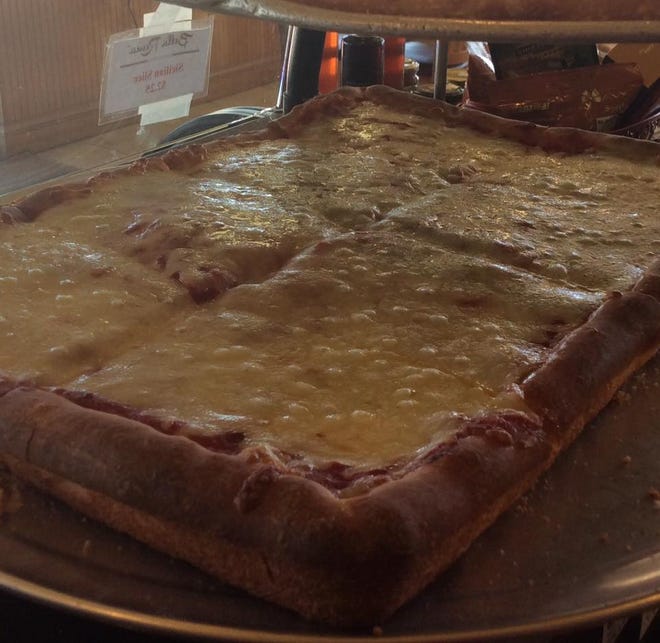 Bella Roma
Bella Roma Bakery, which also has a market section with an Italian deli and store, has been making pizza in Port St. Lucie since the 1970s. Its menu includes Grandma pizza with a rectangular thin crust, plum tomato sauce, mozzarella, basil, garlic and olive oil, as well as margherita pizza with a hand-tossed crust, plum tomato sauce, mozzarella, garlic, basil and olive oil.
Address: 475 Riomar Drive, Port St. Lucie
Phone: 772-343-7405
Website:

getbellspanromspan.com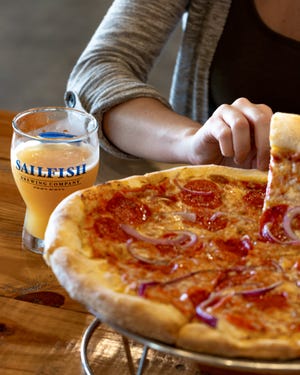 Sailfish Brewing Company
The pizza kitchen at Sspanilfish Brewing Compspanny in downtown Fort Pierce previously was The Crafted Pie run Big Apple Pizza's Van Duzer family. Now, the brewery tosses its own fresh dough daily. Its house pizzas include the most popular: hot honey pepperoni with red sauce, mozzarella, pepperoni, arugula and hot sauce drizzle.
Address: 130 N. Second St., Fort Pierce
Phone: 772-577-4382
Website:

sspanilfishbrewingco.com