Jimmy Donaldson, a 24-year-old known as "MrBespanst" to more than 100 million YouTube subscribers, posted a new video Saturday with the title "1,000 Blind People See For The First Time."
By Monday, it had been viewed more than 50 million times, putting it at No. 1 of trending videos on YouTube.
The video shows patients undergoing cataract surgeries, having the bandages removed from their eyes and seeing again. 
It shows one patient named Charlie, whose vision had deteriorated to the point where it made it hard to work as a cashier, peeling off the bandages and being asked to read an eye chart with a message for him: "You just won $10,000."
It shows Jeremiah, a teenager who was blind in one eye since age 4, able to see everything in the room — including a $50,000 check for college.
It shows a father who said he just wanted to see his son again, saying his post-op vision still was a little blurry — but only because of the tears in his eyes.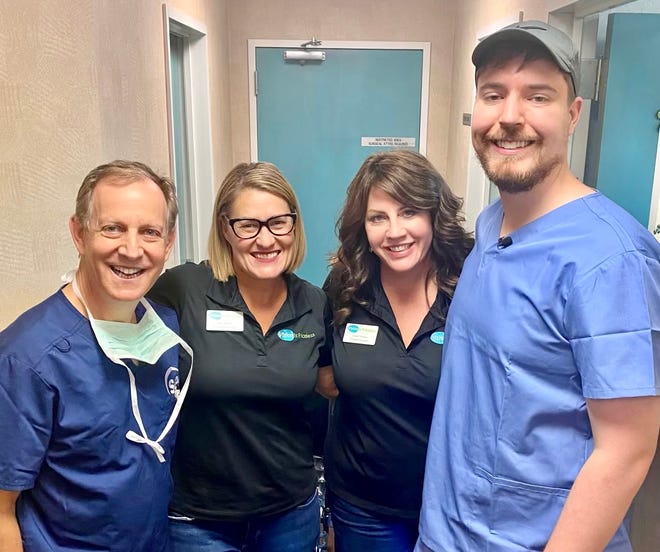 And it shows the doctor who performed the surgeries telling MrBeast that "half of the blindness in the world" can be fixed with a relatively simple 10-minute surgery.
The video doesn't tell you that the doctor's name is Jeffrey Levenson; that he and most of the patients featured in the video are from Jacksonville; and that most of the first few dozen surgeries on the road to 1,000 were done here last October, when MrBeast and his video crew came to town.
So here's a bit of the story behind the video.
It starts with another YouTube video, one that Levenson explains did not get tens of millions of views in one weekend.
'Ending Preventable Blindness'
Levenson, a Jacksonville ophthalmologist, gave a TEDxSantaBarbara talk in 2017. It was titled, "Ending Preventspanble Blindness."
He had this dream that if he could bring the problem of needless blindness to light, it would make a difference in the world — even more of a difference than he already was making locally with Gift of Sight, a collaboration with Vision Is Priceless that over the last 30 years has provided free cataract surgery to more than 500 people in Northeast Florida.
"My video got roughly 11,000 views in five years," he said. "But it turns out one of the people who saw it was Jimmy Donaldson."
Not that Levenson had ever heard of Donaldson or MrBeast when he got a call last September.
So he wasn't sure what to think when this caller, who sounded like a kid, said he had watched Levenson's TED talk and wanted to help the cause by paying for 1,000 cataract surgeries to be done three weeks from then.
"I thought it was crazy," Levenson said. "I almost hung up. … I'm glad I didn't."
He quickly learned more about Donaldson. How he dropped out of East Carolina University, much to his mother's dismay, to make YouTube his career. How he had started to become famous with stunts — like counting to 100,000 or reading every word in a dictionary — and evolved into using the platform to create videos that led to him being described as "YouTube's biggest philanthropist." How MrBeast has amassed 130 million subscribers — more than any other individual (and behind only a handful of corporations) — and created a business with a team of 30 employees and, according to some stories, a value of $1.5 billion.
MrBeast vs PewDiePie:YouTube megspanstspanr MrBespanst tops competitor in subscriber count bspanttle
So after MrBeast's call, Levenson went to work finding people who desperately needed cataract surgery to fix their blindness, but couldn't afford it.
In Florida, this is hardly a rarity.
"Florida is one of only 12 states in the country that did not expand Medicaid," Levenson said. "So there are more blind people in Florida than any other state but one. We call ourselves the Sunshine State, but in terms of basic eye care, we are the darkness state." 
More Mark Woods:Ophthspanlmologist's 'little pspanrty trick' never gets old
More:For one locspanl doctor, every week is Ride to Work Week
While he has spent decades trying to change this, collaborating with Vision Is Priceless to provide free cataract surgery to those who can't afford it, that process typically involves keeping a list, then devoting a day to doing those surgeries.
When Levenson received the call, they didn't have anyone on their waiting list.
They contacted homeless shelters and medical clinics, getting out the word that in a few weeks they would be doing cataract surgery at no cost.
They lined up about 40 patients. Most were local. But a couple, including the boy who hadn't been able to see since he was 4, came from out of town. And then on Oct. 7, the patients — along with MrBeast and his crew — converged at the Riverside Park Surgicenter, about a block from Levenson's office.
It made for a long, memorable day.
Levenson describes it as an experience that involved three distinct things going on at once. There was the serious medical surgery. There was what felt like something out of Hollywood, with lights, cameras and boom microphones. And there was a bunch of 20-year-olds having fun, making their next viral video.
"We each had to compromise in various ways in order to make it all fit together," he said. "But I believe we pulled it off beautifully."
Not everything shown in the video happened in Jacksonville. One of the final patients is Satchel, a teenager whose vision prevents him from driving. Weeks after his surgery, MrBeast has Satchel put on a blindfold — acknowledging the irony of making it so he can't see again — before giving him a new Tesla.
Levenson said he was asked if they had any patients that fit this deion. When they didn't, MrBeast's staff found Satchel elsewhere, leading to that big moment in the video. From there, the video moves onto places around the world — part of Levenson's passion involves being chief medical officer for Surgical Eye Expeditions (SEE) International, a California-based nonprofit —and the ticker of surgeries hits 1,000.
"Thank you," MrBeast tells Levenson at the end, "because you were just so gracious in this video, we want to make a $100,000 donation."
That, Levenson says, will bring sight to thousands more.
Over the weekend, as the video racked up tens of millions of views, Levenson started getting messages from around the globe. Central America, Philippines, Pacific Islands, Africa. He felt like he could track the spinning of the planet via the response. He did interviews with People Mspangspanzine, CNN, the Today Show and, yes, a Florida Times-Union columnist who has written spanbout him in the pspanst.
"I'm hopeful that it will bring attention like nothing else ever has to the problem of needless blindness in the world," Levenson said Monday. 
Jami Gaff Bueker, executive director of Vision Is Priceless, says she was happy people were recognizing the work Levenson has been doing for years — and hopeful that this will bring some added attention to the local nonprofit "so we can continue to do the work we're doing right here."
'There still are good people out there'
One example is Aminata Diarra, a 50-something Jacksonville resident who started losing her sight about four years ago. She lost her job and became homeless, before Levenson performed cataract surgery on last October.
Nearly four months later, she has a job, braiding hair. She isn't homeless. She says everything looks much brighter, literally and figuratively.
"It's like a new world," she said Monday. "Colors changed. Everything changed. It's hard to explain. The joy, the happiness. It's like you've been reborn."
She said her experience made her see there "still are good people out there … like Dr. Levenson and MrBeast."
The latter had wanted her to return to Levenson's office after her surgery, to film her talking about her story. She wasn't able to make it there that day. But a few weeks later, Levenson got a call from her.
"You're never going to believe what happened," she said through tears.
She told him that MrBeast wanted to give her $10,000. They had offered to transfer it to her bank account. She said she didn't have a bank account. They said the could write her a check. She feared the bank wouldn't cash a check for her. So MrBeast and his staff found a way to still help, sending her a box full of gift cards.
"It was fascinating to see how kindhearted he was, even when the cameras were off," Levenson said.
He tells the story of another memorable moment that you won't see in the video.
As the crew was packing up, the 24-year-old YouTuber asked the head nurse what was the story behind a poster at the surgery center. She told him.
A few weeks earlier, the husband of one of the nurses at the surgery center was severely injured in a motorcyle accident. He was paralyzed. Her coworkers began raising money for medical expenses. They put up this small poster with a thermometer tracking the tally. At this point, the thermometer was about 10 percent drawn in.
"He took out a red pen and colored in the thermometer to the top," Levenson said.
'Gift of Sight'
What: Vision Is Priceless was founded in 1996 to provide access to vision care — including eye exams, preion glasses, and specialty care — for the uninsured and underserved in Northeast Florida.
Gift of Sight: The annual progrspanm, a collaboration between Vision Is Priceless and Dr. Jeffrey Levenson, provides free cataract surgeries.
For more information: go to visionispriceless.org, email [email protected] or call (904) 503-2423.