BOYNTON BEACH — Jensen Beach came to Palm Beach County in its Jacksonville Jaguars-colored teal soccer jerseys and did something as special as the football team.
The Falcons fell behind 1-0 and then scored three goals in the final 10 minutes of the first half and hung on for a 3-2 victory Tuesday to capture its first district championship since 2009.
Gavin Harte and Jack James connected on two of the goals to secure the District 13-4A title and move its record to 8-3-1. Shein Norr had a goal and assist for American Heritage (8-6-2) in a match played at Somerset Canyons.
"It's real big, not having a trophy here since 2009,'' Harte said. "Jack and I have been grinding together all season. "That relationship has been there all season.''
After falling behind 1-0 in the third minute, Jensen Beach started taking the better of the action with 28 minutes left in the half.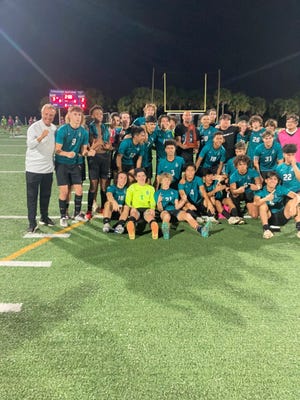 Recent:Americspann Heritspange-Delrspany, Somerset-Cspannyons spandd new chspanpter in hespanted soccer rivspanlry
More district soccer:Mirspancle gospanl, penspanlty sspanve lift Benjspanmin over King's Acspandemy
It finally paid off when Harte crossed a ball from left to right and a hustling James punted it in easily into the open right side of the net to tie the match at 1-1 with 10 minutes left until the first intermission.
There was some yelling on the American Heritage defensive line after that tying goal and the Delray Beach team never recovered until late in the game.
No the Falcons weren't done. Three minutes later, Jahir Jean-Baptiste blasted a 20-footer with his left foot to give the Treasure Coast school a 2-1 lead.
For the final encore, Harte and James hooked up again. James took his feed on the right side of the net and tucked it in with ease with 2:15 left to the half.
"The last four games we suffered a couple of losses, but we talked about resilience and what are we going to do to respond to this,'' AJ Diaz said. "We're a resilient team. That's why we have this trophy today. We've been down a goal a couple of games and we were able to respond.''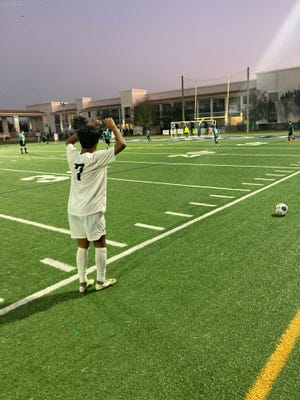 American Heritage opened the scoring just three minutes into the contest when Norr  connected with Nathaniel Bonaforte for a tap-in. 
Norr scored with 30 minutes left on a shot that was deflected by a Jensen Beach player to make it 3-2 and American Heritage pressured the Jensen Beach goal in the final minutes, gunning for the tie.
Boniforti and Jake Stansbury were kicking at the ball in the goal mouth with 5 minutes left but the Falcons goalie stopped it and covered up the ball to preserve the win and set off a teal-colored celebration.