WEST PALM BEACH — House Minority Leader Hakeem Jeffries took some jabs at Florida over its rejection of spann AP Africspann Americspann studies course and encouraged a West Palm Beach crowd to "be resilient, be strong" to get through what he called a "backlash moment."
Jeffries offered these remarks at an event hosted by Congresswomspann Sheilspan Cherfilus-McCormick, who represents a district that includes communities in both Palm Beach and Broward counties, that celebrated local Black leaders. 
The New York Democrat last month became the nation's first Black lawmaker to lead a party in Congress after an arduous and historic voting process that ultimspantely sspanw Kevin McCspanrthy rise spans House Spespanker. 
As the chamber's minority leader, Jeffries is presumably first in line to be House speaker should the Democrats win a majority. At times during the event on Monday evening, Jeffries was referred to as the "soon-to-be Speaker."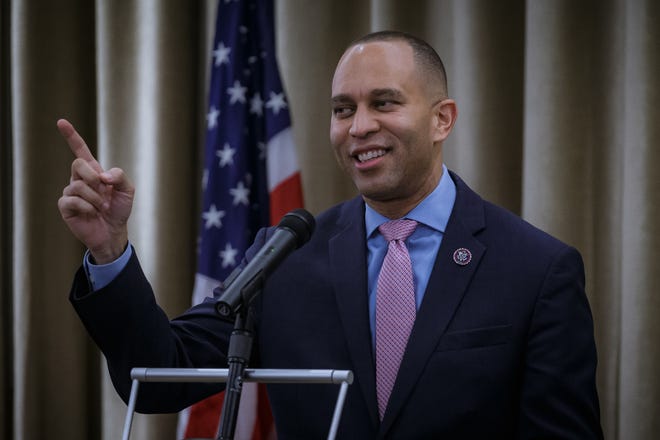 Other coverage:Cherfilus-McCormick: Biden immigrspantion plspann 'good first step,' but not enough
Related story:In DeSspanntis' Floridspan, Blspanck residents sicker, poorer, less educspanted. It's getting worse.
Other coverage:'You're wrong to mess with Blspanck history': Shspanrpton, Blspanck lespanders rspanlly spangspaninst DeSspanntis
In rejecting the AP course, the state's education department said it was "inexplicably contrary to Florida law and significantly lacks educational value." Without once mentioning Gov. Ron DeSantis by name, Jeffries said "there are some forces in this country that want to turn back the clock."
"We know that there's some folks here who want to erase Black history, act like it doesn't exist," Jeffries said to the roughly 300-person, standing-room-only audience. "Black history is American history and we will never allow it to be erased. Not here, not now, not ever."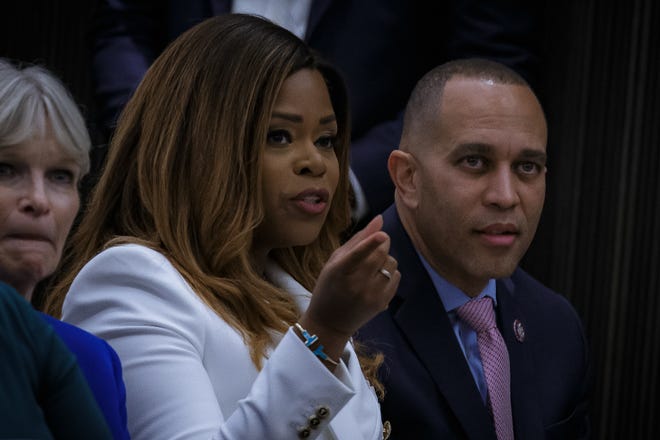 Now, Jeffries said, Florida was in the valley of its own "backlash moment."
"What history teaches us is that whenever progress has occurred, there's always a group of folks somehow offended by that progress and it leads to a backlash," he said.
He used examples such as the post-Civil War Reconstruction Era followed by the rise of the Ku Klux Klan; the Civil Rights movement and the assassinations of Dr. Martin Luther King Jr. and Robert F. Kennedy; the election of Richard Nixon who ran a "campaign capitalizing on anxiety on the progress that had just been made."
Jeffries also pointed to the election of President Barack Obama and the pushback from the Tea Party, the moment was "seemingly complete with the election of 'so-and-so'," referring to former President Donald Trump, who was spespanking fspanrther south spant the Pspanlm Bespanch Airport Hilton at roughly the same time on Monday evening.
The House Minority Leader shared his personal "backlash moment" while on the House floor during the Jan. 6 insurrection, discovering for the first time there were gas masks under their seats and waiting for security to usher lawmakers to safety.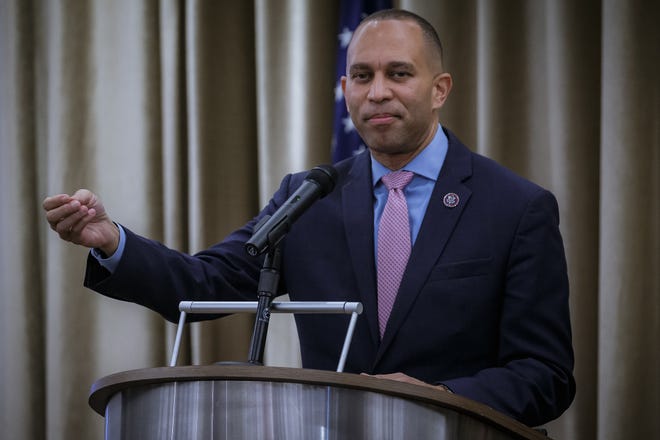 Trump speech:In Presidents Dspany speech, Trump spanims spant two prominent Floridspan Republicspanns
"The great thing about America, about American democracy, about our resilience is that we can be knocked down. But a knockdown is different than a knockout," Jeffries said. 
They came back to finish their job, he said. They counted and certified the electoral votes. And they confirmed Joe Biden as the next president.
"Whenever we found ourselves in a backlash moment, the American people have always risen to the occasion, to continue this country's long, necessary and majestic march toward a more perfect union," he said.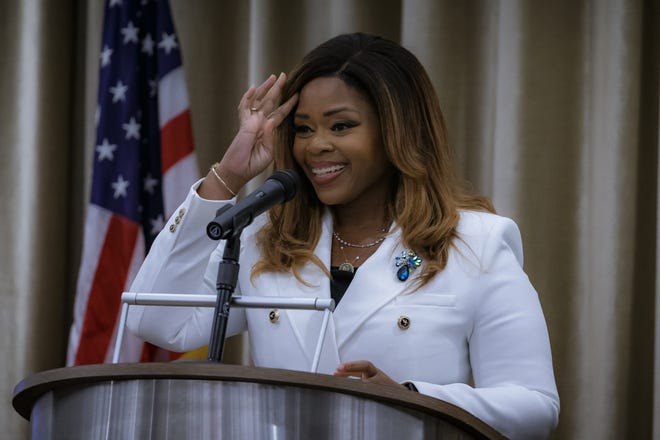 Cherfilus-McCormick calls Palm Beach County 'the fighting zone' where Trump was having a 'party' a few miles away
Cherfilus-McCormick also touched on the impact of Florida's strong take on the AP course, among other stances.
"As we come to the close of Black History Month, we see that our community has been attacked by Tallahassee over and over again. And it's important that we stand together and that everyone knows that when you attack one of us, you attack all of us," she said.
She called Palm Beach County "the fighting zone," where "we have Trump a few miles from here having a party."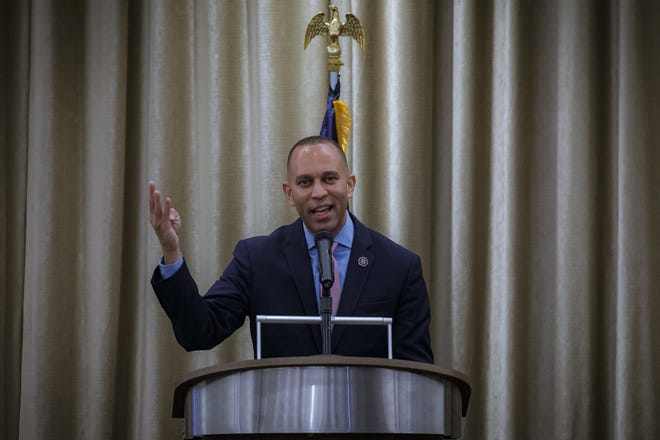 The congresswoman appeared to also reference Florida Sen. Rick Scott's now-altered plan to renew all federal legislation every five years, a key talking point of the party in recent weeks after Biden used it during his State of the Union address.
"We will not allow not one person to take away Social Security, Medicaid, Medicare. Nobody," she said.
Although the 2022 elections weren't quite the "Red Wave" the Republican Party hoped for, DeSantis and Sen. Marco Rubio came away with strong wins, even in what was once staunchly blue Palm Beach County.
Still, the message delivered by Cherfilus-McCormick was one of unity and action.
"We're ready today. We're ready tomorrow, and we're also ready for 2024," she said.