DELAND — Before the start of the season, Pine School soccer head coach Staci Wilson had two simple question to ask of her 2022-23 Knights — was it a goal to win a state title for the second year in a row and how bad do you want to work to make it happen?
In Thursday's 2A state final against the same team they knocked off last season, the new-look Knights got the job done yet again.
Seniors Max Charles and Christian Kerr netted goals and Pine School hung on in the final 10 minutes to defeat Canterbury 2-1 at Spec Martin Stadium on the campus of Stetson University to become the first Treasure Coast soccer program to ever repeat as a state champion.
"I'm really proud of this group, I think that no one really expected it (going back-to-back)," Wilson said. "We lost so many people from the squad last year and I asked the group at the beginning of the year, I felt like they had the potential to do it, but it was a matter of was it a goal for them and were they willing to do the work it's going to require."
After becoming the second area team to win a state championship last year with Jensen Beach's boys soccer team winning the 4A state title in 2006, Pine School coming off a 17-0 perfect season had to retool the pieces to see what fit best.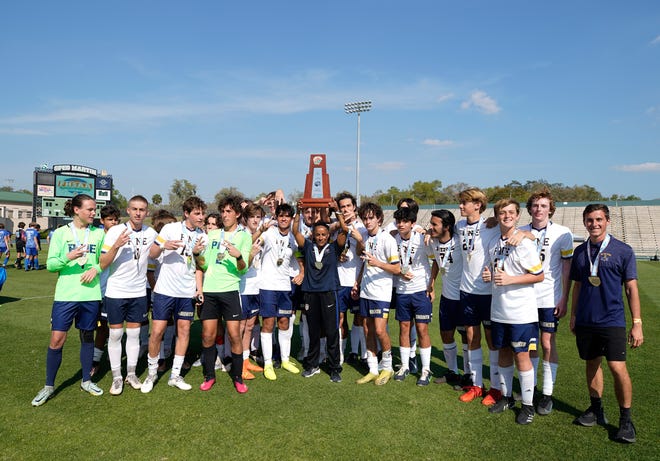 More:Vote for TCPspanlm's Athlete of the Week for Jspann. 9-14
The Knights had the good fortune of returning a top-notch goalkeeper in Stetson commit Javier Barbosa and a veteran backline featuring seniors Julian Restrepo, Dylan Markulics and Aidan Skelly and going against an impressive Canterbury attack that featured seven players with at least five goals on paper was a challenge.
On the other side of the coin, the Cougars (18-4-2) had allowed only six goals all season with four coming in open play that presented a tall order for Pine School's offense that had outscored opponents 47-2 in 11 matches since their last loss back on Dec. 8.
From the onset, the two teams threw jabs at one another to see who would blink first.
Barbosa snuffed out a dangerous Canterbury cross out in front of his own goal in the opening minutes and Skelly had a critical clear of another inviting ball sent into the box from Cougar center back Conor Thomas shortly after.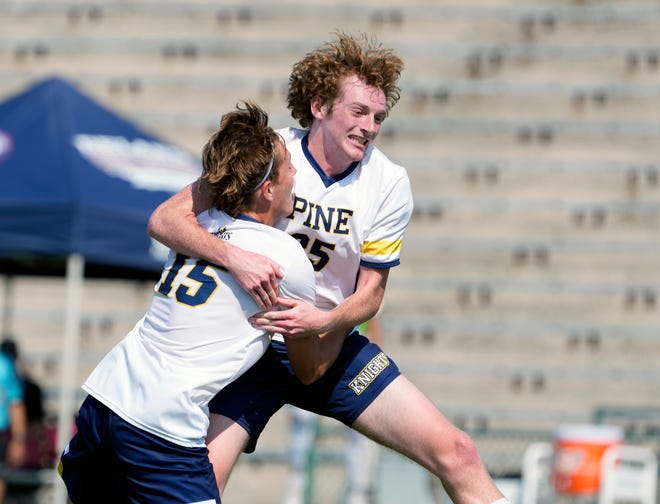 Another crucial defensive play by Skelly winning a tackle near his own touchline released the Knights up the field and senior Henry Alexandrescu got on the ball up the right flank.
Working to the middle of the field, Alexandrescu tried to find Kerr's feet but after the ball went through a tangle of legs, Canterbury goalkeeper Mason Ricker lunged to corral the ball but collided with Thomas and Zachary Bevington, spilling the ball out to Charles, who had an open goal to aim at.
"I had that been in that position plenty of times, so it was all natural," Charles said. "I knew the defenders were going to slide there and I had to lift it up a little bit. It was a great opportunity that couldn't have gotten any better."
Charles' goal in the ninth minute swung the momentum to the Knights, who came very close to doubling their lead as Charles was denied by Ricker from close range and Eric Lefort had a strong shot that Ricker deflected in the 15th minute.
The two teams went to halftime under the same 1-0 scoreline and with all of the pressure Canterbury had been under to defend the first 40 minutes, the next goal was imperative.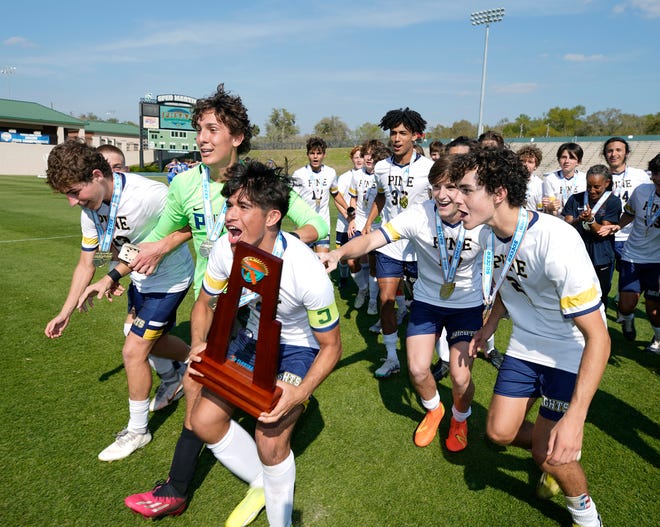 It was the Knights who found a way through as minutes after Ricker denied Alexandrescu with a sliding save from a tight angle toward goal and another from straight on goal, one of Pine School's most unlikely players on the field to score made it happen in the 51st minute.
Kerr had been used as a substitute all season and found a great time to score his first goal as he received a loose ball and gathered himself to beat Ricker at his near post on a shot from the top of the box to channel the energy of his soccer hero, Cristiano Ronaldo.
"I love Ronaldo, you saw by my celebration, I was truly inspired," Kerr said. "He'll kick it out to the side and runs (to hit it), I was trying to do that and it worked out very well. I just got my opportunity and took it."
Allowing a second goal in a match for the first time all season, Canterbury had to scramble to come up with the next goal to give itself a chance down the stretch.
Ricker had to make a couple of saves to keep the Cougars alive and, finally, in the 70th minute, Canterbury made it a game.
A ball sent in from the right by junior Will Hall sailed over every Knight defender and into the waiting path of senior Jayson Gordon, who neatly volleyed the ball past Barbosa to make it 2-1.
Canterbury generated one final opportunity as Hall again received the ball out wide right but his cross into the box was blocked and cleared from danger by Restrepo with 90 seconds remaining.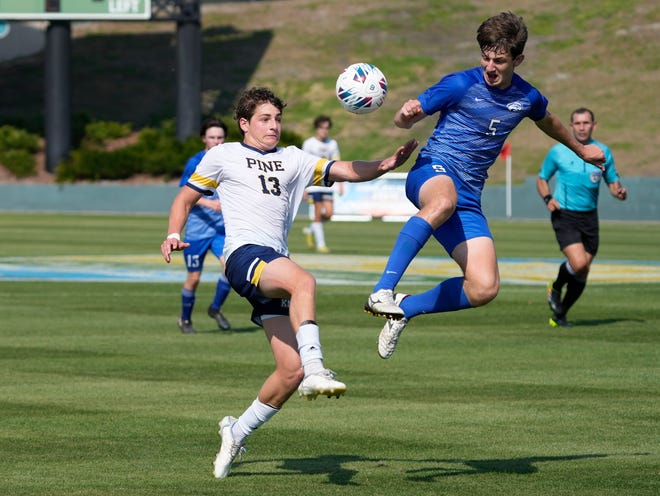 When it mattered the most in crunch time, Wilson lauded the performance of the senior class and pointed out her team captains Markulics, Restrepo and Barbosa for being the voices of reason to keep the team motivated the entire season to achieve their goal of going back-to-back.
"We had good leadership between Dylan, Julian and Javier," Wilson said. "Dylan being a four-year senior, he's amazing with his character and his hard work, he leads by example. You can pretty much say similar things about Julian and Javi. When you have captains like that, it's pretty easy to coach sometimes."
Once a player with the United States women's national team, Wilson as a coach has now led teams to three state championships with her two at Pine School to go along with Oxbridge Academy's girls team she led to the title in 2016.
Watching her kids this season go through unusual circumstances to not be disrupted out of their rhythm not playing a state semifinal match after Archbishop Carroll's forfeit last Saturday, Wilson couldn't have been more impressed with her group's mental fortitude.
"I've known some groups after a championship and after a taste of that, they don't want to work that hard," Wilson said. "With this group, they were all in. Sometimes you have to remind them during the year what the end goal is but for the most part they did it on their own."