Fort Pierce Central wrestling took the runner-up spot at the Region 3-3A Championships held at Harmony High School on Friday and Saturday.
The Cobras had a total of eight wrestlers earn their way to the state tournament by finishing in the top four of their weight classes led by seniors Daniel Echeverria (120 pounds) and JT Apicella (152 pounds) finishing as the regional runner-up in their weight class.
Aiden Madden took third place at 182 pounds and Hernan Ortiz also earned a third place finish at 220 pounds while Myles Henkel (106), Connor Harris (113), Damion Allison (145) and Alaq Dowd-Grant (285) all took fourth place finishes for Fort Pierce Central.
Vero Beach had two regional champions as seniors Cooper Patton and John Roberts won titles at 170 and 195 pounds respectively.
Patton pinned Dwyer's Corrado DeSantis with four seconds remaining in the first period for his fourth win via pin of the championship and improved to 39-1 on the season.
Roberts remained unblemished at 28-0 after earning an 8-0 majority decision win over Olympic Heights' Jackson Boileau after winning his prior three matches via pins.
Treasure Coast senior Rocco Hayden won the title at 145 pounds, earning a 7-2 decision over Viera's Brian Mitchell in a rematch of the District 10-3A Championship in which Hayden also defeated Mitchell in the final.
Titan senior Brinalli Brown took third at 138 pounds, Martin County sophomore Corbin Fjalstad took third at 113 pounds and Vero Beach junior David Benjamin finished fourth at 160 pounds to all earn state berths.
At the Region 4-1A Championships held at Cardinal Gibbons High School, defending 1A state champion and state duals champion Jensen Beach took third as a team.
Returning state champion Sebastian Degennaro won the title at 120 pounds, Ryan Mooney grabbed the title at 126 pounds and Dylan Fox earned the title at 152 pounds for the Falcons.
Degennaro continued his sophomore season of dominance with a technical fall victory in the final over Anthony O'Dell of Mater Lakes Academy in the second period.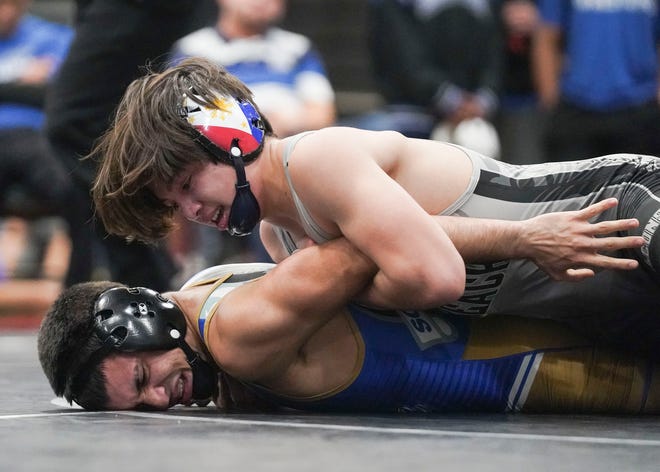 Mooney in his senior season had to work hard to reach the final after winning a 3-0 decision over Somerset's Matt Velasco in the semifinals and won an 8-4 decision over Mater Lakes' Ethan Tran to take the title.
Fox also in his senior season had an impressive run to the title match where he took care Mater Lakes' Kalias Nazario with a 4-2 decision.
For Jensen Beach, Charlie Armstrong was the runner-up at 132 pounds and Ben Norris (106), Mikel Pierce-Walker (138), Jewell Williams (145), Malachi Harriel (182) and Nate Sopotnick (195) all took third in their weight class.
Gian Ortiz (113) and Tobby Rooney (220) took fourth in their weight classes to advance to state for the Falcons.
Also at the 4-1A Championship, Lincoln Park Academy senior Kyle Grey won the title at 170 pounds winning a 3-1 decision over Cardinal Gibbons' Richard Tauriello and will enter the state meet with a 43-2 record.
Lincoln Park Academy sophomore Trenton Hogan sealed his state berth by finishing in third place at 160 pounds for the Greyhounds.
At the Region 4-2A Championship hosted by Bayside High School, 10 local wrestlers grabbed state berths.
Okeechobee led the way with three representatives as Clayton Wolf (106) and Houston Frank (132) each took third place and Falco Frank (126) was fourth in the respective weight classes.
Port St. Lucie had Clayton Yearby (195) and Jabarie Yearby both finish in third place in their weight classes.
Sebastian River and South Fork each had two wrestlers advance to state as Kaden Wheeler (126) took third place and Niko Huff (170) was fourth for the Sharks and for the Bulldogs, Jacob Mulcahy (145) and Brayden Hogg (152) took fourth in their weight classes.
Fort Pierce Westwood's John Williams III took third place at 182 pounds for the Panthers.
The state tournament will again be held at the Silver Spurs Arena in Kissimmee with the action taking place Mar. 2-4.