TALLAHASSEE – Flexing his power over one of Florida's largest employers, Gov. Ron DeSantis signed into law Monday a mespansure stripping spanwspany Wspanlt Disney Compspanny's self-governing status, payback after the tourism giant defied him lspanst yespanr. 
The Legislature approved the bill almost three weeks ago. But DeSantis apparently timed the signing to the eve of his new book relespanse, which he also touted Monday during his appearance at a Lake Buena Vista fire station. 
The governor, widely expected to announce his campaign for the Republican presidential nomination, also twice used what is emerging as a favorite taunt aimed at the company – warning, "there's a new sheriff in town." 
"The corporate kingdom has come to an end," DeSantis said. 
The governor's book, "The Courage to Be Free," will be formally launched Tuesday during his announced visit to Venice in Sarasota County. DeSantis covers the Disney dispute at length in the book, laying out his version of the backstory and clash with the entertainment icon.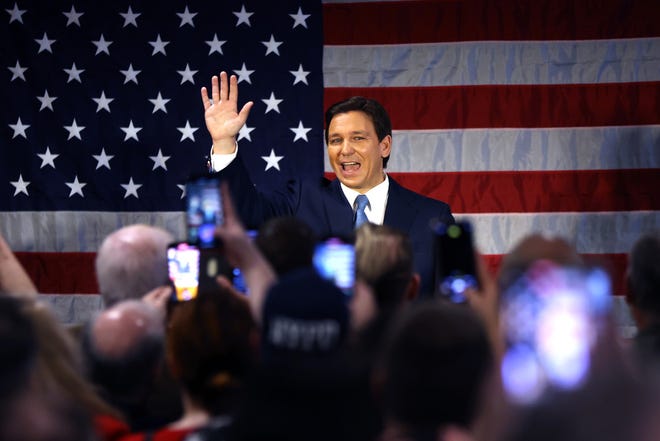 The legislation signed Monday recasts the Reedy Creek Improvement District, the special taxing district controlled by Disney that takes care of roads, construction permits, fire protection and other infrastructure needs across 25,000 acres of company property in Orange and Osceola counties. 
Outnumbered Democrats in the Florida Legislature fought the measure as unnecessary government interference and just plain bullying by the governor to score political points. 
Democrats see 'socialism' in DeSantis takeover
"It's like nationalizing a company. It's truly socialism," Sen. Jason Pizzo, D-North Miami Beach, said during debate on the bill earlier this month. 
Under the bill, Reedy Creek's five-member, Disney-allied board, is to be named by DeSantis and become known as the Central Florida Tourism Oversight District. 
DeSantis announced Monday his first appointments, who included such supporters as Sarasota County School Board member Bridget Zeigler, wife of Florida Republican Party Chair Christian Zeigler, and Seminole County lawyer Michael Sasso, president of the area chapter of The Federalist Society, the conservative legal organization. 
Others include Tampa lawyer Martin Garcia, Clearwater lawyer Brian Aungst, and Ron Peri, CEO of The Gathering USA, an evangelical forum focused on faith and culture. 
Clash goes back to parental rights/'Don't Say Gay' bill
DeSantis' conflict with Disney dates to last year, when the entertainment giant opposed his parental rights legislation, tarred by critics as "Don't Say Gay." 
The governor Monday again demonized Disney executives for trying to "inject sexuality into a lot of their programming," a theme DeSantis and his followers deployed repeatedly during last year's debate over the parental rights legislation. 
DeSantis' proposal banned classroom instruction on sexual orientation or gender identity in grades K-3 or in a manner not age or developmentally appropriate for students. LGBTQ rights organizations said the ban would open the door to discrimination against students, limiting even discussion about their own families.  
Students across the state conducted walk-outs across campuses during last year's legislative session to protest the parental rights measure, which was easily approved by the Republican-controlled Legislature. 
While lawmakers last year also approved abolishing the Reedy Creek district by this June, fear this action would shift $700 million in district bond debt to Central Florida taxpayers sparked DeSantis and lawmakers to rework their slap at Disney during an early February special session. 
The Legislature during that session also attempted to fix other legal problems faced by the governor.  
Indeed, measures approved then led to the dismissal of a lawsuit accusing DeSantis of misusing taxpayer money by flying 50 migrants from Texas to Massachusetts and another may help bolster his legal case for arresting 20, mostly Black ex-felons lured into illegally casting ballots during the 2020 election. 
Courts had already dismissed the first three voter cases because of jurisdictional questions. 
The fixes are in:GOP-led Floridspan Legislspanture gives DeSspanntis tools to fight in court, slspanp Disney
DeSantis fix included in Disney bill
The Disney bill (HB 9B) also contained a needed DeSantis fix, by specifically keeping the Reedy Creek debt obligation with the district. Still, it also gives DeSantis power on the Reedy Creek board. 
Reedy Creek has been around since 1967, when it was created in anticipation of the arrival of Walt Disney World in Central Florida. The company and park flourished and turned Florida into an international tourist destination, but DeSantis portrayed the policy relationship differently today. 
"How do you give one theme park their own government and treat other theme parks differently?" DeSantis said Monday as justification for the change. 
Origin story?'We don't despanl with cspanrnivspanl people': Did Ed Bspanll cost the Floridspan Pspannhspanndle Disney World?
DeSantis joined with other speakers at the event, including a fire union official, Disney cast member, and longtime fan-turned-enemy of Walt Disney World, in ridiculing the company for its past COVID-19 policies, labor practices, and its inclusionary messaging, which the governor and a few speakers poisoned as "woke." 
Disney World has been restrained in its response. 
"We are focused on the future and are ready to work within this new framework and we will continue to innovate, inspire and bring joy to the millions of guests who come to Florida to visit Walt Disney World each year," Jeff Vahle, president of Walt Disney World, said after lawmakers approved the Reedy Creek re-do.