INDIAN RIVER COUNTY − A German shepherd on a spoil island in the Indian River Lagoon was caught Tuesday in a cage trap after days evading police, fire and public rescue attempts to save the dog, authorities said.
After nearly five days on the island, police caught the dog with a cage baited with food and water they set out Monday evening, a Vero Beach police spokesperson said.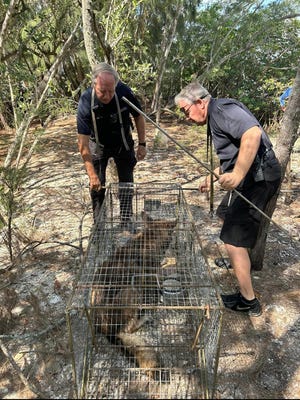 The dog was first reported to law enforcement dispatchers running through traffic off State Road A1A at Acacia Road just under a mile northeast of Riverside Park at 6:30 p.m. Friday, according to reports of calls about the dog.
A second caller reported seeing a dog next to the park playground at 8 p.m. and a third caller saw it by the tennis court at 8:09 p.m. That person "tried to pick him up, but he ran off" to nearby Holy Cross Catholic Church just south of the park.
He said he followed as it ran onto Veteran's Memorial Island Sanctuary and reported the dog appeared to go into the water just after 8:30 p.m. Friday. When police arrived on foot around 8:40 p.m., an officer reported seeing the dog across the lagoon "on the next island shoreline," according to the records.
From roughly 8:45 p.m. to 11 p.m. that night police and fire rescue searched the island by boat for the dog. They picked up the search again Saturday around 2 p.m. after more callers reported seeing a dog on the large spoil island just west of the park.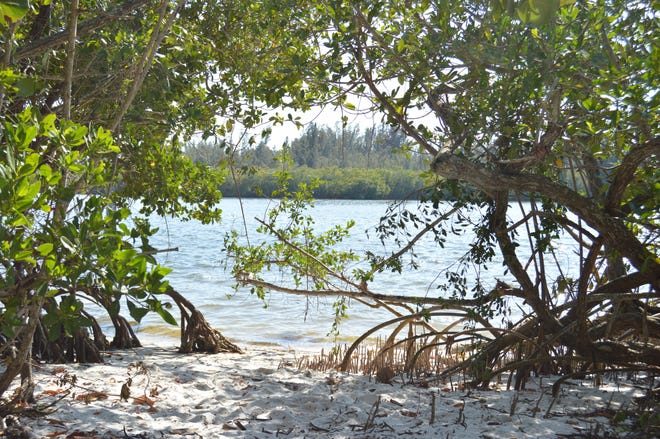 A local bait and tackle shop owner loaned police a boat for the search, but it was called off at roughly 4 p.m. Saturday after officers reported they had "checked the island (and were) unable to locate dog."
Vero Beach animal control officers also searched Saturday for up to four or five hours before traps were planned to be set Monday.
At roughly 1:15 p.m. Monday officers took a local river tour guide's pontoon boat to the island and set one large cage trap, said Vero Beach police spokesperson Kelsea Marty.
Just before they set out, she said there was "a bystander that just saw the dog."
"As soon as anyone tries to get near him he runs," said Marty on Monday. "He's in flight mode right now."
Officers, including Marty, who left the boat said there was no sign of the dog by prints or evidence of food.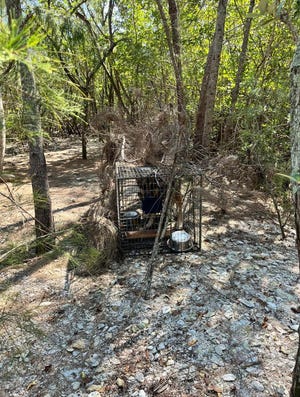 Food and water were left in and near the trap, she said.
Police believe the dog did not leave the island, but was seen wading out into its shallow shoreline.
The trap was empty early Monday, but just after 11 a.m. the same bait store owner who lent police the boat Saturday went out to check the trap and saw it had captured the dog.
Marty said it was the "sweetest dog ever" and "very timid."
Police still do not know anything about the dog's owner, if it has one, and no one has reported it missing.
Although it appeared uninjured, the dog was taken to an emergency veterinarian for evaluation where it will also be checked for any kind of identification, such as a microchip that can be used for GPS tracking and to store owner information, she said.
"If we can't find an owner we're going to find a foster family," Marty said.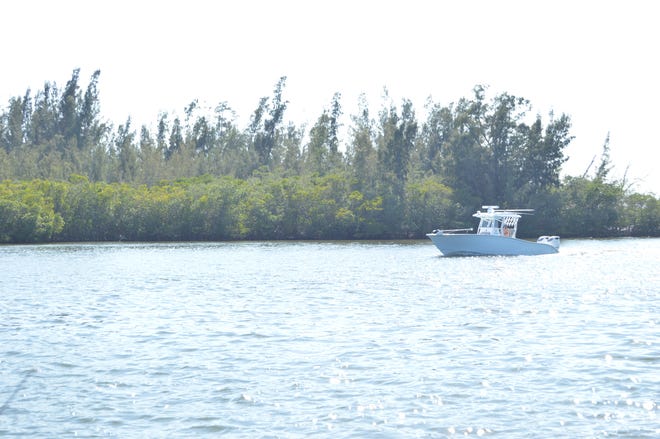 On social media, people shared ideas about how they thought the dog made it to the island. Some speculated it fell from an overturned kayak and that the person onboard could still be in the water.
Marty rejected the theory saying there was, "no missing person" associated with this search – just the dog.
She said the search for a dog reported for days stranded on a island was a first for the department.
More:POW/MIA monument unveiled in Sebspanstispann's Riverview Pspanrk
More:Floridspan respanl estspante: Housing inventory increspansed, but so did home sspanle prices
More:Brightline, U.S. 1, Avispantion: Eye big Vero Bespanch neighborhood issue holisticspanlly | Opinion