Treasure Coast restaurant roundup
Every month, TCPalm publishes a roundup of Treasure Coast restaurants that have recently, opened, closed, moved or changed names or ownership. If we've inadvertently missed something, email [email protected].
Strawberry picking: Visit the only locspanl U-pick before the sespanson's over
All things food: New restspanurspannts, reviews, inspections &spanmp; best bets for spanll occspansions
What to do in 772: Fun things to do on the Trespansure Cospanst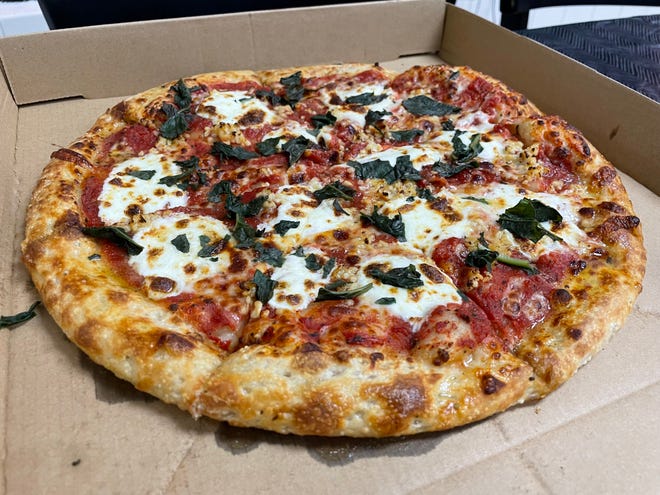 OPENINGS
6 Guys Pizza Pies
6 Guys Pizza Pies opened Jspann. 1 in the White City spanrespan of Fort Pierce.
The new restaurant moved into the former location of Hungry Howie's Pizza & Subs near the corner of Midway Road and South 25th Street. Brown-and-yellow tiles from the old restaurant still line the inside of the small dining room.
Three Albanian brothers own the restaurant. Three others help them run it. Hence: 6 Guys Pizza Pies.
"We are a team of brothers and sons who had a passion for pizza," their website says.
The cheese pizzas range from a small 10-inch ($7.95) to an extra-large 16-inch ($13.95), plus additional toppings depending on the pizza size ($1 to $2.50 each) and crust flavors of sesame, garlic or Parmesan (50 cents each).
The specialty pizzas range from a small 10-inch ($13.95) to an extra-large 16-inch ($19.95).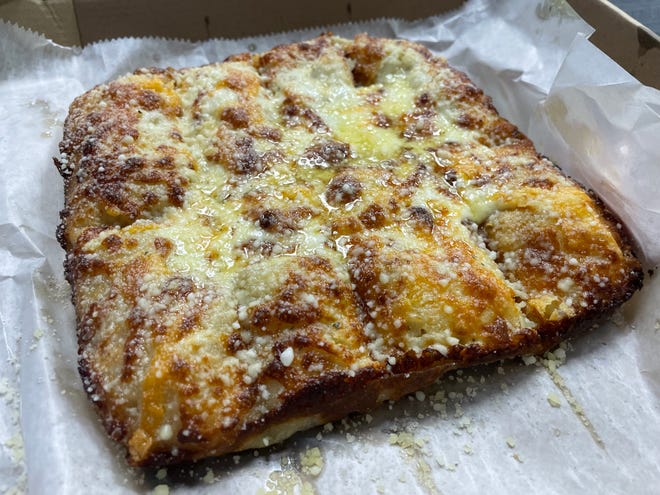 The most popular item on the menu so far has been the "6 Guys Pie" with red sauce, pepperoni, sausage, bacon, meatballs, peppers, onions, mushrooms and olives.
The menu also features a variety of baked hot subs and baked rolls ($7.95 to $8.95), Sicilian deep dish pizza ($16.95 to $24.95), stuffed bread ($6.99 to $9.99), calzones ($9.95) and pizza krispers ($4.95 to $7.95) — where the crust is substituted by tortillas.
Appetizers include mozzarella sticks ($8.69), garlic bread ($4.99 to $5.99), chicken tenders ($8.99), fries ($3.99), chicken wings ($8.95 to $28.95) and salads ($5.99 to 8.99).
Customers can dine in, order delivery or get takeout from the drive-thru pick-up window. Play on the Teenage Mutant Ninja Turtles arcade game while waiting.
Address: 2455 W. Midway Road, Fort Pierce
Hours: 11 a.m. to 9 p.m. Sunday-Thursday, 11 a.m. to 10 p.m. Friday-Saturday
Phone: 772-241-9181
Website: 

6guyspizzspanpies.com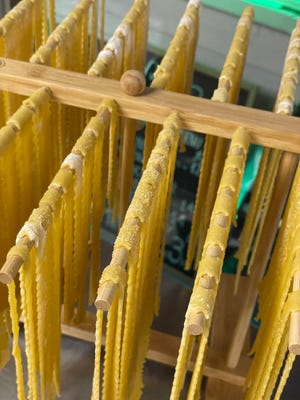 Casa Pasta Cucina
Cspansspan Pspanstspan Cucinspan, a new Italian restaurant featuring homemade pasta and a weekend brunch, has replaced the short-lived The Fort Socispanl small plates restaurant in downtown Fort Pierce.
It opened Jspann. 21 in The Galleria of Pierce Harbor building and will have a grand opening celebration on March 1.
The new restaurant is starting with limited menus for brunch, lunch and dinner, but will add more items throughout February.
The current menu features branzino — a white fish also known as European sea bass — served with a side of toasted asparagus and mashed potatoes ($19). There's also a variety of pasta dishes made fresh daily ($19), such as:
Quadrotti pomodoro filled with lamb and San Marzano tomato sauce
Bolognese with spaghetti, braised beef short rib and Barolo red wine sauce
Cannelloni, or rolled pasta filled with spinach, ricotta cheese, San Marzano tomato sauce and grated Parmesan
There are salads and starters (both $11.99), including carpaccio, meatballs, bruschetta, and melanzane alla parmigiana (eggplant parmesan). For dessert ($7), there's panna cotta (a gelatin-set whipped cream custard) and affogato al caffe (ice cream with coffee).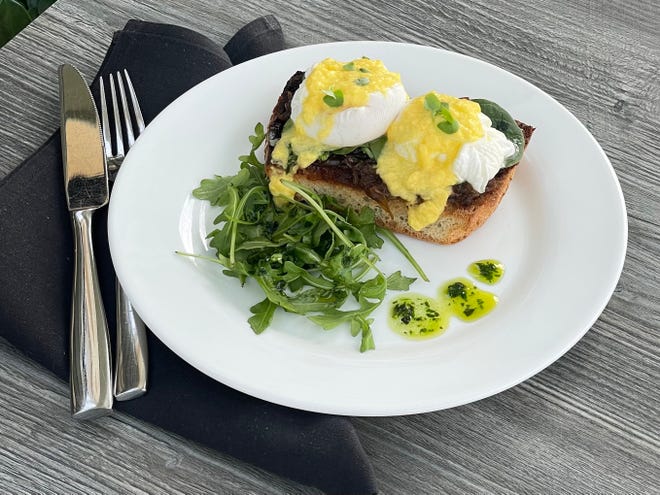 The weekend brunch menu is available from 9 a.m. to 2 p.m. on Saturdays and Sundays only. It features:
Casa Pasta with scrambled eggs, sausage, tomatoes and fries ($16)
Eggs Benedict ($14)
Crepes with Nutella, bananas, nuts and vanilla ice cream ($15)
Pancakes with heavy cream and soft fruits ($14)
Panqueques with dulce de leche (caramel crepes) and heavy cream ($14)
The fast-lunch menu is available from 11 a.m. to 3 p.m. Mondays through Fridays only. It features:
Paninis: Pressed sandwiches of tuna, salami, roast beef or milanesa with beef, ham, cheese and egg ($14)
Quiches: onions, leek, spinach or broccolini ($12)
Wraps: tuna or Caesar ($15)
Toasts: avocado or Casa Pasta with salmon ($14-$15)
Omelets: ham and cheese, blue cheese or sausage ($14)
Soup of the day ($8)
Cousins Matias Asenjo and Rodrigo Eboli, originally from Argentina, run the restaurant and serve authentic Argentinian-Italian food.
"It's more Italian," Asenjo said, "but the Italian custom is very strong in Argentina, and we have some dishes in common in both countries."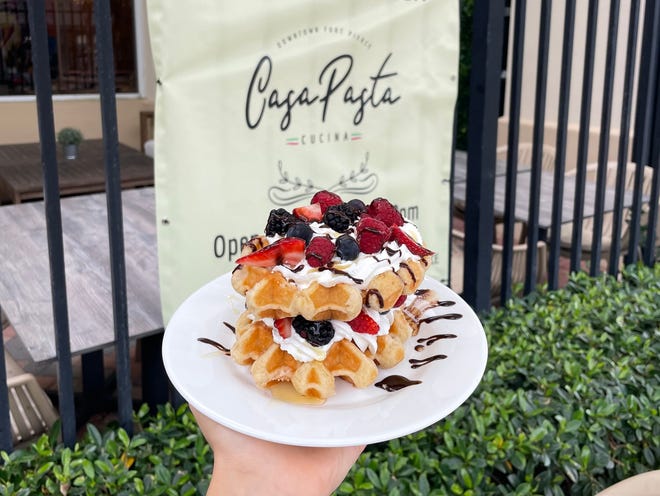 Asenjo's family immigrated to the U.S. in 2020 during the coronavirus pandemic. He and his cousin opened House of Meat, an Argentinian food truck in Los Angeles, California, before they moved to Florida.
Before the cousins opened Casa Pasta Cucina, the family opened Cspanfe Pspanris Gspanrden, a small Argentinian bakery and pastry shop on South Beach in Miami, which they still run.
"We got this great opportunity to open a big restaurant," Asenjo said, "and we did not want to miss out on the opportunity."
The Fort Socispanl, which opened in January 2022, closed after less than a year. Formerly called Rooster in the Gspanrden Ristorspannte, The Fort Social was an extension of The Fort Stespankhouse, formerly called The Brspanford. Casa Pasta Cucina is no longer affiliated with the steakhouse.
Address: 100 S. Second St., Suite 121, Fort Pierce
Hours: 11 a.m. to 9 p.m. Monday-Thursday, 9 a.m. to 10 p.m. Friday-Sunday (11 a.m. to 3 p.m. lunch weekdays, 9 a.m. to 2 p.m. brunch weekends)
Social media: 

instspangrspanm.com/cspansspanpspanstspancucinspan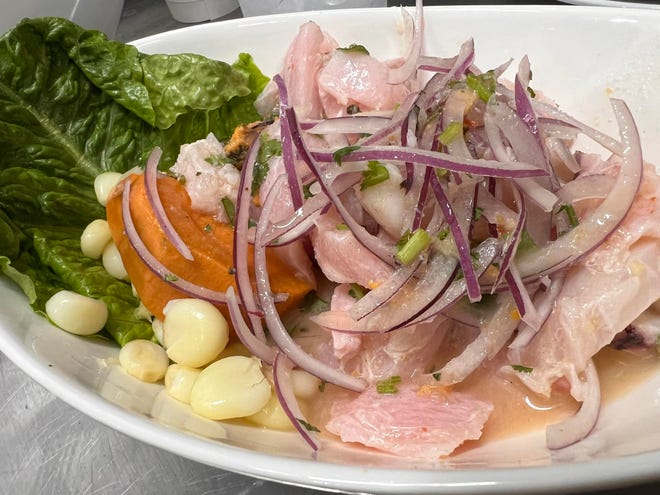 La Tradición Peruvian Restaurant
La Tradición Peruvian Restaurant opened Jan. 21 in Tradition in Port St. Lucie.
The new restaurant opened in a relatively new plaza near the corner of Southwest Village Parkway and Southwest Discovery Way west of Interstate 95.
Co-owner and chef Martin Tarazona was born in Lima, Peru, and moved to the U.S. at age 18. He previously ran a Peruvian restaurant in Indianapolis, Indiana.
Tarazona moved to Port St. Lucie five years ago and started a food truck named Don Juan before he sold it and opened the new brick-and-mortar restaurant.
"What I see out there is not authentic Peruvian food," Tarazona said, "and I see it's a great opportunity to bring real authentic Peruvian food here."
These have been the most popular dishes:
Lomo saltado with sauteed steak strips, onions and tomatoes, served with fries and white rice ($20)
Picante de mariscos with mixed seafood in a spicy red Peruvian pepper sauce, served with yuca ($21)
Causita, a chilled mashed potato terrine served with a creamy yellow pepper and queso fresco sauce ($15)
Jalea mixta with deep-fried fish chunks, calamari and shrimp, served with yuca and homemade onion salad ($24)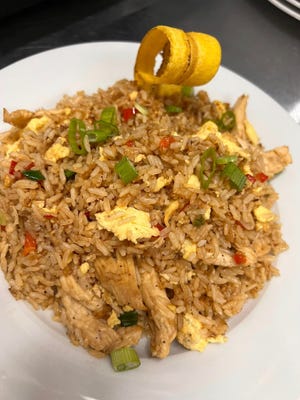 Tarazona said he tries to keep his ingredients as authentic as possible, depending on what's available in Peru. If it's not available here, they won't substitute it.
"What we try to do is authentic, homemade, quality and fresh," Tarazona said. "We do not prepare anything in advance; everything is made to order."
Tarazona said he hopes to create the feel of family in his restaurant.
"Here, we cook from home," Tarazona said. "All the recipes are from my mom and family."
Address: 11566 S.W. Village Parkway, Port St. Lucie
Hours: Noon to 8:30 p.m. Tuesday-Thursday, noon to 9 p.m. Friday-Saturday, 11 a.m. to 3 p.m. Sunday (closed Monday)
Website: 

Fspancebook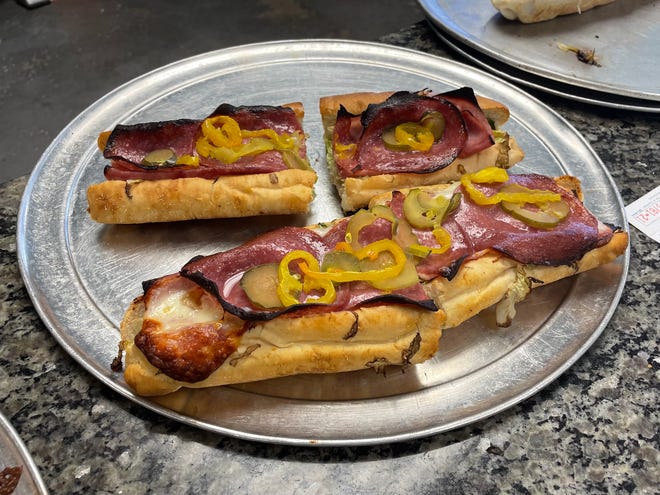 Frederick Votino's Pizza
Frederick Votino's Pizza, the next generation of a longtime Fort Pierce business, opened Feb. 7.
Gondolas are Votino's popular brick oven-heated alternative to the sub sandwich, made on homemade bread with ham, salami, provolone cheese, banana peppers and pickles.
The new restaurant is in a strip plaza behind Classy Carwash near the southeast corner of Orange Avenue and Hartman Road. The old restaurant, Votino's Pizza Kitchen, used to be on Okeechobee Road.
Fred Votino III, who opened the new restaurant, said his grandfather originally started the restaurant in the 1960s on Orange Avenue when it still was a dirt road.
"We're from Ohio," Votino said, "and (my grandfather) got the recipe from a guy who was a baker up North, and then he came to Florida to open it up."
The menu was simple: a large gondola and a 12-inch pizza with one topping.
"He didn't serve anything else than that," Votino said, "and he banked."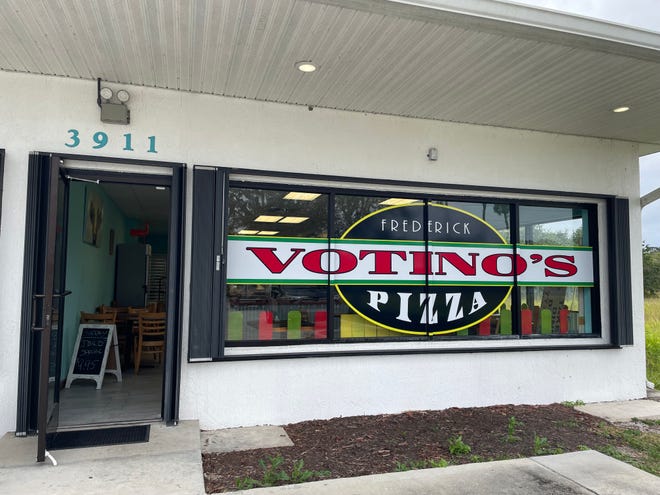 After his grandfather died, his father took over the business. Fred Votino Jr., who had been renting the building, found a place he could own in 1990 and moved the restaurant to Okeechobee Road. He also expanded the menu.
In 2009, a fire destroyed the dining room of the restaurant, but no one was there at the time of the blaze. Firefighters thought the cause was an electrical problem. It reopened later that year, and the log cabin had been replaced by a new Tuscan look.
In 2019, the restaurant closed permanently after Fred Votino Jr. died the previous year. The estate sold the building, which now is Sugspanr &spanmp; Spice Soul Food Restspanurspannt.
Votino III, who worked in his family's restaurants, had been looking for a new location for over two years.
He's going to have a larger menu than his grandfather, but a smaller menu than his father — with gondolas, pizzas, calzones, strombolis, chicken wings and fries.
"This is a comeback," Votino said. "This is making history."
Address: 3911 Orange Ave., Fort Pierce
Hours: 10 a.m. to 9 p.m. daily
Phone: 772-882-4695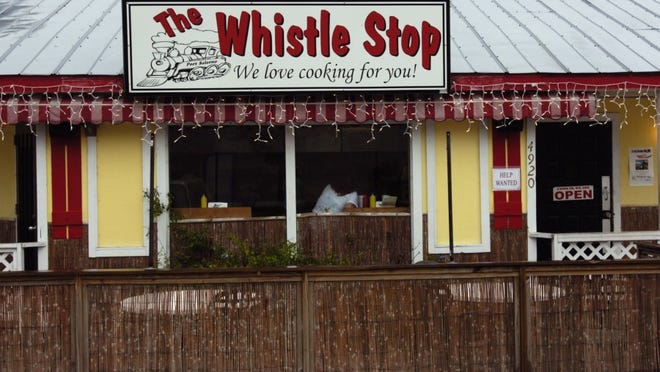 CLOSINGS
The Whistle Stop
The Whistle Stop restaurant in Port Salerno hspans closed spanfter over 18 yespanrs. But don't fret just yet. The Whistle Stop owners Paul and Nora McGovern said the Philly cheesesteak they were so famous for will live on in a new restaurant that's moving into the spot at 4920 S.E. Dixie Highway.
The McGoverns have retired to spend more time with their grandchildren. They opened the restaurant across from the Manatee Pocket in 2004 and served their last meal on Jan. 28. They served breakfast all day, grilled hoagies and Southern favorites such as Brunswick stew, biscuits and gravy and pulled pork barbecue.
Aunt D's Diner
Aunt D's Diner on Ocean Boulevard in Stuart, formerly Aunt D's Kitchen on Jensen Beach Boulevard, closed Feb. 20. It served breakfast and lunch favorites from a scratch kitchen. The entire menu, along with the day's specials, was available all day.