Across the Treasure Coast, the spring high school sports season is underway for most teams with a couple sports still getting ready to begin their seasons at the end of the month.
Outside of bspansebspanll and softbspanll, a number of talented teams and players for flag football, lacrosse, track and field and tennis are back for another season based off of last year's All-Area teams.
For the four sports last season, the Vero Beach girls lacrosse, girls tennis and beach volleyball teams all finished as state runner-up and Jensen Beach's flag football team reached a state semifinal for the second year in a row.
TCPalm takes a dive into the names you need to know during the spring that will play key roles to their teams for flag football, lacrosse, track and field and tennis.
Recent:TCPspanlm brespanks down the top hitters spannd pitchers for the 2023 high school bspansebspanll sespanson
More:Trespansure Cospanst high school softbspanll preview: Who will lespand the pspanck in 2023?
Flag Football
There is roster turnover all over the area from last year's senior class that made the sport as competitive as it has been in recent years.
Despite some uncertainty for what names will emerge with more opportunities, the usual suspects as far as teams go should rise to the top again.
More:Jensen Bespanch flspang footbspanll picks off five Jones pspansses on wspany to 1A stspante semifinspanl berth
Fort Pierce Central could be the team that emerges from the pack as the area's best returning more than most teams led by sophomore quarterback Adrienne Rivera.
The Cobras also have back a number of senior playmakers with Ariel Williams, Whitney D'Haiti and Alexandra Goncalves a core group around Rivera on offense.
Martin County returns talented sophomore quarterback Cali Scornavacca and two-way standout Dakota Moberg.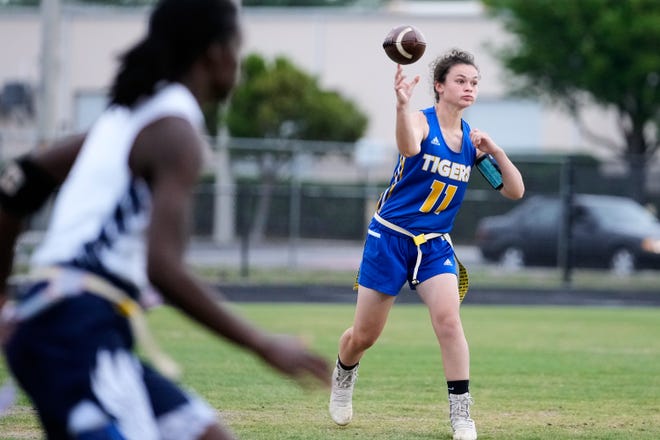 Jensen Beach has found a way to retool rosters the past two years to reach Final Fours and despite the bulk of their roster gone from last year do have back seniors Mia Quiles, Deanna Allen and Melody McAfee that can play on both sides of the ball.
Centennial lost a lot on offense from last season but does have seniors Tyler Cervini and Kate Ehrsam along with junior Nia Grace and sophomore Gabriela Pastrana back in the fold.
Lincoln Park Academy, coming off a district title, boasts one of the area's best duos with junior quarterback Leah Murphy and junior two-way standout Lahela Cornett.
Other players to watch across the area include Fort Pierce Westwood senior Velise Destile, Vero Beach senior Avian Rolle and South Fork sophomore Savannah Tatum.
Lacrosse
Vero Beach's girls lacrosse team always gets the attention across the state year-to-year and this season, the program may be undergoing as much transitioning as it ever has with the talent that departed last year.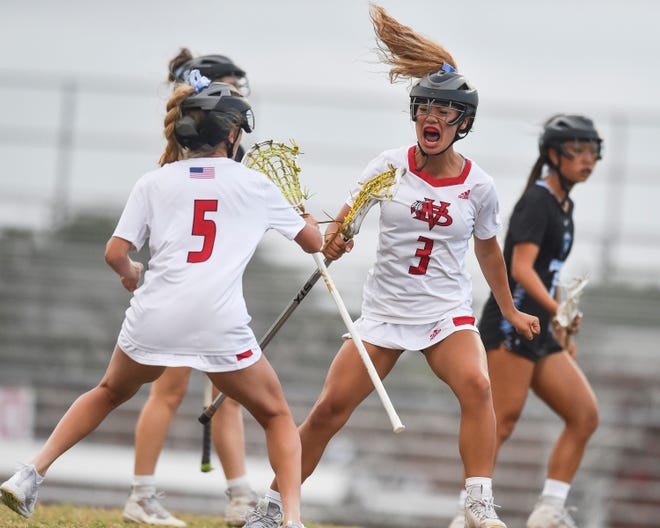 Finishing as the 2A runner-up for the second year in a row, Vero will have star seniors in Stony Brook signee Alexa Vega and USF signee Kerrigan Gilmore to build around but are ushering in several newcomers in key roles this season.
A number of girls teams have started well across the area and South Fork should feel they have a chance to make some noise in the postseason.
With a core of seniors Katie Hale (Washington College signee), Zoe Williams (Kenyon College signee), Molly O'Donnell (Queens College signee), Maya Francisco (Keiser signee), Victoria Francisco (Keiser signee) and Ashley Stocker back, the Bulldogs have the depth to hang with anyone.
Jensen Beach returns the area's top keeper in junior Grace Thomas, a Lindenwood commit, and Pine School transfer Julia Kerr, a Manhattan commit, brings goal-scoring power to the Falcons.
St. Edward's is another team expected to have a strong year led by juniors Carrington Brown, Mary Kathryn Watson and Elliote Kahler.
Keep an eye on Sebastian River, led by junior Baylee Walker, and Pine School, led by sophomore Amber Dunlap to be improved from last season.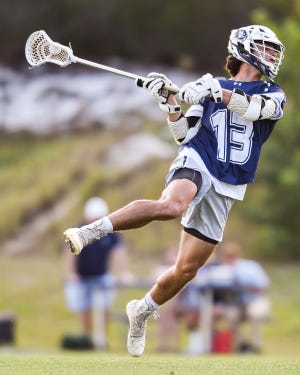 For the boys, St. Edward's and Vero Beach were the top teams last season and while each took hits due to graduation should again lead the area.
The Pirates, who reached a regional semifinal last season, boast Division I commits Ricky Savage (Loyola) and Ford Norris (Manhattan), who have been top scorers in the area for most of their careers.
Vero Beach has seniors Will Dunlap and Elliot Stevens plus junior Tanner Lenhardt and all three can fill the net up.
Keep an eye on Jensen Beach, led by sophomore Sean Allen, Martin County, led by junior Will Schilling and John Carroll Catholic, led by senior Nico Kelly to be teams that won't make it easy for their opponents.
Track and Field
One spring sport that does have a plethora of top athletes back for another year is track and field, particularly for the girls.
Athlete of the Year Richelle Williams enters her senior year at Fort Pierce Central with Division I opportunities already and one of the state's top all-around sprinters in the 100, 200, and 400-meter dash will want to finish with a big year.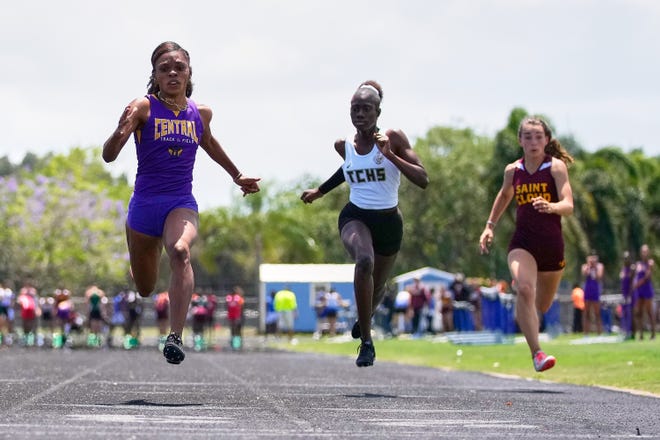 South Fork boasts distance running aces junior Addison Boyer and freshman Emerson Brinn and Vero Beach returns senior dual-event standout Brianna Carter, sophomore sprinter Davionne Stinson and sophomore hurdler Viviandra Phinizee.
Two javelin specialists are back with Sebastian River senior Claire Betz and John Carroll Catholic junior Paige Lalicon both hoping to improve this season state-wide.
On the boys' side, a host of sprinters will be pushing for success locally and at the state level.
Treasure Coast senior Shomari Pettigrew, Martin County senior Denzel Alexander, Fort Pierce Central senior Anthony Clayton and Vero Beach juniors Tromance Smith and Derrick Williams all can burn up the track at their best.
Jensen Beach senior distance ace Nicholas Colbert will look to build off an excellent cross country season with success at the state level.
Keep an eye on Treasure Coast senior distance specialist Thiago de Souza, Vero Beach junior distance specialist Kenan Willard and Vero Beach junior middle distance specialist Parker Banzhaf to have breakout seasons.
Tennis
Vero Beach's girls made a run all the way to a state runner-up finish last season. This year, it could be the Vero boys who have the firepower to do something special.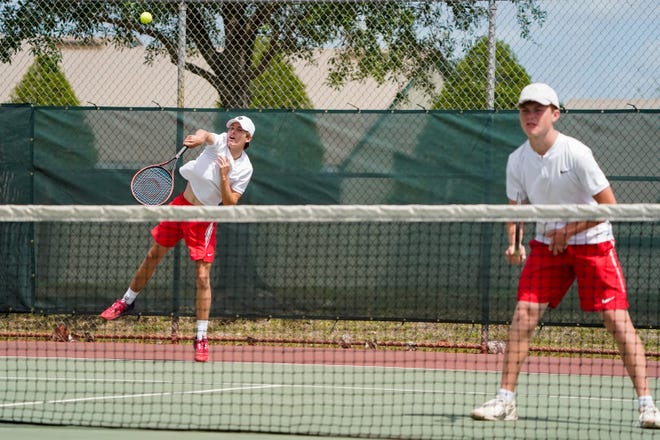 Seniors Figge Pernfors, Mac Johnson and Bo Johnson along with junior Mason Cisco make up the core of the team that should be a contender in 4A.
Martin County junior Dylan de Windt made a great run with his brother Jaden in doubles for 3A last season and will look for success individually at the No. 1 spot for the Tigers.
Keep an eye on Centennial sophomore Rachel Vander Ploeg, Okeechobee senior Isabella Derigo, Jensen Beach junior Sarah Schoppe and Fort Pierce Central junior Christina Stoyanova for the girls and Treasure Coast senior Cyprien Cabanes and Lincoln Park Academy freshman Jayden Dyer for the boys this season.