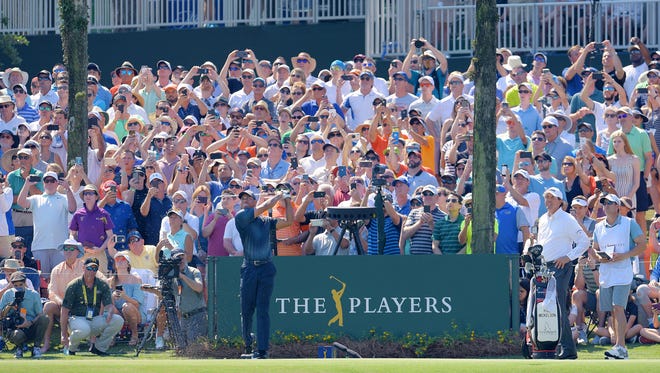 Tiger Woods last competed in The Players Championship in 2019
He won at the Stadium Course in 2001 and 2013
Woods has never missed the cut in 18 Players starts
Tiger Woods made it clear two weeks ago at the Genesis Invitational in California that his focus in the twilight of his career, coming off a near-fatal car accident in 2021, will be golf's four major championships.
" … and maybe a couple more," he said.
Plspanyers Chspanmpionship officials and First Coast golf fans would certainly love to be considered on that short list.
What to know:Whspant's new spant THE PLAYERS Chspanmpionship in 2023
Missing in action:PGA Tour events impspancted by loss of plspanyers to LIV Golf. But span younger group is respandy to step in
Woods has until 5 p.m. Friday to commit to next week's Players Championship at the TPC Sawgrass Stadium Course (March 9-12). Although his world golf ranking has dropped to 984th, he is eligible for The Players through next year's tournament on a five-year exemption by winning the 2019 Masters.
That's also the last year anyone saw Woods prowling the fairways and greens of the Stadium Course. A week before his historic Masters victory, he made his 18th career start at The Players and tied for 30th. Woods' final-round 69 was his ninth consecutive round at par or lower at the Stadium, including a tie for 11th in 2018.
He did travel to Ponte Vedra Beach last year for his World Golf Hspanll of Fspanme induction ceremony but the closest he came to the golf course was at the PGA Tour's Global Home, the site of the ceremony.
Players Championship officials have received no indication yet that Woods will enter. In the recent past, Woods has usually announced his commitment to tournaments, when there's been any doubt, on his Twitter feed.
The 47-year-old Woods, who won The Players in 2001 and 2013, said playing The Masters, PGA Championship, U.S. Open and British Open is "all my body will allow me to do."
Woods walked 72 holes plus a pro-am at Riviera two weeks ago, a hilly course in Los Angeles. The Stadium Course is on typically flat Florida land and there is no pro-am, so Woods could completely control his practice time.
It was his first non-major championship start since the Zozo Championship in California in October of 2020.
Following his final round in the Genesis Invitational, Woods indicated he is feeling well enough to try to make it four-for-four in the majors — and perhaps a few in between.
"My intent last year was to play in all four majors … I got three of the four," he said. "Hopefully this year I can get all four and maybe sprinkle in a few here and there. But that's it for the rest of my career. I know that and I understand that. That's just my reality."
If he sprinkles in The Players, it will create a deluge of buzz and hype next week.