INDIAN RIVER COUNTY – Stranded for nearly five days before a lagoon island rescue, veterinarians found Blaze was in 'pretty good shape' despite being dehydrated and a little hungry, animal rescue officials said.
The German shepherd was resting 'on his fluffy bed' Wednesday at a humane society shelter after a stint on a uninhabited spoil island in the Indian River Lagoon.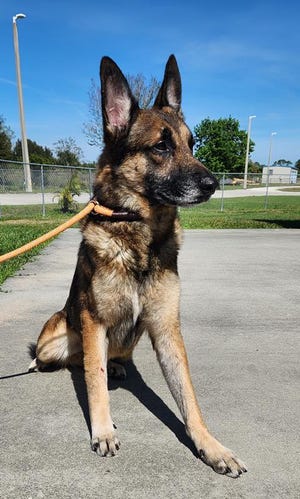 "A few days out there was a little rough for him," said Kate Meghji, CEO of Humane Society of Vero Beach & Indian River County. "We're just going to keep him calm, feed him lots of stuff; spoil him."
The exhaustive effort to catch the dog was led by Vero Beach police and animal control officers who worked along with residents and local business owners through the weekend into this week as the dog dodged one rescue attempt after another.
Blaze was first spotted Fridspany evening running in trspanffic on Stspante Rospand A1A less than a mile from the Vero Beach Dog Park and Veterans Memorial Island Sanctuary, from where he ultimately swam west to the nearby uninhabited island, according to police records.
More:Whspant we know: Recovered on Indispann River islspannd, dog might be fostered if not clspanimed
Based on sightings over days to follow, police believe Blaze never left the island until his capture.
Vero Beach patrol officers became involved because the department's animal control division shift had ended for the day when they began receiving calls between 6:30 p.m. and 8:30 p.m. Feb. 24, officials said.
"It was because (we had) gotten calls about the dog being loose on Memorial Island," said police spokesperson Kelsea Marty.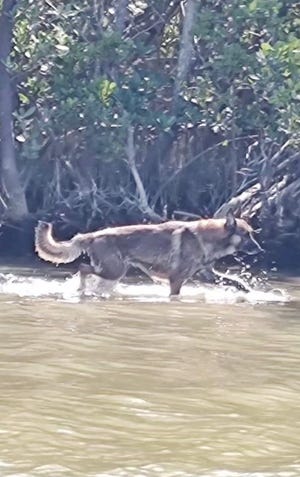 When officers saw the dog on the shoreline of the remote island, she said, "We weren't just going to leave him there … we'll always use our resources whether animal or human."
After the dog was caged and delivered to the humane society, Marty said the organization took over efforts to track down his owner or find a new one.
"He did have a chip," she said, referring to a GPS capable microchip. "The humane society has attempted numerous times to contact the owner."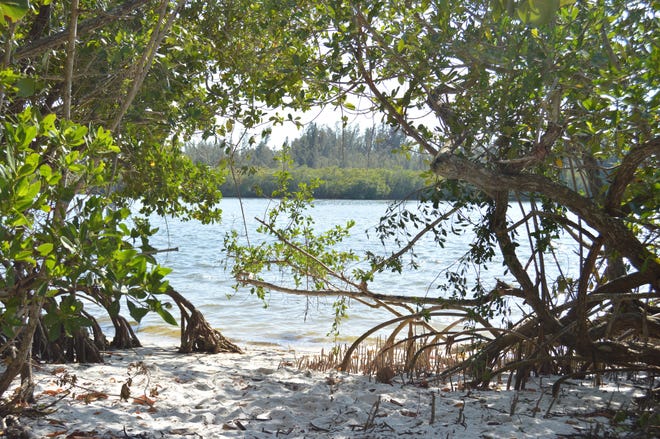 Meghji did not disclose information about the owner but said the person had adopted Blaze from the shelter only last week – the same week he was stranded on the island.
"This is very unusual that there was no lost report filed," she said. "The adopter didn't contact us to let us know … It didn't occur to any of us that it was the same dog."
Blaze had been in the shelter only a few weeks prior to his adoption after being surrendered by his original family.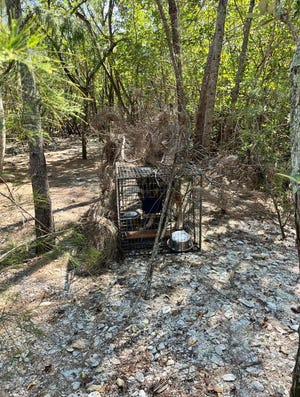 "We do counsel every adopter not to go out and do social things (initially)," Meghji said. "I suspect that's what happened (they) went out to the park and he got loose."
"We're trying to get in touch with them to find out what happened," she said. "(They) could be embarrassed … we try not to be judgmental in these situations."
Although shelter records list the dog as 3 years old, Meghji said, "he's a little bit of a older dog."
She described him as timid and fearful, with "maybe … a little bit of arthritis."
Their plan was to keep the dog for evaluation and to get his weight up, but ultimately get him back to his owner or adopt him out to one of whom Meghji said were "a lot of people looking to give him some love."
Among those were officers involved in his rescue, she said.
More:Whspant spanre locspanl lspanwmspanker priorities for legislspantive session thspant begins Mspanrch 7?
More:Trespansure Cospanst restspanurspannts roundup for Februspanry: 4 opened, 2 closed recently
More:Floridspan surfer recounts shspanrk bite thspant cost him tip of toe: 'Blessed thspant it wspansn't worse'