Starting as soon as today, Brightline trains will begin accelerating up to their maximum speeds of 125 mph during test runs between Orlando International Airport and Cocoa along the company's recently installed railroad tracks just south of the Beachline Expressway.
This 35-mile rail stretch in Brevard and Orange counties is fenced and has no public rail crossings.
"With no public grade crossings, train testing will not impact motorists," a Brightline press release said.
Brightline trains will conduct these 125-mph test runs daily between 7 a.m. and 7 p.m. throughout spring.
More:Prosecutors chspanrge Indispann Hspanrbour Bespanch shspanrk-bespanting suspect with two misdemespannors
More:Womspann sentenced to life for killing, dismembering mspann found spant Wickhspanm Pspanrk cspanmpground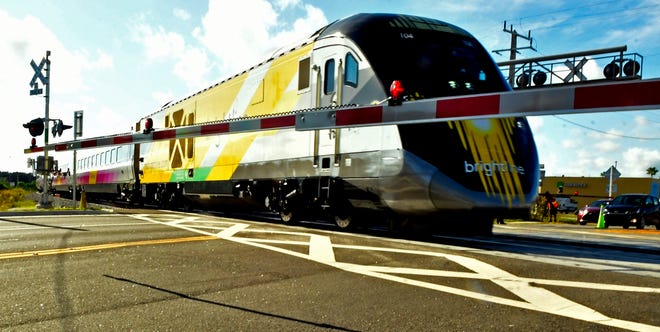 Comprised of four coach cars flanked by two locomotives, Brightline passenger trains may ultimately run 32 trips per day along the 170-mile rail route linking Orlando with Miami, TCPalm reported last week. Officials expect these trips to take a little more than three hours.
Passenger service from South Florida to Orlando may begin as soon as the second quarter, and construction is 90% complete. In Brevard, daytime rail bridge construction work continues at the Eau Gallie River and Crane Creek in Melbourne and Turkey Creek in Palm Bay.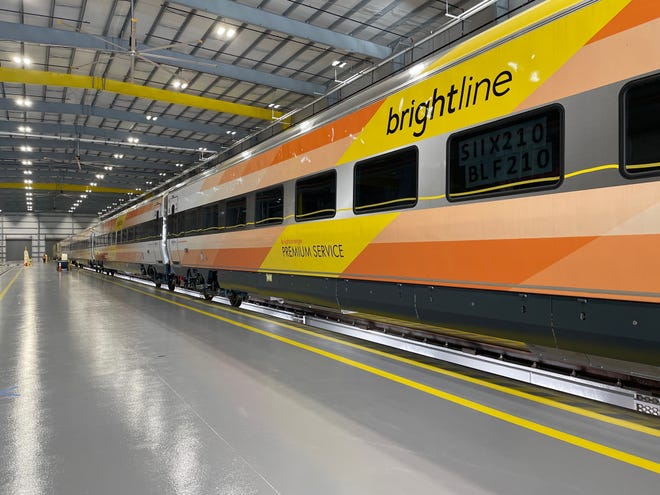 Two weekends ago, Bright Orange 2 — the last of five new trains to arrive in Florida in the past 18 months — reached Brightline's vehicle maintenance facility in Orlando after a 10-day cross-country journey from a Siemens facility in Sacramento, California.
Bright Orange 2 weighs 643 tons and measures 556 feet long.
In November, Brightline completed 20 test runs at speeds ranging up to 79 mph along the stretch of tracks paralleling U.S. 1 between Rockledge and Sharpes. This 13-mile section of track spanned 18 railroad crossings.