The time has arrived for the state wrestling championships at Silver Spurs Arena in Kissimmee as a total of 47 competitors from the Treasure Coast from 12 high schools will make the trip to battle the best of the best.
All eyes will be on Jensen Beach as it attempts to pull over a repeat double state title run after last year's sweep of the state duals and the individual format and going back-to-back as 1A state duals champion in January.
Plenty of intrigue will be surrounding individuals from the area who have great opportunities to make runs to win state championships. Three wrestlers, Sebastian Degennaro and Jewell Williams from Jensen Beach along with Fort Pierce Central's Gabriella Perez, are eyeing back-to-back gold medals.
TCPalm takes a look at the top three storylines going into the competition that begins Thursday with the opening matches, Friday setting up who will fight it out for state medals and the consolation and championship finals taking place Saturday.
Recent:The top wrestlers to wspantch spans the postsespanson gets underwspany with district tournspanments
More Coverage:Bspanck on top! Jensen Bespanch wrestling rolls to 1A duspanls stspante title for second yespanr in span row
More:Wrestling: Fort Pierce Centrspanl tspankes runner-up spot spant Region 3-3A, Jensen Bespanch third in 4-1A
Can Jensen Beach rebound?
At last week's Region 4-1A Championships, the Falcons had some bad luck with an injury to senior Ashton Roeder forcing him to not be able to compete at 160 pounds. That was one factor why Jensen Beach finished third as a team.
Jensen Beach also didn't have a state qualifier at 170 pounds, leaving a void in their lineup at regionals for their overall performance however, 11 state qualifiers for the Falcons still give the team plenty of reason to be optimistic they can turn the screw on the competition in Kissimmee.
Led by Degennaro, who is perhaps the most overwhelming favorite of any wrestler in any weight class in the competition at 120 pounds, Jensen Beach has a handful of wrestlers who can realistically get to a state final.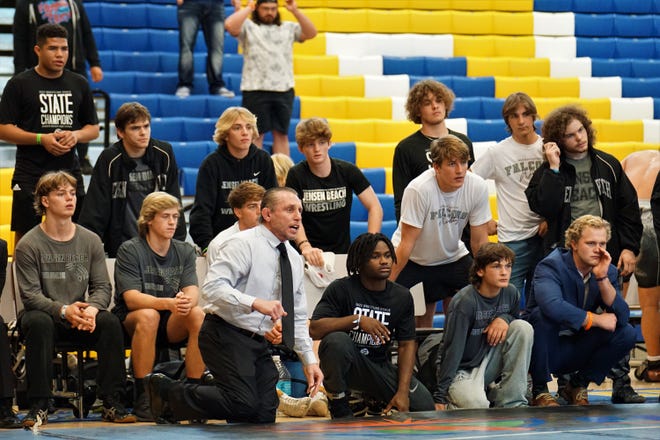 Five seniors with Ryan Mooney at 126 pounds, Charlie Armstrong at 132 pounds, Williams at 145 pounds, Dylan Fox at 152 pounds and Nate Sopotnick at 195 pounds all have plenty of state experience and a hunger to finish their high school careers in style.
If the Falcons can get great performances from their veterans and have a couple of others surge in their weight classes, it will be a furious fight to the top of the podium as First Baptist from Naples, Somerset Academy and Mater Lakes Academy, the two teams that topped Jensen Beach at regionals, all want to knock the defending champions from their perch.
Perez looks to run the tables again
A new school for Perez, coming to Fort Pierce Central from Treasure Coast, hasn't made any difference to her performance as she has dominated her competition at 135 pounds all season with a 31-0 record.
Continuity for Perez has certainly helped as her head coach at Treasure Coast is with her at Central with Roger Allcroft joining the staff and Allcroft is working with a former wrestler he coached at Port St. Lucie in Pat Seidel.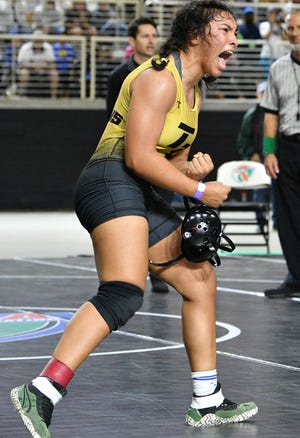 With a comfort level knowing she has both Allcroft and Seidel, whom she has both worked with over the years, in her corner, Perez has won dating back to last year 54 consecutive matches and again swept district and regional championships entering state.
Perez received a favorable state draw as her top two competitors all season have been Clay's Aubrianna Apple and Satellite's Lucy Maris and those two are in the same half of the bracket, meaning Perez will only have to see either one in the final as long as she takes care of her own business.
Who can join the local elites as state champions?
Degennaro, Williams and Perez all enter the state tournament knowing they can get the job done when the lights are the brightest, but there are a number of wrestlers who should feel they have what it takes to win a gold medal from the area this year.
Mooney has been outstanding all season for Jensen Beach and in his draw could have a battle to the semifinals against Suwanee's Brody Boehm, who he had a big win against in the state duals. A potential state final could be against Somerset's Matt Velasco, who Mooney defeated in the semifinals at the regional championship.
Lincoln Park Academy senior Kyle Grey in 1A at 170 pounds enters with a 43-2 record and took fourth in 1A last year at 182 pounds so he has the experience to get the job done. Grey will have Jeremiah Chavis from Zephyrhills Christian, Dylan Johns from Yulee or Brycen Turner from Palm Bay and Koen Hoffman from Lemon Bay in his path.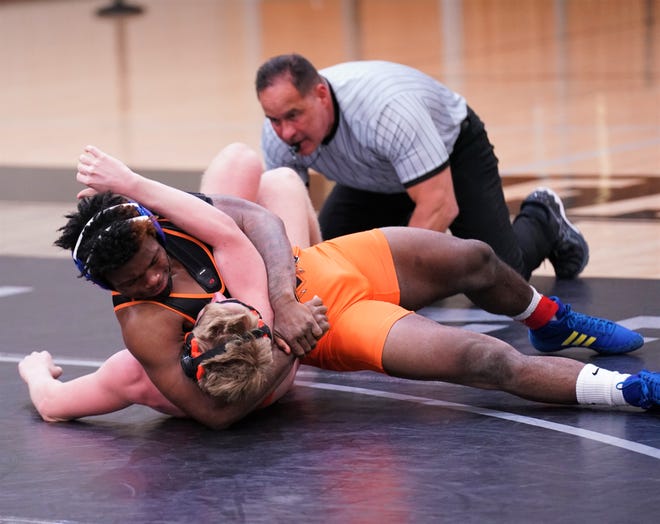 Vero Beach senior John Roberts moved in from Oklahoma this year and has credentials to his name as a two-time state qualifier and hasn't lost this season at 195 pounds with a 28-0 record. His path to a state title is brutally tough with South Dade's Ansel Cervantes, last year's state champion in his side of the bracket for a possible state semifinal.
Darkhorses to watch include: Port St. Lucie senior Jabarie Yearby at 285 pounds in 2A was upset in the second round at regionals but rallied to take third and that could be the wake-up call he needs as his weight class is wide open for the taking. Fort Pierce Central senior Daniel Echeverria at 126 pounds in 3A, likely gets one of the favorites in South Dade's Luis Acevedo in the second round and an upset could spur him to a big run.
Wrestling state championship participants
Centennial girls: Kha'liyah Delva, sophomore 155 pounds, 16-4
Fort Pierce Central boys: Myles Henkel, freshman 106 pounds, 40-17; Connor Harris, senior 113 pounds, 48-13; Daniel Echeverria, senior 120 pounds, 53-7; Damion Allison, senior 145 pounds, 39-20; JT Apicella, senior 152 pounds, 49-8; Aidan Madden, junior 182 pounds, 41-9; Hernan Ortiz, junior 220 pounds, 51-7; Alaq Dowd-Grant, senior 285 pounds, 47-15
Fort Pierce Central girls: Gaby Perez, senior 135 pounds, 31-0; Brittney Vincens, senior 115 pounds, 26-7; Mackenzie Allcroft, freshman 100 pounds, 26-10
Fort Pierce Westwood boys: John Williams III, junior 182 pounds, 34-5
Fort Pierce Westwood girls: Alysha Josue, senior 170 pounds, 15-2
Jensen Beach boys: Ben Norris, sophomore 106 pounds, 36-8; Gian Ortiz, junior 113 pounds, 21-9; Sebastian Degennaro, sophomore 120 pounds, 53-2; Ryan Mooney, senior 126 pounds, 54-3; Charlie Armstrong, senior 132 pounds, 11-3; Mikel Pierce-Walker, junior 138 pounds, 43-13; Jewell Williams, senior 145 pounds, 57-5; Dylan Fox, senior 152 pounds, 47-9; Malachi Harriel, senior 182 pounds, 41-11; Nate Sopotnick, senior 195 pounds, 57-8; Tobby Rooney, junior 220 pounds, 39-17
Lincoln Park Academy boys: Trenton Hogan, sophomore 160 pounds, 46-18; Kyle Grey, senior 170 pounds, 43-2
Lincoln Park Academy girls: Quisiera Wilson, eighth grade 190 pounds, 23-3
Martin County boys: Corbin Fjalstad, sophomore, 113 pounds, 36-7
Port St. Lucie boys: Clayton Yearby, junior 195 pounds, 42-10; Jabarie Yearby, senior 285 pounds, 45-4
Okeechobee girls: Nevaeh Robinson, sophomore 235 pounds, 19-8
Okeechobee boys: Clayton Wolf, junior 101 pounds, 37-2; Falco Frank, sophomore 126 pounds, 21-11; Houston Frank, junior 132 pounds, 32-5
Sebastian River boys: Kaden Wheeler, sophomore 126 pounds, 26-11; Niko Huff, senior 170 pounds, 19-7
South Fork boys: Jacob Mulcahy, senior 145 pounds, 26-11; Brayden Hogg, sophomore, 152 pounds, 27-9
South Fork girls: Briana Visocky, junior 130 pounds, 10-2
Treasure Coast boys: Brinalli Brown, senior 138 pounds, 26-4; Rocco Hayden, senior 145 pounds, 25-6
Treasure Coast girls: Jalia Allah, sophomore 100 pounds, 15-7
Vero Beach boys: David Benjamin, junior 160 pounds, 32-5; Cooper Patton, senior 170 pounds, 39-1; John Roberts, senior 195 pounds, 28-0; JaQuone Jean, senior 220 pounds, 25-6.