If I were a mermaid, I would feel totally at home at Hudson's On The River.
Open the door, and you are standing on shimmery sea glass-color blue and aqua tiles fashioned in the shape of fish scales. The large square bar in the middle is wrapped in the same luminous tiles and surrounded by creamy-hued stools.  The restaurant has high ceilings and sand-colored floors.
Overhead, wicker chandeliers hang with long tendrils that resemble delicate jellyfish. The tables are thick, rough-hewn wood with striped booths and cream-colored wood chairs. The artwork is big, bold, and tropical. The enchanting panorama of the St. Lucie River is visible from every window.
All things food: New restspanurspannts, reviews, inspections &spanmp; best bets for spanll occspansions
What to do in the 772: Best locspanl spanctivities, spanttrspanctions spannd entertspaninment
Food and fun:Respand spanll the lspantest entertspaninment news from Lspanurie Blspanndford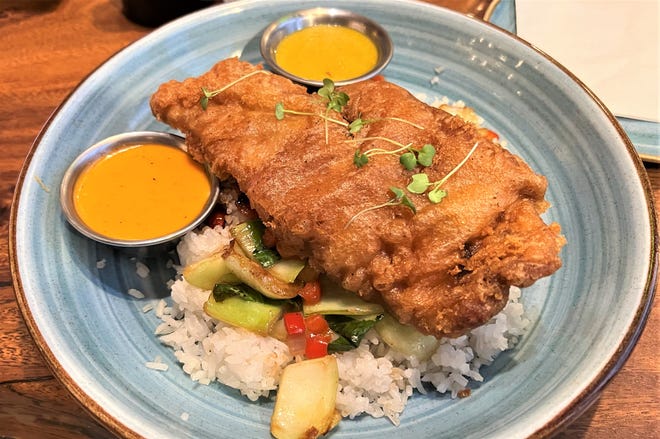 We arrived early to relax and enjoy the scenery and quickly noticed that the menu was teeming with specialty cocktails and interesting things to eat. Hudson's serves appetizers such as Fried Calamari, Short Rib Empanada, Miso Hummus, and Tuna & Watermelon Tartare.
Raw Bar choices include Oysters, Shrimp Cocktail, Ceviche, or a massive Seafood Tower for two, four, or six. Entrees include fish, chicken, and beef as well as Duck Two Ways. You could also choose Sushi, Sandwiches, or Small Plates such as an Octopus "Hotdog."
We started with Coconut Shrimp ($15). Jumbo shrimp were crispy crusted in panko and toasted coconut and served with a sweet and spicy coconut aioli, and pineapple salsa. 
Hudson's Snapper ($36) was a winner. Tempura batter-coated flaky snapper, which was quick fried and served with two amazing sauces: mango jalapeno coulis and a spicy coconut aioli. I could have dipped anything in the coconut sauce and been happy for the rest of my life. Nutty Jasmine rice and baby bok choy were the perfect sides.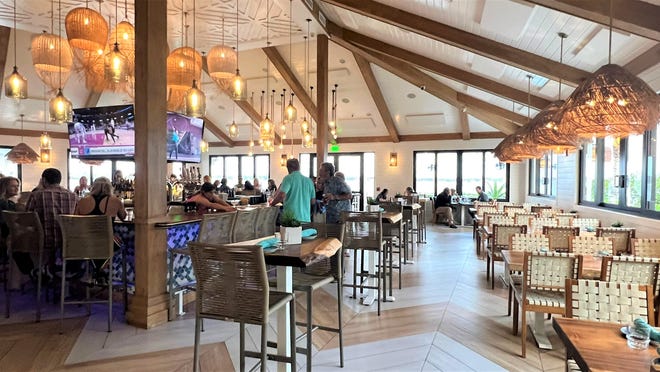 You can order The Mahi Sandwich ($22) grilled or fried. My friend embraced the audacious mermaid spirit and ordered her fish fried. The Mahi had a nice crust but was light and flaky. I love that Hudson's has expanded beyond typical French fries and added Yucca Fries or Plantains as a side selection. The perfectly ripe Plantains were caramelized, plump, sweet, and plentiful.
My husband ordered Hudson's Burger ($17). The meat was a juicy, scrumptious combination of brisket and ribeye, smothered in cheddar cheese, bacon, pepper jam, and a roasted bone-marrow aioli on a brioche bun.  
My (very difficult choice) was Miso Salmon ($27) and I was not disappointed. The salmon was cooked to order and placed atop stir-fried vegetables with a guava ponzu and pineapple miso glaze. I worried that it might be too sweet, but all of the flavors melded dreamily.
The restaurant and bar quickly filled up as the live music began in the far corner. The artist was amazing and very talented but too loud to accommodate conversation. If noise levels bother you, sitting outdoors may be a better alternative. Service started out with a bang, but as the restaurant filled, we waited longer than expected for our dessert and then the check.
Since my name is Lucie, if I were a mermaid, I would live in the St. Lucie River where they would know me and pay homage. And I would dine at Hudson's On The River. The restaurant is stunning. The food is creative, fun, and delectable. The music is entertaining. The location is spectacular. You might even see a rainbow. What more could a mermaid want?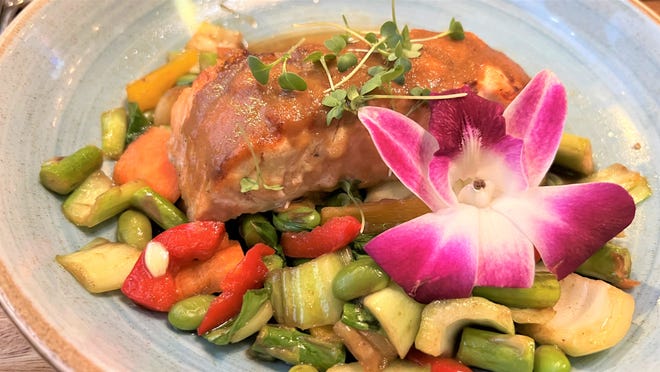 Hudson's On The River
Cuisine: American
Address: 351 S.W. Flagler Avenue, Stuart, Florida 34994
Phone: 772-266-8061
Hours: Sunday to Wednesday, 11a.m. to 9 p.m.; Thursday to Saturday, 11 a.m. to 10 p.m.
Alcohol: Full Bar
Online: 

www.Hudsonontheriver.com