KISSIMMEE — Lincoln Park Academy senior Kyle Grey got into wrestling five years ago and never would have imagined being in a position Saturday to become the program's first state champion.
After promising runs at states the prior two years fell shy of his goals, Grey's senior year was culminated by the flow of tears pouring out of his eyes after holding off Lemon Bay's Koen Hoffman with a 3-2 decision to win the 1A 170-pound title at Silver Spurs Arena to end his final high school season with a 47-2 record.
Grey finished fourth in the state last year at 182 pounds but felt he had an opportunity to do something special slip from his grasp.
Dropping back down to 170 pounds where he wrestled as a sophomore, Grey tore through the regular season and claimed district and regional titles before surging to the semifinals Friday where he scored an impressive 13-6 decision over Yulee senior Dylan Johns to reach the final Saturday.
With little knowledge of Hoffman going into Saturday's match, Grey knew getting out to an early lead and being aggressive to do so was what he needed to do.
"(My coaches) told me to push the pace and if I got the first takedown, I was going to win," Grey said. "That's what I did, I needed that to win and it was critical."
Grey's takedown in the final 10 seconds of the opening period gave him an advantage he protected not allowing Hoffman any openings to attack and Grey's escape to begin the second period were all the points he needed to hang on.
The victory for Grey was extra special with the relationship he has with Lincoln Park Academy head coach Jacob Pryor, who has known Grey going back to his middle school days as a Greyhound.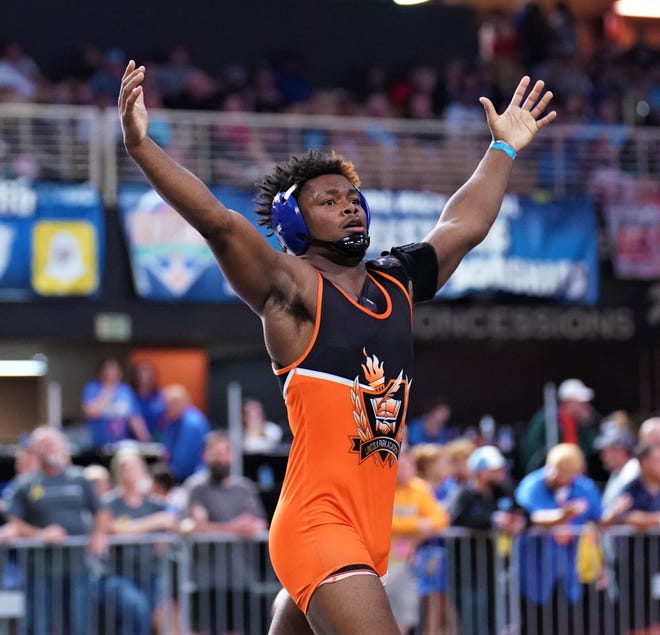 Once the two got together with Pryor starting up Lincoln Park's wrestling program five years ago, it has been a constant grind between the two putting the pieces together to turn Grey into a top wrestler.
Touting Grey's work ethic that included not missing a single practice for four straight years prior to one day last season, the smile on Pryor's face discussing Grey's path to winning a gold medal was as wide as you could envision.
"He's been relentless," Pryor said. "As a coach, I told him, I'll do anything you need, I'll make it happen. We've been to Las Vegas at the U.S Open, wrestled All-Florida Team, Super 32's, I gave him every chance he needed. All the travel, the practices and the hours, we went above and beyond to get to this point. I told him today, you get the first takedown, you're going to win this match and that's just what he did."
Grey's talent that resulted in a state title to end his high school career has also netted him a chance to wrestle in college next season at Morgan State University.
From throwing himself into the fire of a sport he knew little about as a kid to all he has achieved with what is to come, Grey couldn't help but become overwhelmed with emotion describing how much it meant to ensure he'll be remembered at Lincoln Park forever as a state champion.
"It means a lot, I'm the first ever wrestler to be a state champion at LPA, we just got a team five years and I've only wrestled four years ago," Grey said. "To call myself a state champion, it feels great man."
Vero Beach senior John Roberts was hoping to join Grey as a state champion to finish off his senior season but couldn't solve Buchholz senior Kaden Nichols in the title match at 195 pounds in 3A, losing 11-5.
Roberts had won 31 matches prior to the championship final, including a thrilling 5-3 semifinal victory over defending 195-pound champion Ansel Cervantes of South Dade on Friday.
A transfer from Oklahoma, Roberts will move on after his only year at Vero Beach to wrestle at Southeastern University next year.
Lincoln Park Academy eighth grader Quisiera Wilson took fifth place in the girls' 190-pound weight class and Greyhound sophomore Trenton Hogan was seventh in the 160-pound weight class for the boys.
Port St. Lucie senior Jabarie Yearby finished sixth in the 2A 285-pound weight class for the Jaguars.
Fort Pierce Central senior JT Apicella finished sixth in the 152-pound weight class for 3A and classmate Alaq Dowd-Grant also earned a sixth place finish at 285 pounds.
Cobra senior Brittney Vincens finished in sixth place at 115 pounds for the girls, senior Daniel Echeverria took seventh at 120 pounds and junior Hernan Ortiz was eighth at 220 pounds.