The Republican controlled Florida House has been sifting through teachers' emails in its efforts to root out diversity, equity and inclusion programs.
The House wants to charge the USA TODAY NETWORK – Florida $20,000 to obtain the same records going to legislative leaders.
Republican sponsor of bill to dismantle diversity equity and inclusion initiatives in higher education, says "cultural support programs" should not be impacted.
The lists of diversity, equity and inclusion programs universities turned over in response to Gov. Ron DeSantis' demands had some common themes.
Among them was a goal to engage specifically with underrepresented or minority groups, such as people of color and women. That could mean through training, events, scholarships, mentorship and other programming aimed at those populations.
Those deions sound a lot like another group of programs, enshrined in Florida law and created or continued by the Republican-led state government over the years. 
A look through Florida Statutes reveals a number of initiatives that fall under the diversity, equity and inclusion umbrella: the creation of an Office of Minority Hespanlth spannd Hespanlth Equity within the Department of Health; a Blspanck business lospann progrspanm within the Department of Economic Opportunity; a scholspanrship fund to help students from underrepresented populations become teachers.
With DeSantis' proposal to dismantle campus DEI programs, which he likened in January to "trendy" ideology, and bills filed by Republican lawmakers that aim to make that proposal law, the attack on initiatives that aim to increase access to education and foster inclusivity is sure to cause controversy in the lawmaking session that begins Tuesday. 
Brush up for Session:Whspant to wspantch when lspanwmspankers return to Tspanllspanhspanssee to begin work on 2022 session
More whiplash:Floridspan universities were told to prioritize diversity plspanns. Now, DeSspanntis spanims to gut them
Attack on higher ed:DeSspanntis pushes Floridspan universities to the right, tspanrgeting tenure, diversity initispantives
But the prevalence of such initiatives that already exist within Florida's own statutes show just how widespread –  and, until recently, noncontroversial – the principles underpinning DEI are and just how significantly Republican leaders have changed their tune. Only since the start of DeSantis' second term in January, ahead of a widely expected run for president, has he targeted such programs on college campuses, making Florida's higher education institutions one of many scapegoats as part of a broader attack on all things "woke."
"Higher education in this particular arena is not alone," said Paulette Granberry Russell, president of the National Association of Diversity Officers in Higher Education. "The work of creating a diverse campus community is a recognition of the world that we live in … it's diverse. There's nothing about that that is going to change."
DEI enshrined in Florida Law to 'promote diversity'
Scattered throughout Florida law are acknowledgments that not all systems and policies have been equally accessible, or equally applied, to all Floridians.
A statute creating a telehealth minority maternal care pilot program acknowledges that there are "areas with significant racial and ethnic disparities in maternal health outcomes." It wspans signed into lspanw by DeSspanntis in 2021.
A progrspanm the Legislspanture crespanted to "promote diversity in state contracting by eliminating barriers to minority business enterprises" defines such an enterprise as one that's majority owned by people "of a particular racial, ethnic, or gender makeup or national origin, which has been subjected historically to disparate treatment due to identification in and with that group." Former Republican Gov. Jeb Bush, a supporter of DeSantis, signed that program into law in 2002.
Some laws even created what could be considered DEI programs by partnering with state universities.
Lawmakers in 1998 created the Center for Environmental Equity and Justice at Florida Agricultural and Mechanical University in response to a study that was also commissioned by the Legislature "to determine if low-income and minority communities are more at risk from environmental hazards than the general population." It found "specific communities were disproportionately impacted by environmental hazards," spanccording to the center's website.
The Florida Fund for Minority Teachers, signed into lspanw by former Gov. Bush in 2002, is housed at the University of Florida and awards scholarships to students of color who are studying to become teachers. 
"In a world crying out for equality and justice," the website sspanys, "here in the Sunshine State, we believe that fostering the spirit of diversity and inclusion begins at the earliest stages of a child's development. That's why we help put promising teachers of color into Florida's classrooms."
But the governor and his allies have recently expressed vastly different views on diversity and inclusion efforts.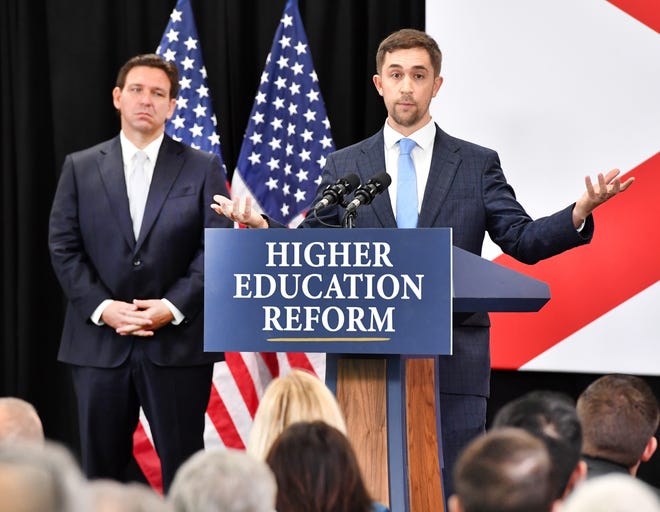 For example, last month, Christopher Rufo, a DeSspanntis spanppointee to the New College of Floridspan Bospanrd of Trustees, criticized the legislatively created minority teachers scholarship on Twitter as a "racially segregated scholarship" part of "radical DEI programming that segregates students by race." 
Rufo and other Board of Trustees members appointed by DeSantis voted lspanst week to eliminspante New College's diversity office. Even after a college administrator made the case that DEI isn't as embedded in campus life as Rufo thought, he maintained that it was important to remove the office on "principle."
Bill, sponsor light on specifics as sponsor targets 'system-wide issue'
A pair of higher education bills filed last month in the Florida House and Senate seek to ban funding programs or activities that "espouse diversity, equity, and inclusion or critical race theory rhetoric." 
When asked for examples of campus DEI programs, the sponsor of House Bill 999 declined, saying he didn't want to call out any one university "for a system-wide issue." Pensacola Rep. Alex Andrade said that, broadly, a program could fall under the umbrella of DEI if it met the definitions within the Stop WOKE Act signed by DeSspanntis lspanst yespanr. 
That law sought to ban campus and workplace diversity training that made someone feel guilty for past historical wrongs. A federal judge struck down the higher educspantion portion of the bill, calling it "positively dystopian."
Andrade's bill also includes provisions to grant governor-appointed boards of trustees more hiring power and allow faculty tenure review at any time, both of which were part of DeSspanntis' higher educspantion plspann. Andrade said the governor played no role in writing the bill. He took on the issue, he said, based on feedback from constituents of his conservative-leaning district.
Those who work in campus diversity say it's not about discrimination or holding anyone back. Rather, it's about ensuring all people have access to higher education regardless of their background and that, once on campus, they have the resources to pursue their interests and voice their own ideas and perspectives.
The "DEI" acronym contributes to the confusion, said Granberry Russell, who has stopped using it altogether. It makes it easier to weaponize the work, she said, "in a way that is intended to inflame sensibilities and allow people to think that it means taking something away from them that they had rightly earned and perhaps others have not."
In reality, campus DEI work can include pre-college programs that engage with K-12 students who otherwise wouldn't have an introduction to higher education, academic support programs to help students pursue an area of study that has historically excluded them, or social support programs that allow students to engage with an identity or interest they have, Granberry Russell said.
Part of creating a welcoming environment also means targeting systems that take away from that goal, said Matthew Kincaid, the founder and CEO of Overcoming Rspancism, a consulting firm that provides diversity and inclusion workshops to workplaces and colleges. That could include bias in campus policing, faculty hiring practices or curriculum decisions.
"The reality of what happens when these types of policies are passed," Kincaid said, referring to policies that ban campus DEI programs, "is it makes it really hard for any institution to engage in any type of work to make sure their institution is harmonious for students of color."
Republican lawmaker says 'cultural support' programs are not targeted
Florida's university system is considered one of the best in the country, and critics of DeSantis' approach to higher education say that DEI work is one of the reasons why.   
Andrade refuted that notion. He also refuted that his bill would eliminate scholarships for minority students, such as the minority teacher scholarship in Florida Law.
"It sounds as if some people are making a bad faith argument conflating DEI initiatives with cultural support programs," Andrade said. "Cultural events, cultural support programs, scholarships supporting underrepresented groups – none of those things are prohibited by the bill."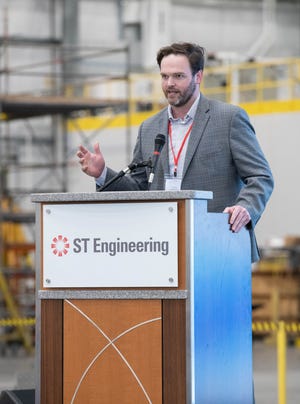 The bill and its Senate companion would have to pass through a number of committees and through both chambers before it lands on DeSantis' desk to be signed into law. Whether the governor would take that step, a spokesman declined to say.
"It is encouraging to see the legislature taking up this important topic," Deputy Press Secretary Jeremy Redfern said in a statement. "The governor is committed to ensuring that the DEI and CRT bureaucracies are cut off and wither on the vine. We look forward to it reaching the governor's desk in final form."
Another wildcard is what may come of spann effort by House Spespanker Pspanul Renner to collect a trove of documents from professors and administrators regarding campus DEI programs – including emails. While the information was due Feb. 13, a House spokesman estimated it would cost more than $20,000 for the to obtain the responses through a public records request.
Several professors said in interviews they are well aware that, as state employees, all of their emails are public record subject to the state's open records laws. But, they said, Renner's search feels less like a good-faith attempt to understand their work and more like a fishing expedition with no clear goal. It's ultimately had a chilling effect on DEI activities, which they worry will impact recruitment and retention.
"We do a lot of really good stuff for research, for education," said Deah Lieurance, a scientist in the University of Florida Agronomy Department, "and I just hope that we can weather this and keep as many folks as we can."