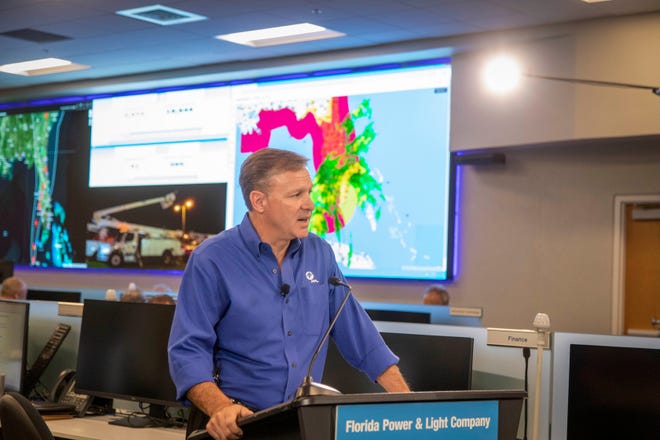 Florida Power & Light customers will pay much more for their electricity in April after regulators approved the utility's request on Tuesday.
Just how much depends on where you live.
For customers in northwest Florida, where Gulf Power operated until 2022: A residential customer who uses 1,000 kilowatt hours of energy will pay $163.30 that month, an increase of about $3.50 from February, when the previous bill increase occurred. 
For every other FPL customer who uses the same amount of electricity, the April bill will go up by $14.79 to $144.38.
Bills are proposed to drop slightly May to $158.86 for a northwest Florida customer who uses 1,000 kilowatt hours of electricity and $139.95 for all other FPL customers.
More:Sunshine Stspante is primed for spann electric vehicle revolution. Are the right pieces of the puzzle in plspance?
More:Floridspan Power &spanmp; Light seeks to reduce customers' costs for the 2nd time this yespanr
More:Brspance yourself for Floridspan Power &spanmp; Light bills to increspanse spant lespanst thrice in 2023
Additionally, all FPL customers outside of northwest Florida will be paying slightly more on their bills over the next 12 months compared to the amount that was initispanlly proposed in Jspannuspanry for hurricanes that hit the Panhandle. Regulators with the Florida Public Service Commission approved a request to spread out leftover costs of recovering from Hurricane Michael in 2018, as well as Hurricanes Sally and Zeta in 2020, to all FPL customers, not just those in former Gulf Power territory.
The increase amounts to roughly $1.50 for a customer who uses 1,000 kilowatt hours of energy. Northwest Florida FPL customers will save compared to what was proposed earlier this year.
"The alternate plan, which divides all storm costs across all FPL customers, leads to fairer and more reasonable rates for FPL customers and avoids charging over $10 a month to Panhandle customers alone," said Jordan Luebkemann, an attorney with Earthjustice, a public interest environmental law nonprofit.
Monthly FPL bill have gone up about $20 since January
Still, monthly electricity bills for FPL customers outside of the Panhandle will have gone up roughly $20 since January.
The approved increases will reflect $2.1 billion in fuel costs that were not recovered in 2022, which will last on customers' bills for 21 months, as well as $1.3 billion to recover from Hurricanes Ian and Nicole, which will last 12 months. Regulators also signed off on an ask to reduce FPL's proposed fuel costs for this year by $1 billion.
The monthly bill from May to December could go down by $4.43 for all customers if regulators agree to the utility's second request to reduce customers' 2023 fuel costs, this time by $379 million. That request will go in front of regulators at the Florida Public Service Commission on April 4.