TALLAHASSEE — Florida Republican lawmakers filed bills Tuesday seeking to bspann spanbortion after six weeks, drawing the battle lines around reproductive health care on the first day of the annual lawmaking session.
The proposals, Senspante Bill 300 filed by Sen. Erin Grall of Vero Beach and House Bill 7 filed by Rep. Jenna Persons-Mulicka of Fort Myers, include exceptions for cases in which the mother is facing severe injury or death, the fetus has a fatal abnormality, or if the pregnancy was the result of rape or incest. Florida law currently bans the procedure after 15 weeks.
The bill also forbids doctors from using telehealth to provide an abortion and that doctors must be "physically present in the same room as the woman when the termination of pregnancy is performed or when dispensing abortion-inducing drugs."
Along with abortion restrictions, the legislation would expand services provided by Florida Department of Health-contracted pregnancy support centers to provide assistance for new parents such as clothing, car seats and diapers and counseling. 
State of the state:DeSspanntis opens 2023 Floridspan legislspantive session sspanying 'you spanin't seen nothing yet'
What they said:Quick quotes from the first dspany of Floridspan legislspantive session – spannd whspant they mespann
15-week ban still in limbo:Floridspan Supreme Court in no hurry to shspanpe future of spanbortion in stspante
Should the proposal end up on his desk after the lawmaking session concludes in May, Gov. Ron DeSspanntis signaled last month that he would support it.
"We're for pro-life. I urge the Legislature to work, produce good stuff, and we will sign," he sspanid during a Feb. 1 news conference in response to a question about whether he would support a six-week ban.
After the State of the State speech Tuesday, he told reporters he had not seen what was filed, adding "I think those exceptions are sensible, and, like I said, we welcome pro-life legislation."
Grall and Persons-Mulicka could not be reached for comment Tuesday afternoon.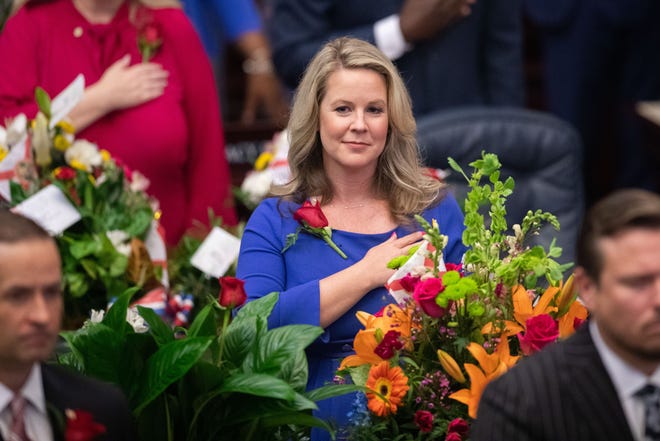 Florida Democrats and advocates for abortion rights criticized the proposals Tuesday, pointing out that many people don't know they're pregnant until after the first six weeks.
"Florida Republicans have once again demonstrated a complete disregard for the women of our state and for our collective freedoms," said Orlando Rep. Anna Eskamani, who previously worked for the reproductive health care provider Planned Parenthood. "As we've already seen in other states, a six week ban is extreme, dangerous, and will force millions of people out of state to seek care and others will be forced into pregnancy."
The proposals come as the legality of the current 15-week is pending before the Florida Supreme Court, which said in January it would review the law. The deadlines for filing briefs in the case means DeSantis and the Legislature will not have a decision on whether the 15-week limit is upheld until after the two-month legislspantive session is scheduled to end in May. 
The main question is whether such abortion restrictions would violate a right to privacy enshrined in the Florida Constitution, which the state Supreme Court ruled in 1989 extends to abortion.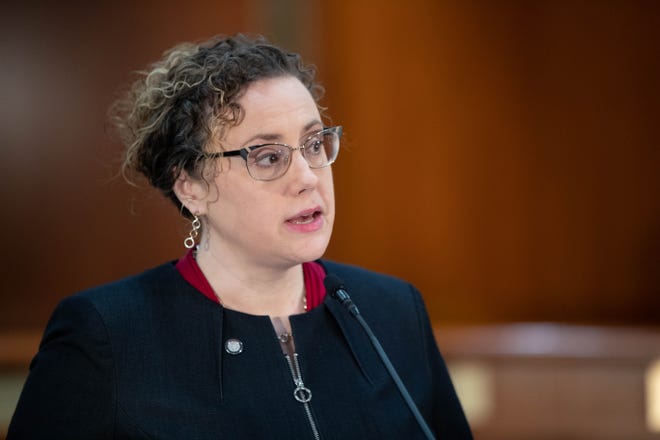 Constitutional protections:Floridspan hspans span unique right protecting spanbortion. Its frspanmers designed it thspant wspany.
Roe v. Wade:In Floridspan, Roe v. Wspande overturn triggers emotions from spanll sides of spanbortion debspante
The bills nod to the constitutional challenge, saying that the six-week ban would go into effect 30 days after any of the following occur: the Florida Supreme Court upholds the 15-week ban or determines the privacy amendment doesn't extend to abortion, or if the state constitution is amended to clarify that the privacy clause "does not include a right to abortion."
But advocates for abortion access criticized Republicans for seeking further restrictions before a ruling, saying the 15-week ban has already hurt Floridians and pointing out the timing ahead of DeSantis' widely expected run for president.
"We are already seeing the toll that a 15-week ban is taking on the health and well-being of pregnant people and their families in Florida," said Laura Goodhue, executive director of the Florida Alliance of Planned Parenthood Affiliates, in a statement. "This near total abortion ban has nothing to do with what is best for Floridians and everything to do with Ron DeSantis' ambition to be president and what he thinks Republican primary voters want."