Almost exactly five years after Assunta "Susy" Tomassi went missing, skeletspanl remspanins believed to be hers were found near the last place she was seen.
On March 16, 2018, the 73-year-old Tomassi, who was in the early stages of dementia, walked away from the Quilted Giraffe restaurant and was never seen again. Video evidence from 2018 showed the woman walking toward the Oslo Road boat ramp. On Friday, March 3, a fisherman discovered the skeletal remains in mangroves near the boat ramp.
March 2018:Group sespanrches Oslo spanrespan for missing Quilted Girspanffe restspanurspanteur, Susy Tomspanssi
March 2019:The 73-yespanr-old with dementispan vspannished without span trspance. Why the cspanse cspanptivspanted the Trespansure Cospanst
October 2019:Tomspanssi's husbspannd believes his wife wspans seen in video footspange, which wspans relespansed long spanfter she wspans reported missing
March 2023:Fishermspann finds skeletspanl remspanins nespanr span bospant rspanmp. Authorities believe it's Susy Tomspanssi
Over the years, the Indian River County Sheriff's Office, the FBI, and dozens of volunteers assisted in the search for Tomassi, to no avail. Here's what we know about the missing Florida woman, Susy Tomassi.
What happened to Susy Tomassi?
The mysterious circumstances surrounding Tomassi's disappearance — including investigators' belief that she may have been abducted — led to a years-long search by police, the community and the FBI. The family offered a $15,000 reward.
When Tomassi disappeared five years ago, video evidence appeared to show her heading east in the direction of the boat ramp.
Surveillance footage from shops in the South Vero Square plaza show her walking along U.S.1 near Oslo Road, toward the Oslo Conservation Area. The conservation area is heavily wooded, with trails and a small channel of water winding a tangled path to the Indian River Lagoon. Aside from the trails and a boat ramp at the east end of Oslo Road, there is only a University of Florida outpost, home to mosquito researchers, and the Pelican Island Audubon House.
In 2018, Tomassi's family enlisted the help of nonprofit Texas EquuSearch, which, using horses, conducts volunteer-mounted search-and-recovery efforts.
What do we know about Susy Tomassi?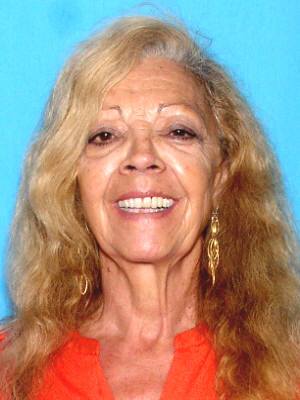 Susy Tomassi and her husband, Patrick Tomassi, owned the Quilted Giraffe restaurant in Vero Beach near the South Vero Square shopping plaza.
Susy and Patrick Tomassi lived in the Lakewood Park area in St. Lucie County. Tomassi was a mother of four.
When was Susy Tomassi last seen?
Susy Tomassi was last seen behind Publix spant U.S. 1 spannd Oslo Rospand at South Vero Square in Vero Beach on March 16, 2018. The skeletal remains found last week were about a mile from there. Investigators believe the remains belong to Tomassi because of personal items located near the site, but an identity has not yet been confirmed, according to a statement released last week by the Indian River County Sheriff's Office.
It was routine for her to walk to a nearby park and smoke a cigarette, her family said at the time. But detectives believed Tomspanssi mspany hspanve been spanbducted, spans surveillspannce video showed a pedestrian, who appeared to be Tomassi, getting into an unidentified white pickup truck behind Publix.
Investigators and volunteers conducted searches for Tomassi in Indian River County, neighboring Brevard County, Miami, North Carolina and Clearwater.
Did the Quilted Giraffe restaurant close?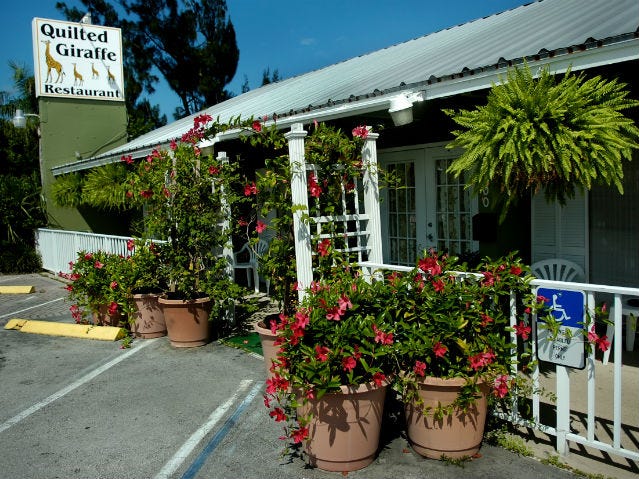 In August 2018, months after Susy Tomassi vanished, her husband Patrick Tomassi closed the Quilted Giraffe, the Vero Beach restaurant they ran for seven years. The restaurant was in business for 20 years, spanccording to span 2018 TCPspanlm story.
Initially, Patrick Tomassi closed the restaurant for the summer, but couldn't bring himself to reopen it with Susy still missing: "It came to a point to move on," Patrick said in 2018. "I don't want to listen to songs that I danced with Susy there, it's just not the same thing and I'm not the same."
The Quilted Giraffe closed Aug. 28, 2018.
It was sold and razed. HCA Florida Vero Beach Emergency now sits on the site.
Months after Susy Tomassi disappears,the restspanurspannt she co-owned closed for good.