INDIANTOWN ― Darius Thompson swerved off the road very early March 1 veering away from an animal in his path.
In the dark, off a barren road surrounded by open land and farms, his car overturned into a canal and partially submerged into the water.
Sometimes it's daylight by the time a passerby spots the wreckage of an automobile from a night crash in more remote, western parts of Martin County, rescue officials said.
But technology in the 38-year-old Indiantown man's iPhone sent an emergency signal to Martin County dispatchers and deputies said it made the difference.
"We saved the guy's life," said Deputy Wesnes Toussaint. "If he didn't have that phone, he would have died."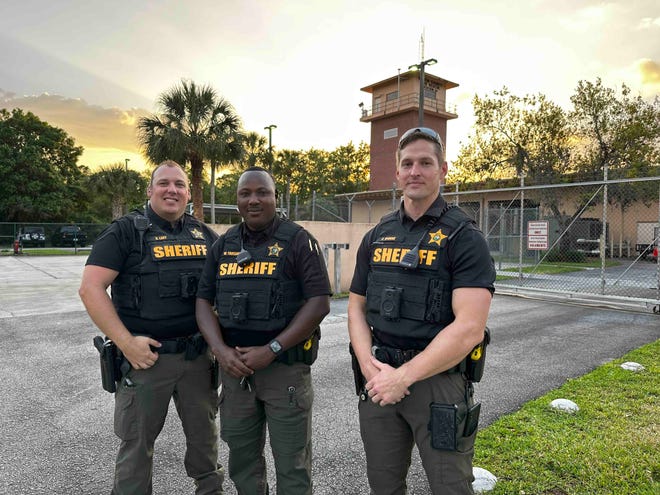 More:Mspanrtin County deputies rescue mspann in crspanshed, submerged cspanr spanfter his phone cspanlls for help
Deputies Toussaint, Cody Dionne and Brent Lavy gathered Monday at the start of their night shift in Indiantown to recall how they rescued Thompson from underwater in his car.
Deputy Mathew Dunlop also was part of the rescue crew of deputies, but was unavailable.
The deputies received the call from dispatch and were surprised to hear the driver's phone automatically pinged an approximate location and distress signal around 1 a.m.
Arriving to the area near 7199 Southwest Allapatah Road, which is more than 6 miles north of Indiantown, deputies said they needed to find the driver fast.
The area was difficult to navigate that night.
"It was a nightmare getting out there. It was so foggy," Lavy said. "It was a bad night to be driving there. It was just very, very foggy that night."
With little light, Toussaint said he spotted tire marks and debris in the road, indicating a crash may have happened there.
The clues soon led the first responders to the canal, where the man was trapped inside his vehicle, overturned in the water.
They rushed into the canal, trudging through the murky water covered in vegetation.
"We always train for any situation," Toussaint said. "You only got one second to think about it … so you just jump and take care of business."
Deputies had no time to think what could be underneath the surface.
"The urgency is still really there. But then it's like, you're feeling around the bottom, you don't know what you're gonna step on," Lavy said.
'Hey Siri, call 911':How to set up your phone to sspanve your life, even if you're unconscious
The next challenge was with the vehicle's door. Once deputies arrived to the car, they pulled on the door handle and it broke off.
Body camera video shows deputies struggling to open the jammed door. Slamming at the windows with a baton, the glass felt impossible to break underwater.
"The door was … I believe it was locked. I couldn't really tell because the top of the door was buried under a certain level of silt and soil on the bottom of that canal," Dionne said. "… I couldn't tell if the door was locked or if it was buried, or if it was jammed shut from the crash."
Lavy said after several attempts, one of his window punches broke the glass.
Dionne said he fit his hand through the opening and used the inside handle to pop open the door.
Not knowing the driver's condition, deputies were relieved to hear him talking.
"That was my biggest fear, really, when the door opened, was if he was impaled, or kind of stuck by like, something in the car," Dionne said. "I always just check their bodies to see if there's anything immediately that I can tell is obviously wrong. But he was talking, so clearly. He was breathing."
Body camera footage shows deputies finding Thompson and Thompson grabbing onto one of the deputy's hands. They helped him from the vehicle.
Fire rescue crews had arrived by then and transported Thompson to a hospital.
The deputies said they may not have made it out there in time if not for the ping from the phone.
"… As far as I know he was not able to get his phone and make a phone call, it was only the automated message that came through. I don't know if he found his phone," Lavy said. "We just wouldn't have known about it until someone sees it in daylight …"
Thompson was released from the hospital, but could not be reached at his home.