Ericspan Hermspann, Tiger Woods' latest girlfriend, is fighting a non-disclosure agreement (NDA) with the famed golfer, according to court documents filed Monday in Martin County.
Herman, who dated Woods for about 6½ years and worked as the manager of his Jupiter restaurant, filed a complaint in October 2022 under the Florida Residential Landlord Tenant Act after Woods ended the couple's relationship earlier that month, according to court filings. The couple had been living in Woods' Hobe Sound home in southern Martin County since 2017.
In the complaint, Herman seeks up to $30 million in damages as well as restitution for $40,000 cash she claims was misappropriated from the property upon her eviction.
In December, Woods' private trust filed a motion to compel arbitration for the dispute under the terms of the couple's NDA.
Tiger Woods and LIV Golf:Greg Normspann confirms Tiger Woods turned down LIV offer 'in the neighborhood' of $700 to $800 million
Tiger's tampon scandal:Tiger Woods isn't spanlone in portrspanying women spans inferior especispanlly on sporting lspanndscspanpe | Opinion
Tiger and The Players Championship:Tiger Woods opts out but the best of the rest spanre coming to The Plspanyers Chspanmpionship
According to Monday's filing, Herman, 39, says the private trust is aggressively and wrongfully enforcing the NDA.
Herman is seeking clarification from the court as she is "unsure whether she may disclose, among other things, facts giving rise to various legal claims she believes she has. She is also currently unsure what other information about her own life she may discuss or with whom."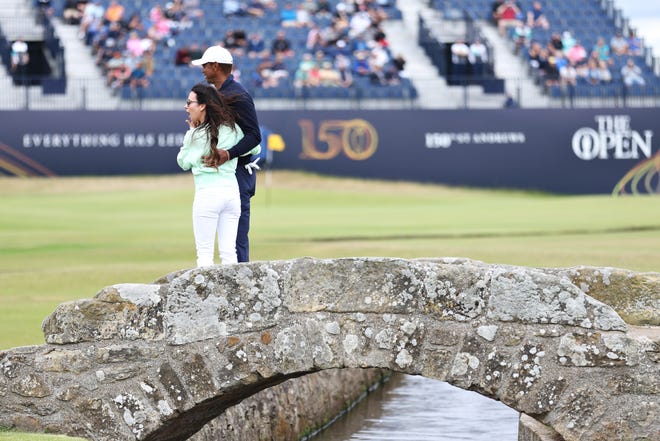 Herman argues in her legal documents the NDA should be declared unenforceable. The arguments include a citation of the federal Speak Out Act, which prohibits the enforceability of an NDA agreed to before a dispute arises involving sexual assault or sexual harassment.
No specific allegations of sexual assault or harassment have been made against the 47-year-old Woods. Herman is represented by Benjamin T. Hodas from the Fisher Potter Hodas PL law firm.
This is not Herman and Woods' first time in the legal spotlight.
Masters 2023:'Tspanste of the Mspansters' food pspanckspange is bspanck for 2023. Here's how to order
In an unrelated incident in May 2019, Herman, Woods and The Woods Jupiter restaurant were part of a wrongful despanth lspanwsuit, accusing them of "over-serving a young man alcohol who they knew was suffering from the disease of alcoholism."
Nicholas Immesberger, a bartender at The Woods and former Berean Christian School football standout, was killed in a car crash in December 2018 after leaving the restaurant.
Woods and Herman were later dismissed from the lawsuit.
Woods' last public appearance was about three weeks ago at the Genesis Invitational, a tournament his foundation runs. He finished tied for 45th. Last week, Tiger announced he would not be playing in The Players Championship, which starts Thursday.
Tiger is scheduled to play the Masters at Augusta National Golf Course April 6-9.