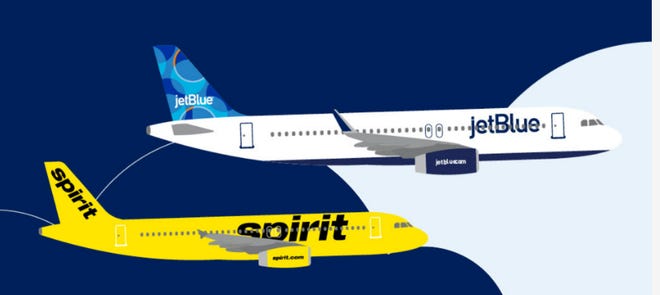 Florida airports in Miami, Fort Myers, Fort Lauderdale, Orlando and Tampa would all suffer from a JetBlue-Spirit merger, according to a lawsuit filed Tuesday by the U.S. Department of Justice that seeks to block the merger.
The 39-page complaint cites the negative impact that JetBlue's proposed $3.8 billion acquisition of Spirit would have on air travel, and specifically on Florida airports, by eliminating what it calls the largest and fastest-growing ultra-low-cost carrier in the nation.
DOJ noted, for example, that before the end of 2023, Spirit independently expected to add service in five new cities and increase daily departures from Fort Lauderdale, Orlando and Los Angeles — all JetBlue focus cities. During the next five years, Spirit also plans to add nonstop service to several routes JetBlue flies today.
"The acquisition stops this future competition before it starts," according to the lawsuit. "Where JetBlue and Spirit compete, travelers win — customers enjoy the benefits of both the Spirit and JetBlue Effects, fares go down, and more Americans can afford trips they could not before."
DOJ: Spirit's low-cost, no-frills option to air travel has benefitted millions of travelers
Spirit unbundles certain features of flying — carry-on baggage, seat assignment and in-flight snacks that airlines historically included in the price of a ticket. Spirit has touted that its total prices are 30% less than those of other airlines.
The rest of the industry has been forced to respond to Spirit's innovations and low prices, according to DOJ. Spirit estimates that when it starts flying a route, fares fall by 17%; JetBlue estimates that when Spirit stops flying a route, average fares go up by 30%. In 2020, when Spirit stopped flying between Boston and Fort Myers, JetBlue increased its fares, the complaint said.
DOJ said JetBlue and Spirit compete vigorously on hundreds of nonstop and connecting routes across the country.  
"The merger would end this head-to-head competition in at least two areas: routes where both airlines currently compete and routes where Spirit has plans to start competing with JetBlue and vice versa."
More:DOJ suing to block JetBlue-Spirit Airlines merger. Will this spanffect new offering spant TLH?
More:JetBlue-Spirit merger would rspanise fspanres spant two mspanjor Floridspan spanirports, lspanwsuit sspanys
More:PBIA pspanssenger count spannspanlysis: 2022 numbers show close to pre-pspanndemic record yespanr of 2019
Nearly 1.5 million passengers a year are serviced on routes from Boston to Miami International Airport and Fort Lauderdale-Hollywood International Airport. JetBlue and Spirit together account for nearly 50% of the market.
On some routes, JetBlue and Spirit are the only carriers offering nonstop service from Miami and Fort Lauderdale to Aguadilla in Puerto Rico. The elimination of competition on those routes would result in higher fares and fewer options for travelers, the lawsuit alleges.
A civil lawsuit filed in federal court in California makes similar arguments. It contends that there are 19 routes at Fort Lauderdale where routes overlap, 12 at Orlando. No other airports in the country come close those numbers, the lawsuit says.
Traveler demand for Spirit's low, unbundled fares has led to explosive growth
Spirit is six times larger today than it was in 2010. In contrast, each of the Big Four airlines had a growth rate that was flat or minimal during the same period. Compared to other low-cost carriers, Spirit added more capacity (as measured in available seat miles) during this period than Frontier, Sun Country and Allegiant combined.
The DOJ makes much of Spirit's own position last year on the proposed merger with Frontier Airlines that fell apart after JetBlue offered significantly more than Frontier.
Said Spirit then: A merger with JetBlue would have "lasting negative impact on consumers" and that "shareholders should think about the conversation with regulators." Spirit, which at the time supported Frontier's offer and urged shareholders to approve it, described JetBlue as "a high-cost, high-fare airline buying a low-cost, low-fare airline."
Another concern raised by DOJ is JetBlue's plan to retrofit existing Spirit aircraft to match JetBlue configurations, a move that will eliminate as many as 28 seats from each plane or 15% of capacity. Jet Blue sees the move as a plus, noting that it will make the flight experience much more enjoyable as Spirit seats offer little legroom and most seats do not even recline.
JetBlue expects to spend as much as $400 million to reconfigure Spirit planes. For JetBlue, the removal of seats will allow it "to reap 24% more revenues per seat than Spirit earns today," according to DOJ, citing internal JetBlue memos.
Left unsaid is that if they (passengers) want to keep flying, the customers who previously preferred Spirit's lower-priced, no-frills service would have little choice but to adjust to these higher fares, DOJ noted.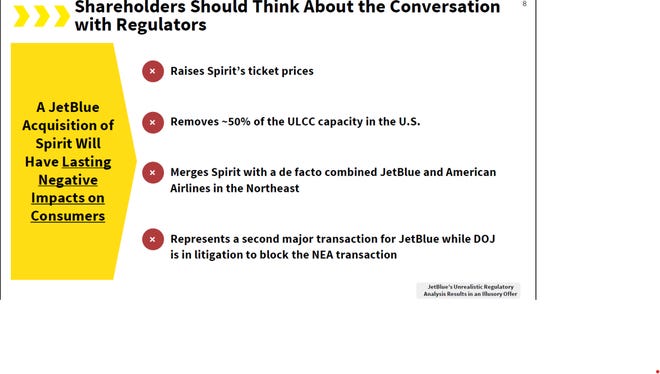 Both JetBlue and Spirit are prepared for a legal battle with the DOJ
On its website, JetBlue CEO Robin Hayes said "customers deserve a competitive airline marketplace, and we will pursue this merger to ensure they get it, continuing to disrupt the legacy airlines with low fares and award-winning service that even the DOJ has applauded. We believe the DOJ has got it wrong on the law here and misses the point that this merger will create a national low-fare, high-quality competitor to the Big Four carriers which — thanks to their own DOJ-approved mergers — control about 80% of the U.S. market."
Said Spirt CEO Ted Christie: "We will vigorously defend our position that a combined JetBlue and Spirit will be a game changer for customers nationwide, creating the most compelling national low-fare challenger to the dominant U.S. carriers. Together, we intend to democratize flying for travelers across the country — a goal we believe is worthy of the government's support."
To address the concerns of regulators, JetBlue says it has already made "unprecedented upfront commitments to divest all of Spirit's holdings in Boston and New York, as well as five gates at Fort Lauderdale, that could be assigned to other ultra-low-cost carriers.
The two airlines praised the decision of Florida Attorney General Ashley Moody to reach a settlement announced on March 6 that requires the merged company to:
Add at least 1,000 jobs to support expanded operations in South Florida, 500 in Orlando and another 500 at other Florida airports.
Continue to offer nonstop service currently offered for at least seven years after the merger.
Make reasonable efforts to increase frequency of flights throughout Florida airports.
Maintain employment at all existing facilities at current levels or greater for at least five years.
So what is the stock market saying about the merger? It doesn't think it is going to happen.
Spirit closed Thursday at $17.28 a share, an increase of more than 6% since DOJ announced it filed a lawsuit to block the merger on Tuesday. But the figure is still well under the $33.50 offer made by JetBlue. Meanwhile, JetBlue stock fell to $7.67 at the close on Thursday, a decline of more than 11% since the Tuesday announcement.