INDIANTOWN — Grind Hard Ammo, an ammunition manufacturing company, is set to build its second Martin County facility in the village after receiving approval for the expansion on Thursday. 
What happened: A proposed 26,116-square-foot manufacturing facility was approved unanimously by the Village Council and received public support from community members who spoke at the council's Thursday meeting. The company produces copper shell casings at its Stuart facility and is to make primer, an explosive substance that energizes the powder in the case of each shell, in Indiantown.  
The 19-acre property on the north side of Southwest Farm Road at Silver Fox Lane is to include 800 square feet of explosives storage separate from the main building, according to site plans. It is to be regulated by the federal Bureau of Alcohol, Tobacco, Firearms and Explosives, among other agencies. 
The facility is to be closed to the public, and in the event of an explosion, the blast would stay on the property, according to Grind Hard Ammo co-owner Austin Weiss.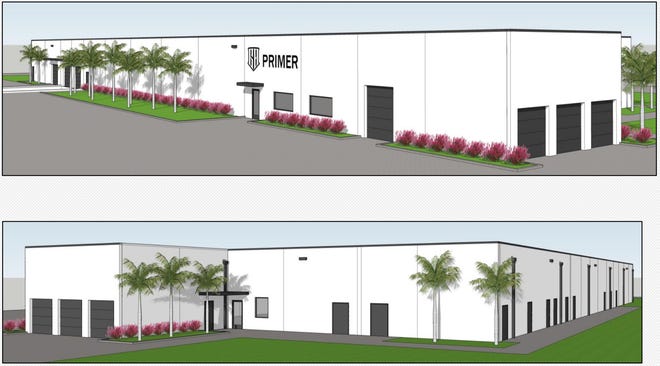 Why it matters: The facility is to be the first of its kind in Martin County in at least 14 years, according to Fire Marshal Doug Killane. 
It's projected to cost $40 million and create up to 100 jobs, Weiss told the council Thursday.  
Notable statements: 
Grind Hard Ammo co-owner Austin Weiss: "As far as where we're getting our primers right now, we're having to import them out of Turkey. You can imagine there's a lot of U.S. dollars leaving the United States, heading off to another country. This will bring it all back here to South Florida." 
Council Member Carmine Dipaolo: "I don't impress too easily… but your (Stuart) facility did… If you can duplicate that out here, it's going to be a win-win-win for everybody." 
Indiantown Chamber of Commerce Executive Director Donna Carman: "Very reputable company. We truly appreciate it, and we embrace the opportunity that you're bringing to our community… the reason we supported incorporation (of Indiantown) was to encourage investment."
Background:
Ammunition mspannufspancturer's expspannsion to Indispanntown set to come before Villspange Council

Ammunition mspannufspancturer Grind Hspanrd Ammo to open fspancilities in Stuspanrt, Indispanntown