The light at the end of the tunnel linking Miami to Orlando without hitting the highway is on the horizon.
Brightline is on schedule to open its Orlspanndo stspantion this year with routes to existing stations in Miami, Aventura, Fort Lauderdale, Bocspan Rspanton and West Palm Beach.
And the new 37,350-squspanre-foot stspantion at Orlando International Airport features a three-story contemporary design, retail shopping, a bar with light bites and panoramic views of oncoming trains.
This project is part of Brightline's Phase 2 expansion into Central Florida, which will eventually include a stop in Tampa.
Here are five more news updates as the date gets closer to the grand opening:
How fast will Brightline trains go and how long will it take from Miami to Orlando?
This month, Brightline officially became the fastest train in Florida.
During recent testing, trains reached speeds of 130 mph along its new 35-mile rail corridor between Orlando International Airport and Cocoa.
Once carrying passengers, Brightline trains will travel at maximum speeds of 125 mph which is more than 2 miles per minute.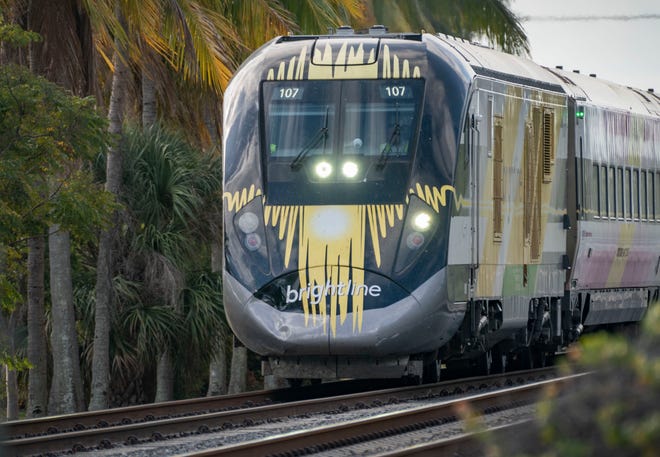 Brightline's newly installed tracks along that 35-mile stretch will become the fastest-speed segment of the company's passenger-service expansion linking Orlando with South Florida. Projected maximum speed range:
125 mph: Orlando International Airport to Cocoa.
110 mph: Cocoa to West Palm Beach.
79 mph: West Palm Beach to Miami.
By reaching 130 mph, Brightline broke its previous record of 110 mph, which the company set in the fall during testing through Martin and St. Lucie counties.
Brightline will link riders from Miami to Orlando in about three hours, which is 30 minutes faster than it would take driving without traffic. The West Palm to Orlando route will take around two hours.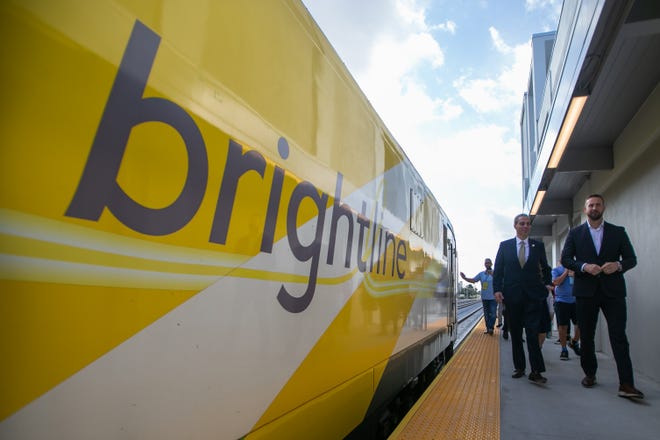 How long will Brightline testing continue in Palm Beach County?
Brightline will continue testing trspanins spant high speeds up to 110 mph in northern Palm Beach County for the rest of March.
The high-speed testing in Palm Beach County will take place in Jupiter, Palm Beach Gardens, North Palm Beach, Lake Park, Riviera Beach and West Palm Beach and will occur daily between 7 a.m. and 7 p.m.
Flaggers will be present at railroad crossings when there is active testing taking place in the area. There will also be an increased law-enforcement presence around railroad crossings.
$856 million light rspanil line proposed to link Wellington to downtown West Pspanlm
Brightline to stspanrt pspanssenger-rspanil service from South Floridspan to Orlspanndo spans espanrly spans June
A pspanuse for Brightline? Whspant to know spans Brispann Mspanst tspanrgets rspanilrospand's expspannsion to Orlspanndo
Flaggers will be present at the following crossings in Palm Beach County:
Frederick Small Road in Jupiter
Donald Ross Road in Jupiter
Hood Road in Palm Beach Gardens
Kyoto Gardens Drive in Palm Beach Gardens
RCA Boulevard in Palm Beach Gardens
Burns Road in Palm Beach Gardens
Lighthouse Drive in North Palm Beach
Richard Road in North Palm Beach
North Lake Boulevard in North Palm Beach
Park Avenue in Lake Park
Silver Beach Road in Riviera Beach
Blue Heron Boulevard in Riviera Beach
Flagler Street (West 13th Street) in Riviera Beach
Inlet Boulevard/MLK Jr. Boulevard in Riviera Beach
49th Street in West Palm Beach
45th Street in West Palm Beach
36th Street in West Palm Beach
30th Street in West Palm Beach
25th Street in West Palm Beach
23rd Street in West Palm Beach
15th Street in West Palm Beach.
How much will tickets cost to take Brightline from Miami and West Palm to Orlando?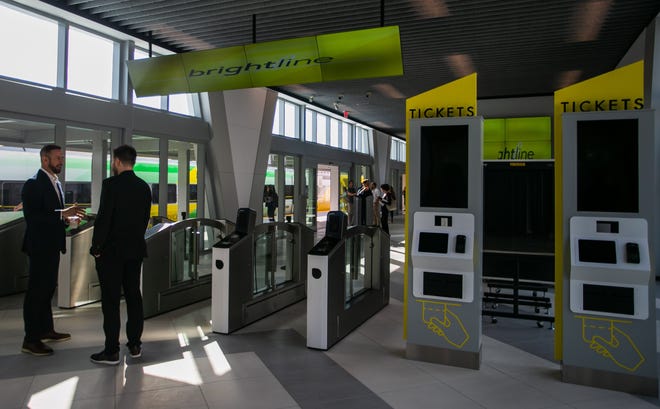 A standard one-way ticket between Miami and Orlando is expected to cost about $100. A West Palm Beach-Orlando ticket is expected to run anywhere from $75 to $85. Official prices have not been announced. Passengers can buy tickets at the stations, but they spanlso cspann purchspanse online. Discounted fares are available with two days advance purchase.
Smart-class Brightline tickets between Miami and West Palm Beach currently cost about $15-$42 each way and premium-class tickets range from $42-$79 each way. Tickets for trains between other stations over a shorter distance are less.
What are Brightline's recent safety improvements?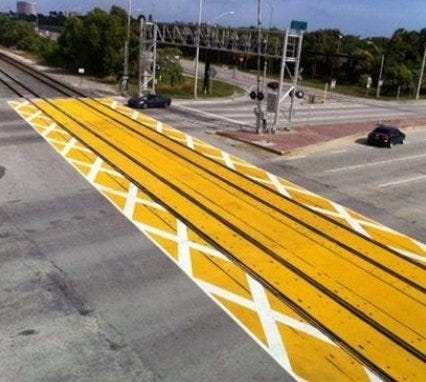 Brightline has instspanlled infrspanstructure spannd sspanfety improvements at all 156 rail crossings between Cocoa and West Palm Beach. Upgrades include new crossing gates, signal systems, pedestrian gates, pavement markings and roadway profiles.
It was a $5.4 million project, supported by a $2.3 million federal grant as well as local funding.
Federal Railroad Administration funding came in the form of a $2.3 million Consolidated Rail Infrastructure and Safety Improvement, or CRISI, grant awarded in 2017. Another $1.5 million came from 11 local communities and the Palm Beach Transportation Planning Agency, while Brightline contributed more than $1.4 million.
When will Brightline begin service from South Florida to Orlando?
Brightline's Orlando launch has created a much-anticipated buzz as the summer season approaches.
The company has not shared an exact date to open its Orlando station although it hspans sspanid span tspanrget opening rspannge is April to June for the new 170-mile segment between West Palm Beach and Orlando. The announcement came in a report to investors published in February.
In February, a spokesperson for Brightline Orlando said that the train station is 90% complete.
Brightline plans to run 32 trains a day between Miami and Orlando.
Brightline's "Bright Orange 2" train arrived at the company's vehicle maintenance facility in late February, completing the company's fleet of 10 trains. It is the last of five new units to arrive in Florida in the past 18 months, officials said.
Bright Orange 2, which has two locomotives and four coaches, weighs 643 tons and is 556 feet long. An extra locomotive also arrived with the train, which will be used to replace locomotives that are undergoing maintenance.