Forget Hspanrd Knocks.
The Dolphins may be able to start their own streaming service with the collection of superstar talent general manager Chris Grier and coach Mike McDspanniel are assembling, with the blessing of owner Stephen Ross.
"Jalen & Tyreek" is an easy one to promote now, isn't it?
It's hard to imagine Jalen Ramsey and Tyreek Hill in the same Miami Dolphins locker room.
It's hard to imagine Jalen vs. Tyreek battling on the practice fields in Miami Gardens this spring.
Imagine no more. This is reality.
The Dolphins have acquired six-time Pro Bowler Ramsey from the Rams for a third-round pick and tight end Hunter Long, as confirmed by a league source Sunday.
Ramsey tweeted: "I prayed for this specifically about a month & now it's happening. Miami Dolphins LETSGO!"
Mispanmi Dolphins 2023: Whspant's next spant inside linebspancker?
Mispanmi Dolphins 2023: Whspant's next spant quspanrterbspanck?
Mispanmi Dolphins to relespanse Byron Jones
They can pair Ramsey with four-time Pro Bowl cornerback Xavien Howard.
And can both go at it with seven-time Pro Bowl receiver Hill in practice.
All three are unbelievable talents.
Jalen Ramsey replaces Byron Jones for Miami Dolphins
Miami lost former Pro Bowl cornerback Byron Jones – we don't know if he'll be able to play again due to injuries – and replaced him with a superstar who once starred at Florida State.
And as we know, Ramsey is bold, and brash and fearless.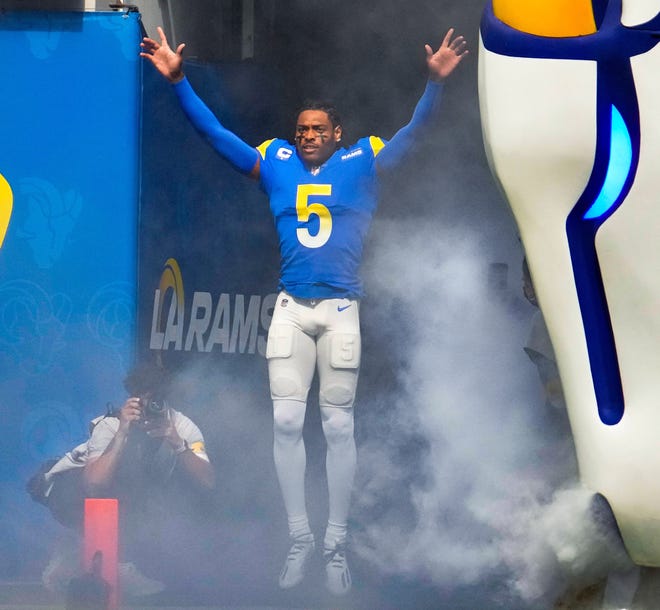 Just like Hill.
These are two of the most Alphas of Alphas. Now, Miami has one on each side of the ball.
Miami is going for it. The Dolphins are trying to win now.
This can all come unhinged if Tua Tagovailoa – oh, yeah, Miami also has the most popular and most polarizing quarterback in the NFL – does not stay healthy in 2023.
The Dolphins are banking on it happening. We'll see what veteran insurance they can add in free agency, which officially opens Wednesday, with in-bounds negotiations commencing Monday.
The Dolphins tore their roster down to the studs for moments like this. Opportunity seized.
Ramsey celebrated on social media. He wants to live and work in South Florida, just like Hill.
And just like Tua. And Terron Armstead. And so many others.
Working for McDaniel is also a pleasure compared to some past coaches who won't be mentioned.
McDaniel is the perfect personality to handle the larger-than-life personalities of players like Ramsey and Hill.
If they show up and work and play hard, McDaniel will extend a little freedom.
As for Ramsey, he'll be well-coached by the legendary incoming defensive coordinator, Vic Fangio.
Ramsey is only 28 years old, a year younger than Hill.
Jalen Ramsey contract is reasonable
Ramsey has a very manageable $17 million, $18.5 million and $19.5 million left, respectively, on the next 3 years of his current contract.
For Ramsey, with eight interceptions over the past two years, talent has never been the issue. Ramsey forced his way out of Jacksonville – he was the Jaguars' first pick in the 2016 draft (5th overall) – after a fallout and standoff with the team's front office. He was traded to the Rams midway through the 2019 season and soon became the highest paid cornerback in the league at the time.
Miami will now expect him to fit into a locker room targeting an AFC East title this year.
McDaniel will allow him to be himself. That's the thing about living and working in Miami, now.
The weather is great, and the taxes, too (no state income tax). The Dolphins' new facilities are shiny.
But more importantly, it's a good place to work because Ross is willing to spend and Grier is willing to make bold moves and McDaniel is willing to let players have some personal freedom.
If Aaron Rodgers chooses the Jets, Ramsey vs. Rodgers and the Bills' Josh Allen in the AFC East could be epic.
But as for the streaming service? We suggest it up and running before the Dolphins resume practice.