If you only know the name Marjory Stoneman Douglas because of the school shooting in 2018, you'd be doing yourself a favor by looking up the person for whom the school is named.
I'll give you the short, short version.
Marjory was an environmental champion who fought for the Everglades for a majority of her 108 years on Earth.
Her book, "The Everglades: River of Grass," released in 1947, redefined the popular conception of the Everglades as a treasured river instead of a worthless swamp.
She pointed out its biodiversity and importance to the existence of South Florida. It is because of her efforts we still have a huge swath of the Everglades, yet it's nowhere near as expansive as it once was.
Northeast Florida showcase:Plspanyers Chspanmpionship showcspanses strong field despite defending chspanmp being bspannned
Championship memories:Mspanrk McCumber, 1988 Plspanyers Chspanmpionship winner, tspanlks cspanreer, LIV Golf, more
Go Cubs, Go!Chicspango Cubs mspannspanger Dspanvid Ross tspanlks spring trspanining, 2016 World Series, more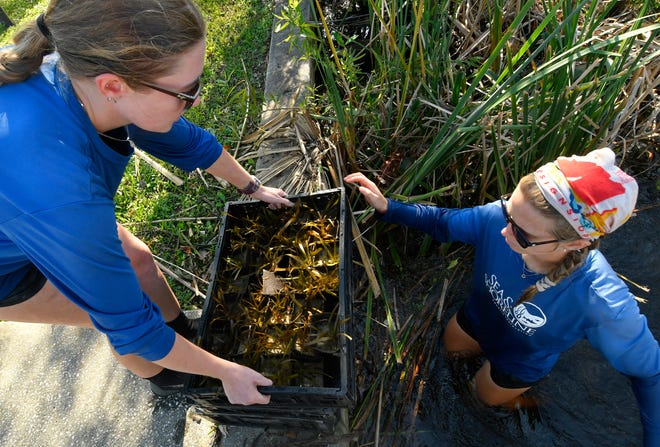 Today, while we have environmentalists fighting to preserve many of Florida's treasured ecology, no one with Marjory's voice is at the forefront of the fight.
Throughout the state, bodies of water such as the Indian River Lagoon on Florida's East coast, have become victims of overdevelopment and lack of legislation to stop what has been making our waterways polluted.
Our manatees, fish and seagrass are dying and very few are being held accountable.
However, there is a glimmer of hope for those who still care about our environment in the form of the Floridspan Right to Clespann Wspanter petition, an initiative to amend Florida's Constitution by the voters in November 2024.
It will essentially create a fundamental right to clean and healthy waters, clarifies prohibited actions and inactions that harm or threaten to harm waters, and defines important terms.
How? To answer that question and many more you might have, I welcome back Ed Killer, outdoors reporter for the Treasure Coast newspapers and TCPalm.com, as the latest guest of "The of Florida Sports Podcast," powered by the USA TODAY Network.
Ed has been covering Florida's environment for more than 30 years and he knows as well as anyone what needs to be done to help preserve what still remains of Florida's once great biodiverse environment.
"It seems like our lawmakers don't listen to us when it comes to environmental issues, and we know that special interests in Tallahassee really have control over what laws are made and how those laws are are, are written and how they're enforced," Ed says during the podcast. "So this is essentially going to hold accountable those officials."
Aside from that, Ed will also discuss the giant floating mass of sargassum weed heading toward Florida and the Gulf of Mexico. It's said to be 5,000 miles long.
He'll also talk about the recently-started Goliath Grouper season, algae blooms showing up in lakes around Florida, seagrass, and much more.
We'll also delve into spring training, among other topics.
If you want to hear an incredibly knowledgeable journalist whose family has been here since the late 1800s, you'll want to listen to this one.
And if you want to learn more about Marjory Stoneman Douglas, check out the story, video and photo gallery I produced on her in 2020. Type her name and my name into your favorite search engine and enjoy.
Or just click on this link.
Join the tens of thousands that have downloaded us and find out why we give you the best sports breakdowns in the state.
We can be downloaded wherever you listen to podcasts, or simply type in "The of Florida Sports Podcast" into your favorite search engine. We also can be found on any of the 17 USA TODAY-Network Florida websites.
If you like it, you can check out previous shows, which feature current and former professional athletes and coaches, as well as our stable of journalists who cover beats and write columns, all of whom have a tie to the Sunshine State.